La Vie en Rosé
La Vie en Rosé:
Warm summer months call for a refreshing pour to complement grilled fare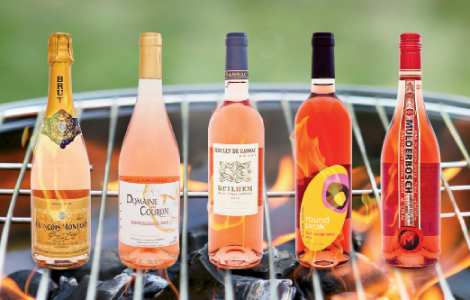 Light, festive, and delicious chilled, rosés are often favored partners for grilled meats and vegetables.
They can also take a little heat; warmer temperatures bring out their flavors and creaminess. This selection complements foods both spicy and sweet, and each bottle is great on its own as an apéritif.
Francois Montand Brut Rosé »  $13
This gently sparkling, nonvintage brut from the Savoie region of France is a delightful choice for welcoming guests. Confected in the champagne style, with in-the-bottle secondary fermentation, it pairs well with smoked trout, herbed olives, and fresh cherries, peaches, and blueberries.
Domaine de Couron, Vin de Pays de Côteaux de l'Ardèche 2010 »  $12
Elegant, light, and 100 percent grenache, this rosé from south central France bears the aromas of spring: wild geraniums, dwarf iris, and wood anemones. It's delightful served with strawberries or grilled asparagus dressed in olive oil and herbes de Provence.
Moulin de Gassac Guilhem, Pays d'Hérault 2010 »  $9
A mild and aromatic blend of carignan, syrah, and grenache, this wine from the southern Mediterranean coast of France pairs nicely with asparagus, mussels, rouget, and rosemary-rubbed meats.
Round Peak Dry Rosé 2008 »  $15
A North Carolina rosé from the Yadkin Valley, this one is 100-percent estate-grown cabernet franc. Bearing a slight bite, it complements spicy grilled chicken or the creaminess of fresh oysters.
Mulderbosch Cabernet Sauvignon Rosé 2010  » $13
All cabernet sauvignon and hinting of mulberries and fresh greens, this South African wine is one to be tried with artichokes, avocados, and other difficult-to-pair vegetables or fruits. Seared lamb chops or fish bouillabaisse would also be fine matches.