Kid at Heart
Kid at Heart:
Seyl Park: Cheme Designs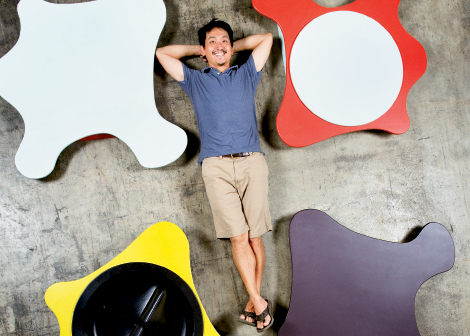 Life often has a way of taking us down a very different path than the one we planned. That was certainly the case for Seyl Park. In 2001, after earning a master's degree in experiential education, he relocated to Western North Carolina from Richmond, Virginia, to work with the Wilderness Leadership Program at Brevard College. Four years later, he and his wife, Lori, opened an outdoor gear and clothing store in Brevard. But when the recession forced them to shutter the shop, a new idea, founded on Seyl's knack for constructing store fixtures, took hold.
Like many little boys, the Parks' two young sons were fascinated by dinosaurs. The couple had searched unsuccessfully for a suitable play table on which to create a toy dinosaur habitat. "There just wasn't anything out there," Seyl remembers. Most were poorly designed, made of plastic, and lacked adequate play space; so he decided to create one. When it was complete, Lori set up the table on Christmas Eve with an elaborate landscape of trees, ponds, and everything else a T. rex or triceratops could need. "The boys were definitely psyched," Seyl says. "That table got used and abused a lot."
Recognizing the need for fun, eco-friendly furniture for kids, he found a small space to hone his woodworking skills and got to building. Seyl spent a year perfecting his designs before fully establishing the Cheme Designs catalog and website. The name (che-mee) is a play on the Korean word for "fun."
Now just more than a year old, the line includes several play tables, stools and chairs, a desk, toy boxes, and an art table that cleverly converts into an easel. All are original designs and made from Baltic birch plywood and solid woods. The corners of each piece are rounded for safety. The water play table, shaped like a big splash, features a center basin that can be filled with water or sand and comes with a cover to allow for game-playing. Wide legs provide sturdiness and durability and the bright kid-approved colors are Green Guard-certified lacquers or eco-safe milk paints.
Locally, the water table is available at newly opened Baby Ink, a clothing and accessories shop in Brevard. But most sales are made through the Cheme website and orders have been coming in from across the country. The products have also landed on numerous design sites such as Apartment Therapy and in Dwell magazine.
Seyl's work has recently been discovered by Montessori schools, and a Head Start program in Arizona is trying out new larger tables. After the coming holiday rush, he plans to refine the line to include pieces appropriate for smaller homes, since the company receives many orders from urban areas.
"At this point, I'm a one-man show in terms of design, build, and ship. I pretty much do everything," with Lori lending a hand and providing advice. "If I were to give her a title," he notes, "she would be my inspirational director." But the people exerting the biggest influence on his work are the kids, who he calls "the masters of play."
---
Cheme Designs
(828) 507-3970
www.chemedesigns.com