Karen Hall
Karen Hall:
Scene Setter: Television scriptwriter Karen Hall came to Boone for a lifestyle change, but Los Angeles can't seem to do without her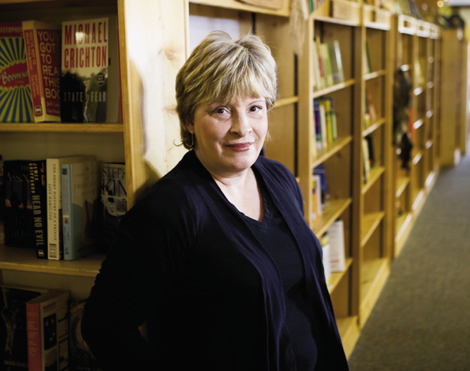 If she finally gets around to writing her memoir, it's certain Karen Hall will have plenty of tales to spin from a well-lived life that includes evolving from a small-town girl into a successful television writer, rekindling a lost love, and finding peace in the shadow of Grandfather Mountain. A good opening scene might be the moment when Hall's first-grade teacher instructed her class to compose a story. "I raised my hand and asked how you write a story," Hall recalls. "She said, 'write three sentences and make something happen.' So that's what I did, and I thought it was the greatest thing on earth."
The story line might then follow that same girl and her younger sister as they playfully created tales together, with Hall ultimately leaving home in Chatham, Virginia, to study playwriting at William & Mary. In 1977, while waiting to meet with her college advisor, she happened across a brochure describing a summer program in Los Angeles sponsored by the University of Richmond. Included in the session was a class with actor Alan Alda who was starring in M*A*S*H*, a show that Hall says was one of her favorites.
"I came to television writing by way of a lie," Hall says. "Because I needed $1,300 for the trip, I needed my parents to cosign a loan. I gave them a spiel about going to L.A. to see if a playwright could get a job out there." She told them about all the practical job search tactics she would pursue (though she had no intention of following through). It turned out the session was what would lead her to a career.
During the workshop, she impressed Alda with her desire to be a writer, and he offered to read some of her work. After she returned home, she sent him several one-act plays. His response was encouraging, and Hall began writing scripts on speculation. She finally decided it was time to roll the dice and make a permanent move to the West Coast. "Actually, I lied to my parents about that, too," she admits. "I told them I was going out to L.A. for two weeks even though I knew I wasn't coming back."
Temp work kept her afloat for nearly a year until Alda alerted her that M*A*S*H* might be looking for a new writer. She met with the producers and was hired to do a freelance episode. That exposure helped her land a staff writing job on, Eight Is Enough. When that show went off the air later that year, she suddenly found herself hired as the first female writer at M*A*S*H*.
From that point, Hall jumped from one successful show to another, refining her skills along the way. After M*A*S*H*, a freelance episode, "Officer of the Year," for Hill Street Blues in 1982 garnered an Emmy nomination and led to a job, again as the only female on the writing staff. Other writing and producing credits followed on such top-rated shows as Moonlighting, Northern Exposure, Grace Under Fire, Roseanne, and Judging Amy. The wildly popular Moonlighting she describes as "a lunatic asylum, but a great training ground."
She ranks Judging Amy as her favorite, because she teamed up with her sister, Barbara Hall, who followed her to Hollywood and created the series. "I loved working with my sister because we get along really well, except we can't talk about politics and family issues," Hall says. "In terms of writing, we have very similar sensibilities."
After her sister left to launch another program, Hall continued to produce episodes and direct the writers of Judging Amy for five more years. She also published a novel titled Dark Debts, but is adamant it will be her only one. "I'm into instant gratification," she says. "On television, you write it in May and see it in June."
Off Screen
Even with her work based in Los Angeles, Hall confesses to never enjoying the lifestyle there, and always maintained a retreat in the South. For many years, that sanctuary was a farm in Georgia—until an unexpected twist in her story reunited her with a high school sweetheart.
When she was a student in Chatham, Chris Walker was attending nearby Hargrave Military Academy, and, she claims, he was "her guy" from the instant she first saw him. However, after graduation in 1974, they parted. According to Hall, Walker dumped her; he says they went their separate ways. They remained apart for more than 25 years until Walker discovered her novel in 1998 and contacted her through the publisher's website.
The rest is happy-ending stuff worthy of its own script, with the couple reconnecting, reuniting, and marrying. They settled into a life split between coasts—most of the year they lived in L.A. where Karen continued to work, and summers were spent in the South. Then, in their mid-40s, the couple had a son, which led to a discussion about where to put down roots since, according to Hall, "L.A. is not a good place to raise kids."
Walker was happy in his native Florida, but Hall despises the heat. The farm in Georgia didn't quite work either for various reasons. As a kid, Walker spent summers with his family in Little Switzerland and was still fond of the North Carolina mountains. Fortunately, a high school friend of the pair, Catherine Morton, guided them to a remote farm at the foot of Grandfather Mountain, where they bought land and built a house. For Hall, the remaining task was to find the couple something to do so that the area became their permanent base. That's when another friend told her that Black Bear Books in Boone might be for sale.
"Unlike many writers, I've never had any desire to own a bookstore," Hall says. "But I'd been into the store a couple of times and had thought I would like to own this store."
The couple took over Black Bear Books last winter and immediately found themselves facing the holiday rush and learning on the fly how to operate a bookstore. But they managed, and have begun adding their own touches to the shop. Of course, things couldn't settle down too long for Hall. In January, a call came for her to join the writing staff of The Good Wife, a blossoming hit on CBS starring Julianna Margulies. "I thought I was going to be gone for two weeks, and I was there for three months," she says.
In addition to waiting for her next television assignment, Hall now divides her time between a pilot she's working on for the Starz Network ("Can't talk about it yet") and the bookstore. She's also blending both roles, and plans to use the store as a place to encourage local writers and teach the craft. "I love good writing and get excited when I meet a good writer," she says. "I'd like to teach the way I was taught, starting with a solid foundation."
However, she knows there's always more to come, often unexpectedly. "My memoirs are shaping up nicely," Hall jokes. "But I want to live some more chapters before I write them."