Jonesborough, Tennessee
Jonesborough, Tennessee:
Founded in 1779, long before Tennessee became a state, quiet little Jonesborough served as the capital of the geopolitical oddity known as the Lost State of Franklin, a territory along the North Carolina border that was organized as America's 14th state. It lasted from 1784 to 1788 but was never formally recognized by the union. Jonesborough is best enjoyed on foot, so park the car and stroll this historically rich town to appreciate the fine old houses and same westward-ho views that early pioneers took in.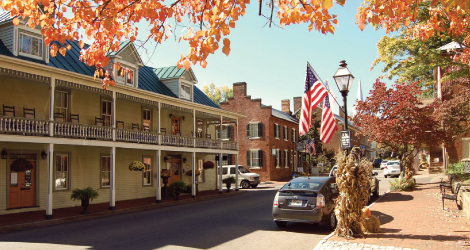 EAT Casual and comfortable, Main Street Café & Catering has been serving delicious dishes for 30 years. Eat inside this former U.S. Post Office building, which still holds many original architectural features like a pressed tin ceiling and broad oak floors, or dine outside and keep an eye on the comings and goings at the nearby county courthouse. With friendly service and a menu that includes house-made soups, sandwiches, salads, and fresh-ground burgers, the café is open for lunch daily except Sunday. Main Street Café & Catering, 117 W. Main St.; (423) 753-2460, www.mainstreetcatering.net
PLAY For a step back in time, experience Jonesborough by horse-drawn carriage just as the early settlers did. Enjoy the nearly 75 architectural treasures—Federal style, Greek Revival, and Queen Anne—that make up the national historic district. Equine Elegance Historic Jonesborough Carriage Tours; (423) 753-2903
SHOP Local antique stores hold clues to the region's colorful past. Start with a visit to Jonesborough Antique Mart for glassware, vintage silverware, and primitives, and then move on to Southern Exposure Antiques for toys, china, and retro duds.  
Jonesborough Antique Mart, 115 E. Main St.; (423) 753-8301; Southern Exposure, 205 W. Main St.; (423) 913-0143
STAY A stop on the Tennessee Heritage Trail, the 14-room Historic Eureka Inn sits in the center of town. The 1797 structure has been restored and modernized, but the porch is still a great spot to sit a spell.
Historic Eureka Inn, 127 W. Main St.; 1-(877) 734-6100; www.eurekajonesborough.com
---
Story Time
Some 10,000 spectators and yarn spinners from every walk of life gather in Jonesborough each fall for the International Storytelling Festival, which has helped make the town the Storytelling Capital of the World. This year's event takes place October 5-7. For details, visit storytellingcenter.net.
RESOURCES:
Photograph: by Katie Frensley