Jackrabbit Mountain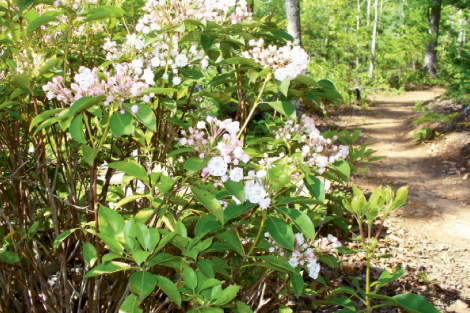 Hayesville
Distance: 15 miles
Difficulty: Easy to Moderate
In 2001, Clay County educators added mountain biking to the offerings of after-school programs. They had the cycles and expertise, but lacked the trails. That need spawned a large-scale, collaborative effort that culminated in a bonanza of rolling single-track known as the Jackrabbit Mountain Bike and Hiking Trails. Last spring, dignitaries cut the ribbon on the 15-mile playground for hikers, runners, and fat-tire lovers on a hare-shaped peninsula of land bordered by Lake Chatuge.
The 3.1-mile Central Loop sprouts a handful of shorter branches—all junctions are well marked with maps and color-coded blazes. For a six-mile route, follow the Central Loop to the .7-mile SABA Beach Trail via Burrell Cove. From the trailhead, veer right on the Central Loop. Turn right on the blue-blazed trail, and in a tenth of a mile, bear left on the red-blazed Burrell Cove trail. Soon, turn right on the short SABA Beach trail loop. Bring a bathing suit for a dip in the lake, and don't miss the rope swing on the bank near the trail junction. To return, continue along Burrell Cove trail and finish on the Central Loop.
Navigate: From Hayesville, take U.S. 64 east to N.C. 175. Head south for 3.4 miles and turn right on Jackrabbit Road. In a half mile, turn left into the trailhead parking lot. Download a map at www.sabacycling.com/jackrabbit-trail-map.pdf.