It's Showtime
It's Showtime:
After 81 years since its debut, Boone's Appalachian Theatre reopens for its best encore yet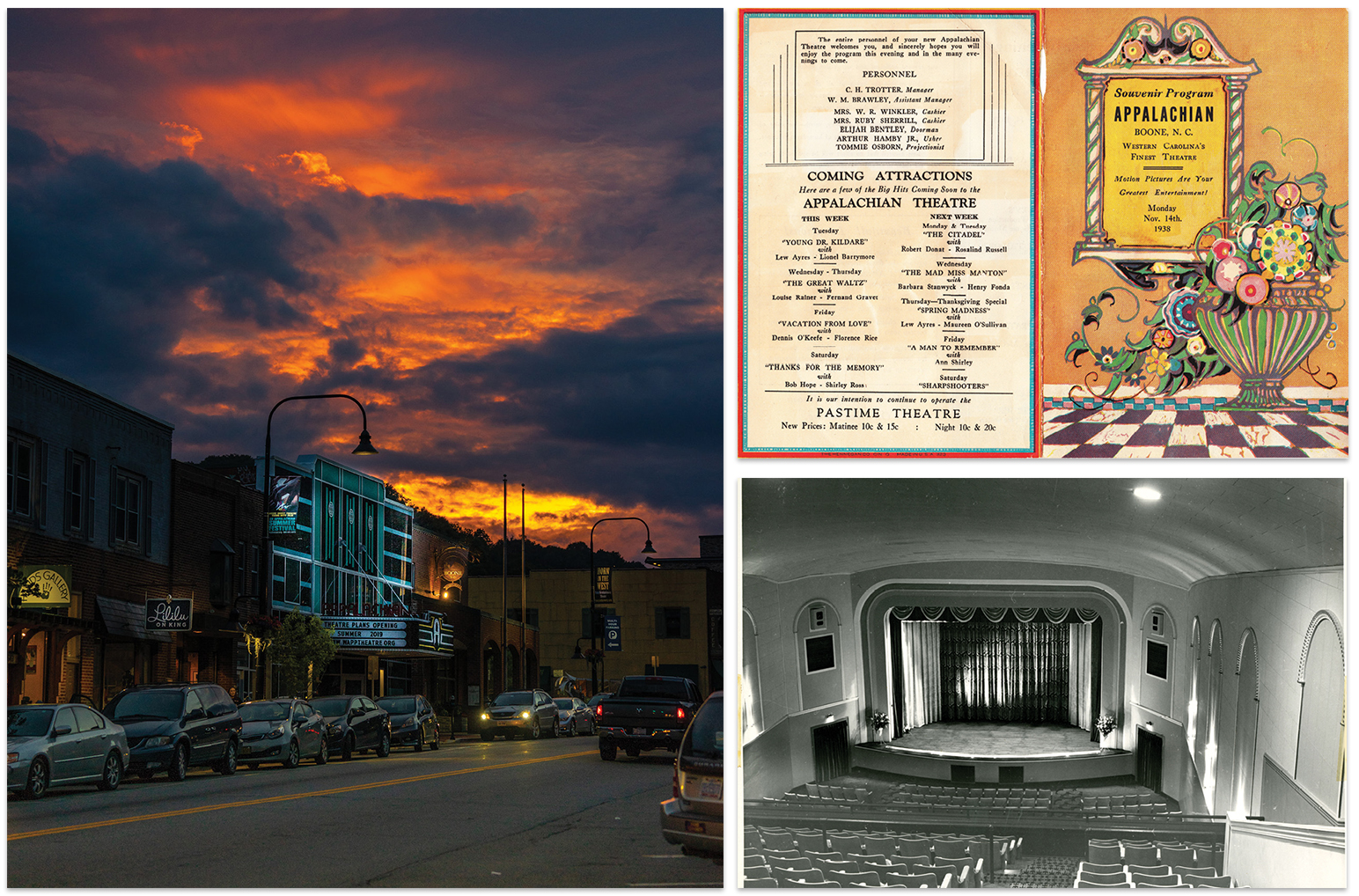 Then & Now - A souvenir program from the Appalachian Theatre's opening night and archival photos, including the one above showing a renovated interior after a fire in 1950, are among the memorabilia. Now, after many incarnations and a community-backed $10 million renovation, the Boone landmark reopened again in October.
The history of Boone's erstwhile Appalachian Theatre reads like an enthralling movie that could've shown there during its heyday in the 1940s and '50s. It's a tale of movie stars and Hollywood blockbusters, Vaudeville shows and acclaimed musical acts, a raid by federal agents, a devastating fire, then turmoil, bankruptcy, destruction, and the brink of abandonment. But this story has a happy ending—a sequel, if you will.
The old Appalachian Theatre, which opened in glorious Art Deco style on November 14, 1938, and operated until it closed in 2007, reopened in October to great fanfare. After eight years of community fund-raising and creative effort, the building has reemerged as Appalachian Theatre of the High Country (ATHC). It's a masterful decorative restoration offering a modern performance venue with seating for 620 on the main floor and balcony, plus a large community meeting room upstairs.

Instant Vintage - In its first two decades, the theater showed Hollywood blockbusters, which drew patrons from far and wide who would pack out the 999-seat auditorium.
There's pent-up demand for both kinds of spaces, according to ATHC Executive Director Laura Kratt.
"The bulk of programming will probably be community events," Kratt says, "and the university will be doing some events—opera, since we have an orchestra pit. The Appalachian Theatre will be booking national and international touring acts as well as working with local folks."
What sets the roughly $10 million restoration apart from other such projects was the commitment to replicate the look from the theater's original opening day. That meant hiring a design consultant to authenticate the color palette of everything from the ceiling to the carpet, as well as the fabric patterns and lighting.
Kratt explains, "The 1938 era was dynamic, with the Works Progress Administration and the building of the Blue Ridge Parkway. This historical approach gives us an opportunity to feature and draw attention to the narrative."
As fund-raising progressed, the nonprofit group driving the effort completed the glass and metal street-side façade, an eye-catching composition of beautiful curves and angles, with bold flares of mint green. Then came interior structural upgrades and Art Deco styling. Some of the original accessories were returned once people knew how important they were; four of six large theatrical lighting sconces came back for restoration using LED technology.

(Bottom right) The Art Deco concession stand after the 1950 fire.
When the Appalachian Theatre first opened, originally with 999 seats, Boone had a population of 1,700, and Appalachian State Teachers College (now Appalachian State University) had an enrollment of about 1,200 (today it approaches 20,000). Patrons came from near and far, some walking miles to see a stage or screen show. Granted, the original theater is a tough act to follow, but thanks to the support of the community, the future shines bright for a new generation of theatergoers. 
Get In On the Act - On November 14, catch a documentary screening of the Appalachian Theatre's history by Philip Arnold, and see the website for future shows and events.
Appalachian Theatre of the High Country
559 W. King St., Boone
(828) 865-3000; apptheatre.org
RESOURCES:
Photographs (exterior) by Leslie Restivo; (stage) by Palmer Blair, courtesy of the Appalachian Theatre of the High Country; (exterior with crowd) courtesy of the Appalachian Theatre of the High Country; (ticket entrance, exterior, and balcony) courtesy of the Sams Family; (concession stand) by Palmer Blair, courtesy of the Appalachian Theatre of the High Country