Interpreting the Past
Interpreting the Past:
New Asheville Museum of History explores WNC's roots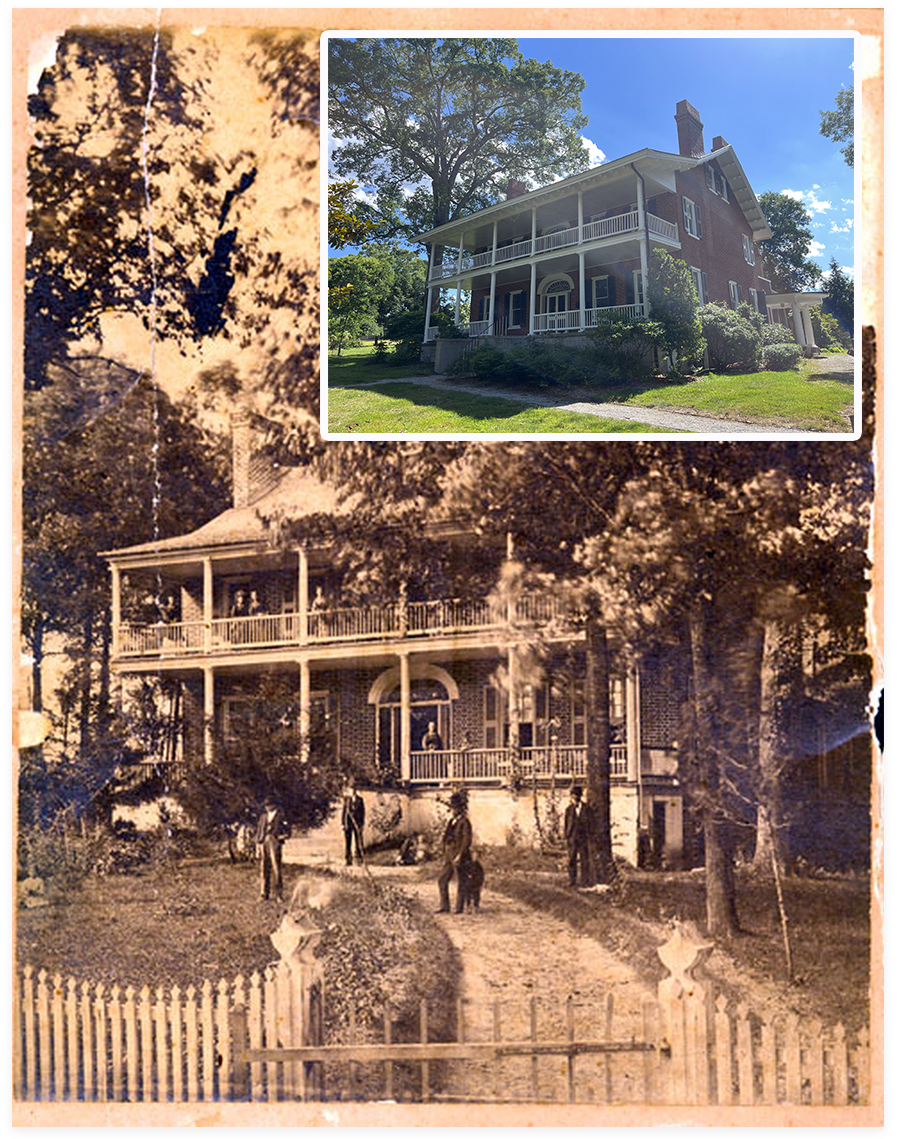 The Smith-McDowell house circa mid-1800s, and today (inset), where it houses the new Asheville Museum of History.
Western North Carolina welcomes a new museum this fall, as the Asheville Museum of History opens at the distinguished Smith-McDowell house. Supported by the WNC Historical Association, which was founded in 1952 to preserve and promote the region's history, the new museum will further that goal, says Anne Chesky, executive director.
"Our mission hasn't changed—only the ways in which we are fulfilling our mission are changing . . . And though we are known as Asheville Museum of History, we interpret the history of all of Western North Carolina. Asheville is our location."
The Smith-McDowell house dates to around 1840, and is named for the families who built the brick mansion and lived there until 1880, when debt from the Civil War forced them to sell. "It was operated as a timeline house museum by the historical association for many years, and has undergone extensive repairs and renovations, and will now provide gallery spaces for permanent and changing exhibits, as well as programs and other meetings," Chesky notes.
(Left to right) 1910: Asheville's streetcar system ran from Feb. 1889 to Sept. 1934. 1968: Supporters of Martin Luther King Jr. get a police escort as they mourn his death in a march near Pritchard Park. Workers carve out Beaucatcher Tunnel in 1927.
The museum is designed to accommodate its many visitors. "We wanted to make sure that our major exhibits, both permanent and changing, were accessible to as many people as possible," Chesky explains. All public exhibits are located on the first floor in order to be accessible to visitors with disabilities. Guided tours walk visitors through the stories of the home's former occupants, enslaved and free. Visitors will, "leave with a better understanding of how WNC has developed, grown, and changed," she says.
The history museum will continue its diverse programming, focusing on local, historical topics, guided hikes and tours, book talks, and more. The biggest change, Chesky adds, is the ability to host so many of these programs in-house, thanks to the building's new, multipurpose space, including a unique thirty-five-foot timeline spanning the hallway and free-standing exhibits with interactive elements. The museum will also host at least two gallery rooms with changing exhibits that should pique the interest of both adults and children.
An exhibit showcases the works and life of Raphael Guastavino.
Asheville Museum of History
283 Victoria Road
11 a.m.-5 p.m., Wednesday-Saturday; $5
(828) 253-9231; ashevillehistory.org