Inspiring Words
Inspiring Words:
The Mountain Gateway Museum puts decades of WNC writers on display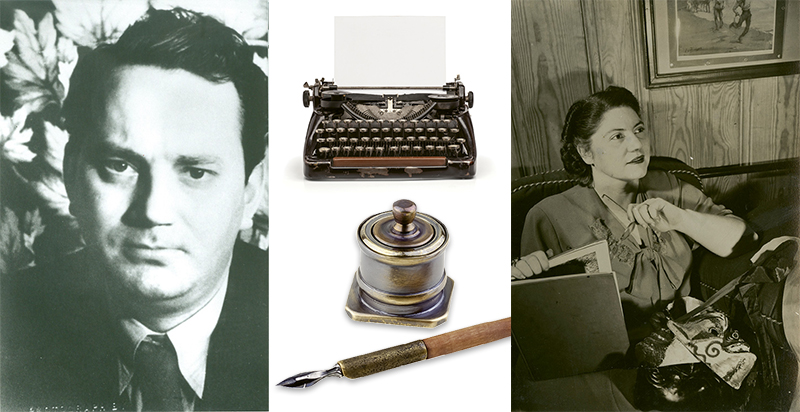 (Left) Thomas Wolfe; (far right) Josefina Niggli
When it comes to prominent writers who have hailed from or otherwise lived in these parts, the list is long—an embarrassment of riches that sometimes poses a challenge for local historians. So it was for Brittany Bennett Joachim, interpreter for the state-run Mountain Gateway Museum in Old Fort, who developed the new exhibit Inspiration in the Mountains: Writers & Western North Carolina.
WNC "has produced a variety of writers, from fiction to nonfiction, children's books, storytellers, poets, and playwrights," Joachim notes. Some of them—Thomas Wolfe, Carl Sandburg, and the like—are well-known to many local residents, while others might be just beneath the literary radar.
Joachim cites some choice examples: Alexander Key, author of popular young adult sci-fi novels including Escape to Witch Mountain, lived in Macon County. Margaret Morley, a New York-raised biologist, beekeeper, and educator, made a home in Tryon and in 1913 penned The Carolina Mountains, an account of life here that resounded nationally. And Josefina Niggli, a Mexican-born poet and novelist, taught at Western Carolina University, where she helped start the theater department.
"This is a small sampling of authors from the area," Joachim says of the exhibit, which shares the lives of 13 writers. It's free to visit, just like WNC's public library branches—which, she notes, are full of still more volumes by local authors just waiting to be read.
Inspiration in the Mountains
Through January 5; free
Mountain Gateway Museum
24 Water St., Old Fort
(828) 668-9259; mgmnc.org
 
RESOURCES:
Photographs (Thomas Wolfe) Courtesy of Thomas Wolfe Memorial; (Josefina Niggli) courtesy of Hunter Library at WCU