Industrial Revolution
Industrial Revolution:
Rare antique finds and contemporary design commingle in a remarkable North Wilkesboro loft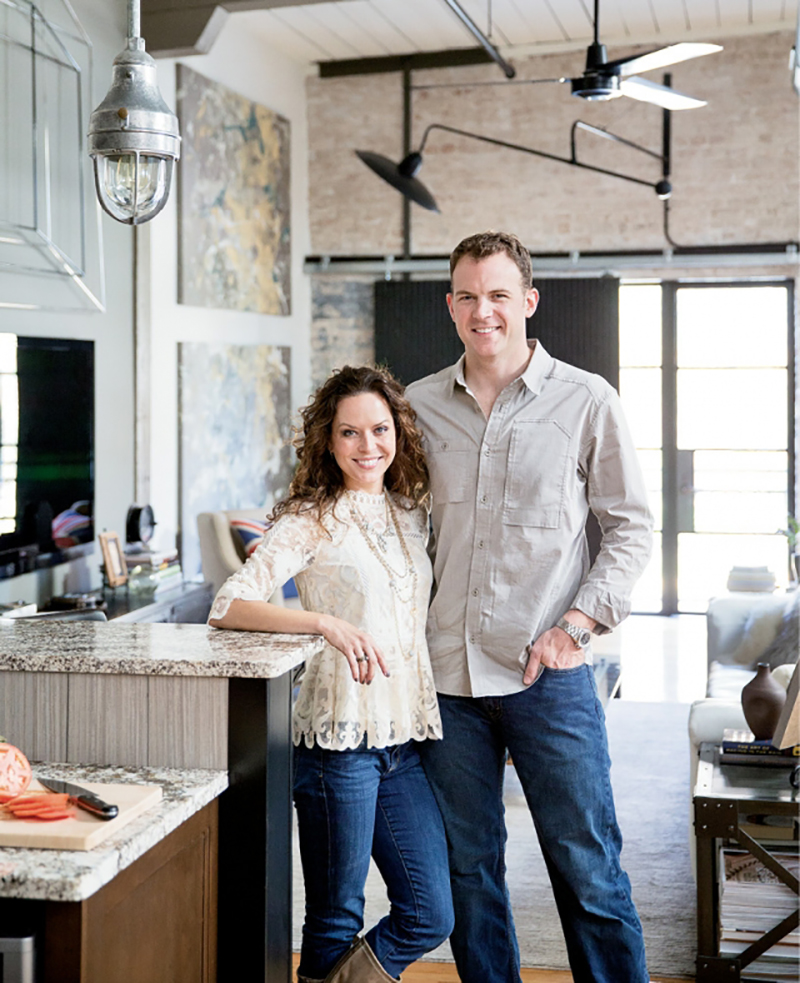 Every home tells a story, some more than others. This is certainly the case with the North Wilkesboro loft of Shane Hodge and Melissa Davidian.
Built in 1923 with handmade bricks and massive posts and beams, the Wilkes Hosiery Mill was once abuzz with knitting machines and hundreds of workers churning out millions of pairs of socks and leggings. The factory brought influxes of people and commerce to North Wilkesboro until it closed in 1957. The building was occupied by other textile concerns for a few more years, then taken over and operated by the Key City Furniture Company until 2003. In 2009, a year after the vacant building had been listed on the National Register of Historic Places, real estate developer Gene Reese bought it and set about converting it into condos, all the while keeping the factory's historical and industrial attributes, like the brick walls, posts, beams, and wood floors, intact.
Hodge, who is a general surgeon at Wilkes Regional Medical Center and was a bachelor at the time, purchased one of the 2,200-square-foot lofts in 2011 and began to infuse the space with a story of his own.
He worked with Jim Lyall, owner of jimmy.L's Interior Design and co-owner of Taupe Gallery in town, to create a home that is a reflection of his life and interests. It was important for Hodge to live with objects he amassed over the years, notes Lyall, like his valued collection of late-1800s medical textbooks, which are handsomely displayed on bookshelves and end tables. "There are no rules regarding decorating," says Lyall. "If you pick out things you love, you can make them work."
The two-bedroom, two-story loft is a masculine space that's sleek and simplistic, with contemporary lines, exposed brick surfaces, antique metal lighting fixtures, and retro furnishings, including an Edward Wormley-designed 1960s leather sofa and chair handed down from Hodge's aunt. Soaring 14-foot ceilings and exposed metal ductwork are integral to the industrial look. On the walls, a neutral palette of grey, black, and taupe is a pleasing backdrop for the many found objects on display, including the old postal collection box Hodge found through an architectural salvage company in Chicago. It's used for storage now, but there are plans to convert it into a wet bar.     
                       
The visual information in the home is phenomenal. Paintings, most by local artists, are displayed on the brick walls. Hodge's father, who picked up painting late in life after a long military career, contributed two pieces. And Hodge and Davidian's efforts to emulate Jackson Pollack's large-scale splatter-paint canvases also occupy prominent wall space. Family objects and other unusual finds, such as surgical tools of an earlier era, a 1964 Triumph motorbike that sits in the living room, and even a trio of military practice bombs from the Korean and Vietnam wars, add to the visual dialogue and blend seamlessly into the contemporary setting.
"Everything here is a memory," notes Hodge, pointing out the collection of antique medical bottles that are filled with sand from various countries he and Davidian, who he married in 2014, have visited. "They're constant visual reminders of life adventures."
Many items in the home were collected from antique stores and auction houses over time; however, Lyall says Hodge differs from his other clients in that if he couldn't find just what he was looking for, he would design and either build it himself or work with someone who could. Such is the case with the wire sculpture over the TV that Hodge sketched on a napkin then commissioned an artist to create. "He'd have a solution or I'd have one, and he'd just do it or build it," says Lyall. "He's such a doer."
Hodge rewired and restored several industrial lights, which came from a gymnasium in Charlotte, a mine in Oklahoma, and a military base in Colorado. To have the option of blocking light coming through the skylight, he fashioned plantation-style shutters out of aluminum that operate by a pulley system. And having picked up a thing or two about mechanics from his stepfather, who was an engineer, Hodge bought and retrofitted a 1979 Australian troop carrier that's often parked out front. But perhaps his most impressive undertaking is the bioethanol-fueled fireplace he designed and worked with Dennis Moser of Alloy Welding Company to construct.
"Shane wanted a fire element in the condo, but there wasn't a fireplace or feasible way to build one," Lyall notes. Hodge's solution? A thin, four-by-six foot, 250-pound metal frame fireplace that's on a hinge. It can be enjoyed from the intimate seating area in front of it, or opened out into the room to be seen from different vantage points.
Hodge's story, and that of his home, came full circle when he met Davidian, who is a dentist with a home and practice in Raleigh. Though they've kept her house and occasionally spend time there, after they married, Davidian moved into Hodge's unique world and quickly took to it. "I love being surrounded by the many textures, the earthy materials of wood, fur, and leather, and the memories we're creating here," she says.
When the couple isn't busy working or collecting for their home, they like to do the same things other young couples do, like hiking, biking, and traveling. They recently returned from a medical missionary trip to Honduras, where Hodge treated children with dysentery and Davidian provided dental care. They're actively involved in giving back to the local community and to international missions and organizations.
But despite their busy lives, the couple enjoys spending time at home, which is a story that's still unfolding.