Immersive Artistry
Immersive Artistry:
Biltmore hosts Van Gogh, Monet, and da Vinci in a year-long multisensory experience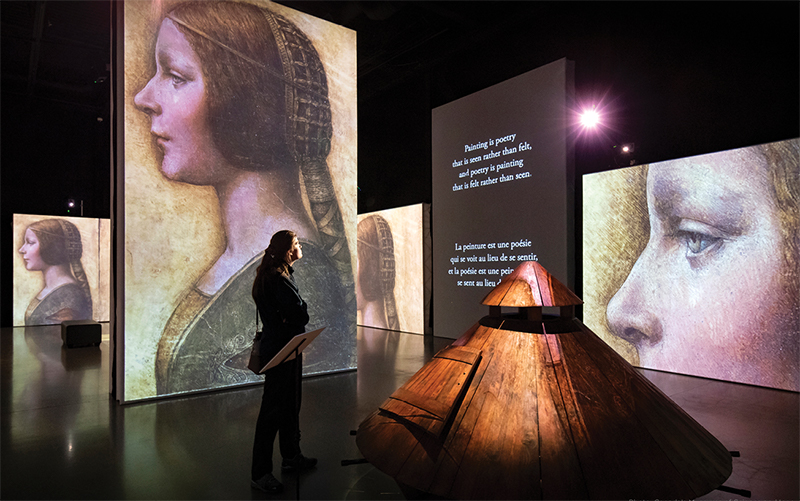 Leonardo da Vinci: 500 Years of Genius
A simple stroll through Biltmore House hints at the art collector in George Vanderbilt. The imposing Albrecht Dürer woodblock print above the mantle in the music room, Meisner porcelain statues of the 12 apostles, at least six John Singer Sargent portraits, and two believed small Renoirs are just a few of the notable artworks the young scion collected. So it isn't a stretch to imagine that if Vanderbilt were alive today he might host an art exhibition with the latest that the age has to offer.
Master class: Closer-than-ever encounters with the works of Van Gogh, Monet, and da Vinci saturate the senses at an immersive exhibition series hosted by Biltmore.
Enter Legends of Art & Innovation, opening this fall. It features three distinct large-scale, multisensory events produced by Grande Experiences using the very latest in immersive technology to illuminate the lives of Van Gogh, Monet, and da Vinci and their timeless masterpieces of art and design. The application of light and sound—with accompanying music, animation, 3D imagery, and multiple projections—allows visitors to experience these classic artworks in new and innovative ways.
The three inspiring exhibitions, staged at Biltmore's Amherst at Deerpark event center, will include Van Gogh Alive, Monet and Friends: Life, Light & Color, and finally, Leonardo da Vinci: 500 Years of Genius. Running consecutively November 5 through January 2023, each component of the series offers ties to Vanderbilt's collection of treasures.
Monet and Friends: Life, Light, and Color
"Pairing Van Gogh's story and artwork with the Biltmore experience is something we think is a truly unique combination," says LeeAnn Donnelly, senior public relations manager at Biltmore Estate. As Biltmore is an immersive experience in and of itself, Legends of Art & Innovation makes the perfect addition for seasoned art lovers and novices alike.
For tickets and additional information, visit biltmore.com.