A Hudson Homecoming
A Hudson Homecoming:
At the new Mitford Museum, the world of Jan Karon's bestselling books transcends the page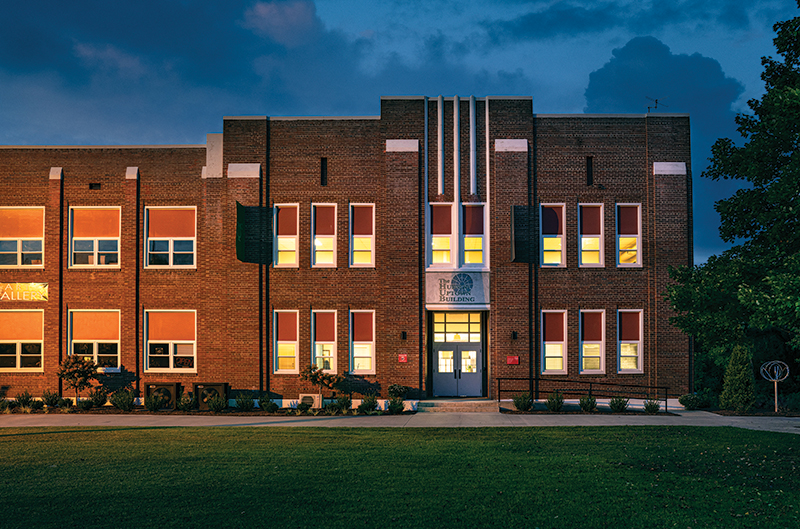 As an imaginative little girl in the 1940s, Jan Karon attended the brand-new Hudson School, a landmark Art Deco building in the thriving Caldwell County mill town. Her world revolved around her sister and grandparents and her beloved first-grade teacher, Nan Downs. Karon was a local girl who made good. She moved to Charlotte in late childhood, went on to a career in advertising and dazzling success as the bestselling author of over two dozen books. These include the 14 novels of the Mitford series, centered on the denizens of "America's favorite small town," modeled on nearby Blowing Rock. There are over 25 million of the books now in print.
As her star rose, Karon's hometown went in an opposite trajectory. When manufacturing jobs dried up, her school shuttered, falling into "unimaginable disrepair," Karon says. In a move to revitalize, the town restored the building (now called the Hudson Uptown Building), turning it into an arts center with studios, an events space, and even a craft brewery. But the first-grade classroom where Karon's love of learning had blossomed was still empty. "Perhaps she'd like to use it for something?" the developers suggested.
Karon first envisioned a place for book clubs to meet—cozy couches and bookshelves. But more classrooms became available. Ever a big thinker, she came up with the idea for the Mitford Museum, a place readers could come to celebrate not only the small town that looms so large in their imaginations, but also the woman who created it. "I know my readers and my fans," says Karon. "I knew they would love to see the story of my life and how it led to the Mitford series."
After over two years in the planning, the museum opened October 2 to a crowd of more than 400 visitors arriving from 38 states and as far away as Scotland to attend the celebration. While the books (classified as Christian fiction) have a primarily female audience, Karon says her readers range from 10-year-old boys to readers in their 90s, including many men who are sometimes sheepish in admitting they love the books. "In these books, they find themselves," says Karon.
Jan Karon and a display at The Mitford Museum
In the light-filled former classrooms, those fans find artifacts from Karon's life—two red benches from her grandmother, a milking stool and spinning wheel ("It's amazing how much I had carried with me for decades," she says). It's like "walking into the pages of a novel," she says. There's a "barn wall" of photos from various parts of Karon's life and items inspired by the books' characters: Reverend Tim's cassock and Dooley's red bicycle. All of her books are available (all are signed), and of course there's merch—T-shirts, Christmas ornaments, home accessories, and piggy banks, a meaningful motif in the books.
The whole museum was "homemade" Karon says, the design executed by herself and a team of volunteers. Future plans include writing workshops, an oral history library, an annual literary festival, and celebrations of mountain and foothills culture.
Fans have flocked to Blowing Rock for years to get a look at the town that inspired Mitford. Now, in Hudson they can learn more about the woman who created the town that feels so real to them. The museum, she says, gives both readers and people in her hometown a place to gather and connect—and that, she says, is what the books are really about.
The Mitford Museum
145 Cedar Valley Road, Hudson
10 am-4 pm, Wednesday-Saturday; free
(828) 572-4898; themitfordmuseum.org