The House that Denim Built
The House that Denim Built:
Catch a musical tale of the Cone family and Flat Top Manor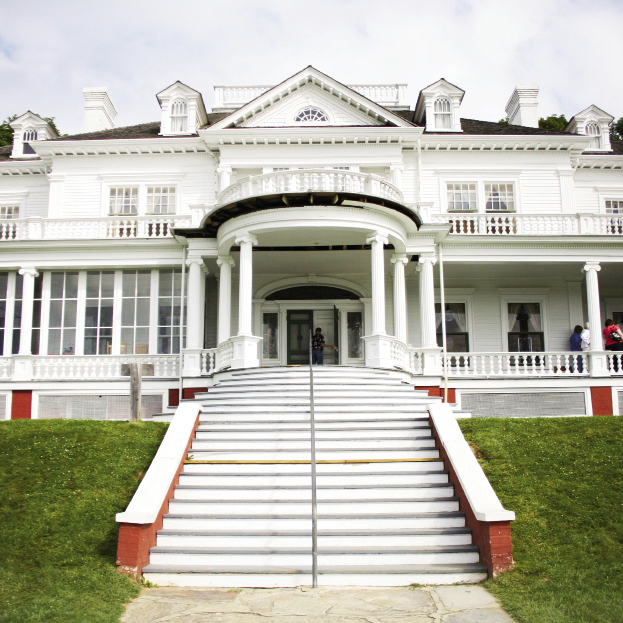 The Denim King: The Story of Moses Cone tells of a powerful family dynasty that brought textile manufacturing to WNC and built Flat Top Manor in Blowing Rock, now Moses H. Cone Memorial Park and part of the Blue Ridge Parkway national park unit.
Dubbed The Denim King, Moses Cone became a major supplier of denim to Levi Strauss & Co. Set in the Reconstruction Era, The Denim King traces the history of Cone's arrival to the mountains, his efforts to build the factory and mansion, and how he helped develop the area through philanthropy. When labor unions come onto the scene, tensions develop.
"The history is fascinating, especially to WNC locals, but the play is so much more than a historical piece," says Dr. Janet Barton Speer, who wrote the script. "There's a love triangle, aristocrats in gorgeous Victorian costumes side by side with textile workers in denim overalls, and wonderful music."
The Blue Ridge Parkway Foundation is sponsoring the production and will hold an opening night reception at the Hayes Auditorium at Lees-McRae College to raise funds to preserve and enhance Flat Top Manor and grounds.
The Denim King
August 1-7
Lees-McRae College
Hayes Auditorium
191 Main St., Banner Elk
(828) 898-8709
http://www.lmc.edu/conferencing_and_events/summer_theatre/index.htm
Moses H. Cone Benefit Reception
Saturday, August 1, 7 p.m.
$75, includes premier seating at the 2 p.m. or 7 p.m. performance of The Denim King