House Beat
House Beat:
Home industry news from across the mountains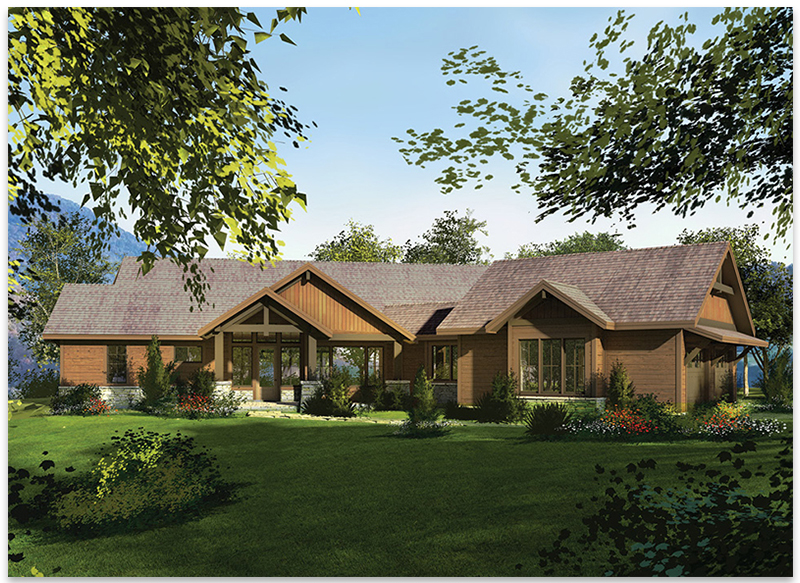 Novel concept: "Luxury cabins" at The Cliffs
The Cliffs at Walnut Cove, a high-end residential and recreational community in Buncombe County, is supplementing its offering with home models that are definitely not your average McMansion. One enclave currently under development there, Wildwood at The Cliffs, features homes by the in-house Cliffs Builders described alternatively as "cabin chic" and "luxurious cabins in the woods" that blend rustic elements with modern amenities.
The homesites are on large lots but with smaller-than-usual, single-story floor plans, buffered by natural surroundings. The Cliffs partnered with Alchemy Design Studio in Asheville on the interior design, pointing up the fact that no one will be "roughing it" in these homes.
"The materials and palette are natural and authentic to the mountains of Western North Carolina but offer a brighter, lighter and more refined rustic aesthetic," Alchemy says in a statement on its approach to Wildwood. "The interior and exterior are integrated using stone, glass, metal and wood, creating a sense of calm. Wildwood is about being connected with nature and bringing a comfortable and casual feeling inside the home." Learn more at cliffsliving/community/wildwood.
(Left) Deltec Homes' winning entry; (Right) Red Tree Builders' winning entry.
Asheville green builders snag national innovation awards
In a national competition, two Asheville companies, Deltec Homes and Red Tree Builders, recently received prestigious Housing Innovation Awards from the US Department of Energy. The annual awards honor "the very best in innovation on the path to zero energy-ready homes by recognizing forward-thinking builders delivering American homebuyers with a better homeowner experience," according to the DOE.
Deltec, a panelized prefab manufacturer that had won a similar DOE award in 2019, was named Grand Winner of 2021's innovation award in the category of custom home for buyer under 2,500 square feet. Red Tree, an "eco-luxury" building company, garnered its innovation award in the category of custom spec home.
The awards are a testament to the companies' roles as members of the Asheville area's vibrant green building sector. "It is exciting to be part of such an innovative region, and it is our hope to raise industry standards across the nation," said Red Tree president Brandon Bryant after the DOE awards ceremony, which took place in Denver in September. Deltec president Steve Linton added that "having multiple winners from Asheville just furthers our belief that Asheville is in the vanguard leading the nation in better environmental stewardship."
Big deals: Local buyer's agent lands two record purchases
In September, two record-breaking homes sales went down in WNC, and one local real estate agent played key roles in both: Premier Sotheby's International Reality's Marilyn Wright (pictured above).
The first sale closed at $9.3 million—for a 160-acre farmhouse estate in Brevard complete with a main house, two guest cottages, a pool house, and tennis and basketball courts, among other features. Wright represented the buyer, and the property was marketed and co-listed by her and John Witherspoon of Witherspoon Platt Associates. The sale was the highest ever residential purchase in WNC as recorded by the Canopy MLS.
Making it a September to remember, just days later, Wright landed another top-tier buy, beating her own record. For $9.5 million and with Wright's help as buyer's agent, another client purchased a historic property in Biltmore Forest. The 4.5-acre estate and grand 1927 house there was the original home of Vanderbilt heir George Cecil and his wife, Nancy.