Horse Power
Horse Power:
From an evening trail ride to a fall fox hunt to the excitement of a world-class competition, take a scenic ride through Tryon Horse Country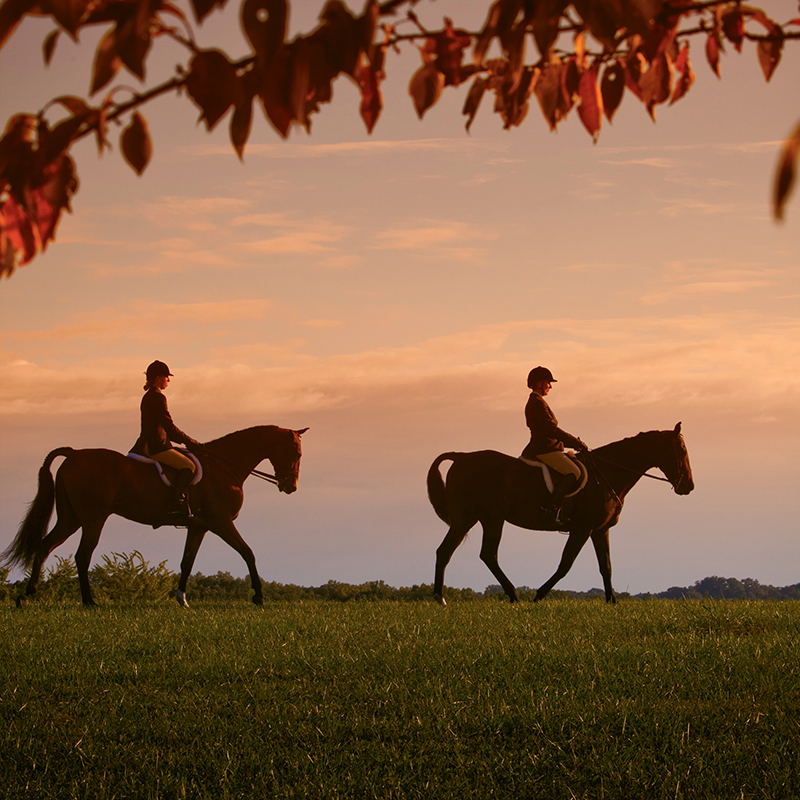 For over a century, horse enthusiasts from around the world have saddled up and settled down in the Carolina foothills. The rural landscape is home to beautiful farms and rolling hillsides at the front stoop of the breathtaking Blue Ridge Mountains—an idyllic, picturesque setting for horses and riders alike. This is Tryon Horse Country: a region rich with small-town charm and a vibrant equestrian lifestyle stretching from upstate South Carolina to the base of the Appalachian mountains.
This thriving culture is embodied by world-class events and shows held nearly every weekend; a sprawling, 250-mile network of equestrian trails; countless rustic stables and century-old horse farms; and hundreds of homegrown businesses that cater to riders and their animals. What's more, in towns from Landrum south of the border to Saluda in the north, there's a certain country appeal, a sense of tradition, and a welcoming vibe that led horse lovers here in the first place.
In 1917, Carter Brown, a prosperous Michigan businessman, established a guest house because he thought the tranquil countryside around Tryon would be a picture-perfect place to ride horses. Brown also created the Tryon Riding and Hunt Club and was instrumental in establishing the Tryon Horse Show and Block House Steeplechase, both of which continue to this day. He also brought the US equestrian team to train in Tryon for the 1956 and '60 Olympic Games.
A century later, Brown's legacy still thrives throughout the region. From the road signs bearing names like Mane Lane to the sprawling Tryon International Equestrian Center—which hosts the pinnacle of horse sports, the FEI World Equestrian Games, September 11-23—Tryon Horse Country has firmly established itself as a premier equine destination. And you don't need to be an expert equestrian—or even a rider at all—to take part in this idyllic lifestyle. There's just one simple requisite: a willingness to embrace a tradition and way of life tied to the horse.
Horse Life
If you live within what locals refer to as the String of Pearls—the towns of Tryon, Columbus, and Saluda in Polk County, and Landrum, South Carolina—there's a decent chance your livelihood revolves around horses. From breeders, vets, and farriers to fencing suppliers and architects specializing in barns to trainers, riders, and countless others who just ride for fun, the area is a hotbed for horses and those who love them. Members of the Foothills Equestrian Trails Association (FETA) can access around 150 miles of trails throughout Polk County, most of which are on private land.
A Hunting Tradition
One of the most venerable of horse sports, foxhunting was born in sixteenth century England and continues there even today (in modified fashion and minus the fox killing), and in numerous other countries. In Polk County, two dedicated groups, Green Creek Hounds and Tryon Hounds, attract devotees that are drawn to the formal dress, familiar rituals, and sporting feats associated with chasing foxes and other mountain animals on horseback, with hounds aplenty joining in the hunt. It's rare that a fox perishes in the endeavor, but the thrill of the chase remains—hunters must navigate their mounts through forests and streams, up and down ridges, and over the occasional fence, all while hewing to long-standing traditions. Contact either group for opportunities to participate or observe, especially during fox hunting's peak season, which runs late fall through early spring.
Equestrian Sports
While horse racing may rule in Kentucky, in Western North Carolina, English-style equine competitions such as show jumping (left) and driving (above) reign supreme. Opportunities for coaching and lessons for both riders and horses abound. Competitions are held at one of the three horse parks: Harmon Field, Foothills Equestrian Nature Center, and Tryon International Equestrian Center, which is attracting global talent during the FEI World Equestrian Games in September. There are programs for all ages and income levels to break into horse sports, even those with disabilities through FENCE's TROT (Therapeutic Riding of Tryon) program.
The Steeplechase
Established in 1925, the Tryon Riding and Hunt Club is the area's oldest organization devoted to promoting the sport and leisure of horseback riding, and its most prestigious annual event remains the Block House Steeplechase, which marks 73 years in 2019. Unlike flat thoroughbred racing, a steeplechase involves navigating obstacles like hedges and water. The Block House race, named after a pre-Revolutionary War trading post where the early competitions took place, is the longest-running steeplechase in the state.
Today, the pomp and fanfare have grown. Held in April, the equestrian center sees nearly 15,000 attendees who sport fancy hats and tailgate ahead of a running of the hounds and multiple races. Now co-managed with the Tryon International Equestrian Center and held on a top A-rated course, the event includes an ever-increasing sum of prize money. The 2017 race offered a purse of $175,000—the highest in the history of the event—and 40 top-tier jockeys.
The World Stage
When it comes to horse sporting, it doesn't get any bigger and better than the FEI World Equestrian Games, which have been held every four years since 1990. The games will take place at the Tryon International Equestrian Center September 11-23, marking only the second time the event has been held in the United States. For Polk County, landing the games has been viewed as an extraordinary coup—both as a recognition of the region's rich equestrian history and as a potentially huge economic driver. Aficionados from around the globe will be front and center for all the runs, jumps, and other signature challenges of world-class equestrianism.