Hopes Alive
Hopes Alive :
Jane Kramer returns to Asheville with a new solo album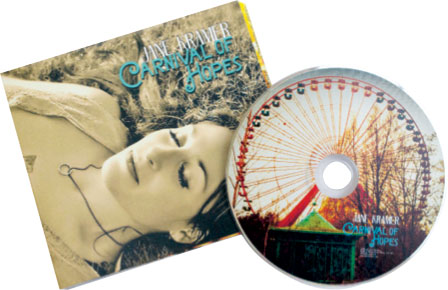 You may remember Jane Kramer from the trio Barrel House Mamas, which gained regional recognition in the 2000s. After the band split, the Warren Wilson graduate moved to Portland, Oregon, where she recorded her first solo record, 2013's Break & Bloom. Now, Kramer has returned to Asheville just in time for the release of her sophomore effort, Carnival of Hopes.
Kramer considers her music a mix of folk, Americana, and Appalachian, but this album has the feel of a country record from the late 1980s, similar to Patty Loveless or Kathy Mattea. Recorded at Sound Temple Studios in Asheville and engineered by Adam Johnson, Carnival of Hopes puts Kramer's vocal and songwriting skills front and center.
All songs are Kramer originals except a Tom Petty number, "Down South," which Kramer said she added to the album for a variety of reasons but foremost due to "the message of the song thematically, about returning home to the South and its little idiosyncrasies."
From the banjo-driven "My Dusty Wings" to the surprising horn section in "Why'd I Do That Blues" to the introspective title track, Kramer offers an impressive roster of songs with splendid vocals and personal lyrics. With help from an array of local musicians, this album is a true product of Western North Carolina and a fitting homecoming.  
Jane Kramer Album Release Show
February 26, 8 p.m.
$12, $10 advance
The Grey Eagle
185 Clingman Ave., Asheville
(828) 232-5800
www.thegreyeagle.com