Hoop Dreams on Hole No. 1
Hoop Dreams on Hole No. 1:
A dream retirement home in Asheville is a slam-dunk win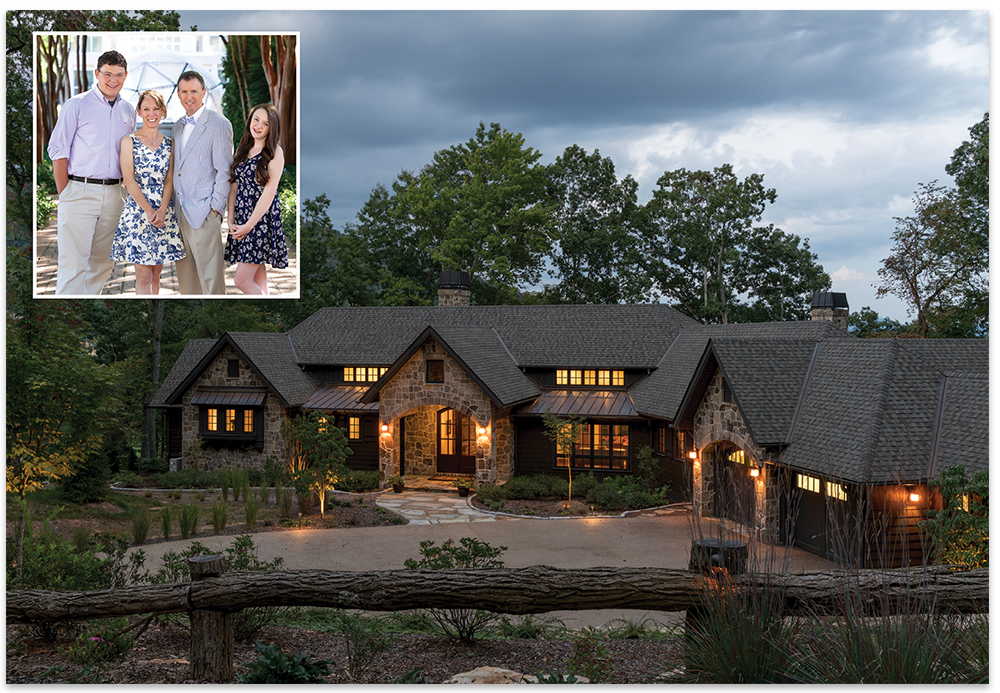 The stately residences occupying The Cliffs at Walnut Cove, one of the Asheville area's most luxurious private communities, are among WNC's finest. Beautiful homes of considerable size sit on generous lots, some wooded, others with fine views of the valleys and mountains beyond, while an immaculately manicured, Jack Nicklaus-designed golf course threads throughout. For a house to stand out in this neighborhood, it takes more than just a pretty facade.
The mountain lodge-style home of Dr. David and Rebecca Schoenfeld overlooks the first tee and is surely as pretty as the rest, with stone and cedar-shake siding punctuated by multiple gables. It looks modest from the road—one story with a two-car garage—though a lower level, visible from the backside above the golf course, reveals the home's true size. However, the total 7,153 square feet isn't what makes the Schoenfelds' residence one-of-a-kind; it's the high school regulation-size half basketball court with a 20-foot ceiling that holds the real wow-factor—but you'd never even know it until you walked downstairs.
Hoop Dreams, or Not
"If you'd told us years ago we'd have a basketball court inside our house, we'd say you're crazy," says David, shaking his head and smiling. "We're not very showy people." Matter of fact, he says, he and Rebecca both grew up with modest means and neither of them ever played basketball for a school team, but they are devout Duke fans.
David, who is from upstate New York, met Rebecca in Durham at Duke University Hospital, where she was working as an ICU nurse and he was studying medicine, eventually pursuing dermatology. Rebecca had grown up in Mooresville watching nearly every Duke game with her dad, and holds encyclopedic knowledge of the Blue Devils' players, stats, and history. Their time at Duke coincided with some of the team's most epic wins as well as one of their own: they got engaged at Wallace Wade Stadium just before David's graduation.
While work and life led them to settle outside of Atlanta and raise two kids (a daughter and son who are both now in college), Asheville was always in their hearts. Rebecca had attended Western Carolina University and spent her senior year residency at Mission Hospital. "We had friends who lived here that we used to visit," says Rebecca. "We knew we always wanted to come back to the North Carolina mountains."
So in 2011, when a lot became available in The Cliffs at Walnut Cove, they decided to buy, with the intention of waiting many years until retirement to build. The wooded lot with a mountain view, golfing amenities, and an easy walk to the clubhouse and practice facility are what sold them.
As it goes though, life doesn't always pan out the way we plan. Not long after the Schoenfelds bought the lot, The Cliffs landed under new ownership, and with it came a push for owners to join the golf club at a reduced price. If they chose not to, they could only join later if they purchased another lot. So the Schoenfelds opted in, but with membership fees due right away, it made sense to commence building, though Rebecca was reluctant.
David had a full-time dermatology practice near Atlanta and their kids were still in elementary and middle school. "We don't need a second house," was her sentiment. "You're absolutely right," David recalls saying. "But the stars were aligning," he explains. Building prices were down at the time, and one of the builders they'd interviewed made a kismet introduction that helped seal the deal.
PLATT Architects out of Brevard is highly regarded for their modern mountain designs. It wouldn't be known until years later that the HGTV Dream Home on Lake Toxaway that David and Rebecca had ogled over back in 2006 was designed by the same father/son team they would ultimately work with to build their dream retirement home.
Parker Platt and his now-retired father, Al Platt, met the Schoenfelds at the site. "We were expecting the Platts wouldn't say anything that would change our minds," says Rebecca. But after the architects helped David and Rebecca up onto a deer stand so they could envision a line of sight from their would-be porch or living room, and talked about the life of a house and their ideology of mountain homes, and gave the Schoenfelds entry into a few of the other homes they'd designed, the couple was sold and excited. And when the Platts found out the Schoenfelds wanted an indoor basketball court in the plans, they were downright giddy for the challenge.
A Grand Scheme
The Schoenfelds' son, Max, had played on a basketball rec league since age eight and was volunteering with special needs basketball by the time he turned 13. David even ended up coaching the special needs team for five years. The two also spent plenty of time playing hoops together in the driveway. It was Max that off-handedly suggested they build a ball court in their future home in Asheville, long before their first meeting with the Platts. "I said Max, this is not MTV Cribs," David says, laughing off the notion, but the seed had been planted.
So the next day, when David shared with a friend the ridiculous suggestion, he was surprised by his friend's response: "I think it's the coolest thing I've ever heard." His friend helped David envision his kids and their friends enjoying the court, especially during visits home from college. David talked to others who'd built in-home sports courts and loved theirs. And when he found out it could double as a pickleball court, a sport David had loved growing up, he was all in and began drafting plans for what's become known as Three Point Lodge.
"I'm very type A and project driven," David acknowledges, "so when we decided to build the house, I bought a CAD program and started playing around with it." He knew the floor plan he wanted for the house and ended up drafting 76 versions until he got it right. The plans included plenty of communal space for entertaining, as well as a large screened porch with an outdoor kitchen and fireplace, five bedrooms—including an impressive master suite and a bunk room—ample bathrooms, a movie theater media room for watching all the games, and of course, the basketball court.
David's final floor plan isn't exactly what came to be, but it isn't far off. "Most clients aren't architects," says Parker Platt, "but when people go to the extent that David did, and they really get into it, what it brings to the table is how they think of the relationship of spaces in a house. Our job is to put it together in a way that works." Among the adjustments, for instance, the bunk room on the lower level had to be sunken into the ground further to attain proper window egress. Some of the locations of the bed and bathrooms shifted and an elevator was added, with David and Rebecca's aging parents in mind.
"The basketball court was the most interesting challenge of the whole project," recalls Parker. "How do you build a family house on a golf course that doesn't look like it swallowed a basketball court?" The answer: they put it under an arched terrace that traces the arch of the three-point line and dropped it a floor into the ground to accommodate the 20-foot ceiling. They enlisted Sport Court Carolina, a company out of Charlotte that the Schoenfelds had encountered during a 2014 Final Four fan day in Atlanta, to do the flooring and finishing.
Score!
It took Hendersonville-based Glennwood Custom Builders a year and a half to complete construction, and when the Schoenfelds moved in in the spring of 2015, the end result far exceeded the family's expectations. "To say we love it is not strong enough," says David. "We feel so lucky and blessed."
A mix of exposed timber framing and arched ceiling trusses, hardwood flooring throughout, granite fireplaces and countertops, and custom cabinetry and built-ins resulted in the mountain lodge look the Schoenfelds had envisioned. The screened-in alfresco living area, accessed via accordion doors that can seamlessly blend indoors with the outside, is a favorite spot in the home. And the open floor plan that connects the kitchen, dining, and living room, screened porch and sweeping arched terrace is perfect for entertaining, which the family enjoys at every opportunity. The main floor guest bedroom and dreamy master suite occupy a separate and more private area.
On the lower level, two bedrooms and baths at the end of a long hallway offer a quiet escape from the entertainment area, which includes the media room, with plush recliners and a home theater-size screen, a viewing bar area overlooking the basketball court, the bunk room, and another full bath with a steam shower. In the long hallway, spanning the width of the 50-foot ball court that sits one floor below is a trophy case, filled with fun family photos and memorabilia. It was an addition suggested by the architects as a way to break up the unusually long hallway.
Finally, down one more short flight of stairs is the basketball court, which the Platts dubbed Cameron Indoor West as an homage to the Schoenfelds' Duke roots. Around the perimeter, nearly 90 pennants from many NCAA teams are a testament to the variety of friends and basketball fans who've visited. The Schoenfelds encourage their guests to bring a pennant from their alma mater or favorite team to sign and hang on their wall.
Though the Schoenfelds are only semi-retired and still split time between Asheville and their home and practice outside of Atlanta, they say their basketball/pickleball court and entertainment center get plenty of use. They regularly host friends from Atlanta and elsewhere, and now have a gang of neighborhood friends who come for regular pickleball games. As David had hoped, the kids get to enjoy it, too, with their friends during visits home. Suffice to say, the dream retirement home in Asheville that almost wasn't has been a slam dunk.