Holiday Happenings
Holiday Happenings:
Not even Scrooge could resist the mountain area's festive offerings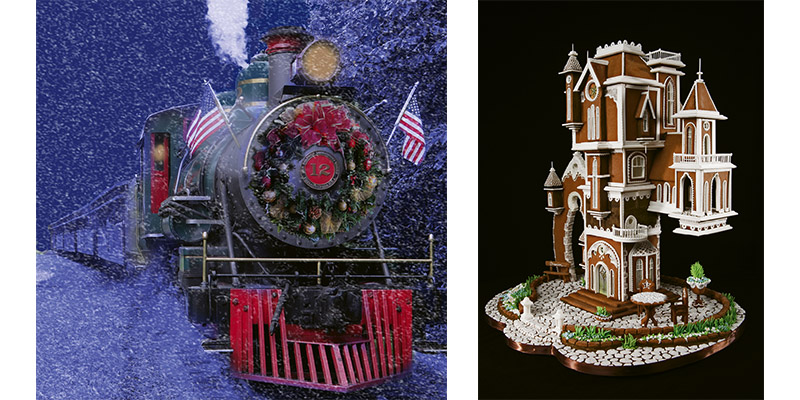 Tweetsie Railroad Christmas and the National Gingerbread House Competition.
RUN WITH THE GOBBLERS
Hickory YMCA Turkey Trot, Hickory; November 18, 9 a.m.; $20 by November 11; (828) 324-9622; www.runsignup.com
Cherokee 5K Turkey Strut, Bryson City; November 18, noon; $15, $5 under age 12 and over 60; (828) 359-6782; www.runsignup.com
Citizen-Times Turkey Trot and Gobble Wobble, Asheville; November 23; Gobble Wobble 1-Mile Fun Run at 8:30 a.m., Turkey Trot 5K at 9:15 a.m.; $15 Gobble Wobble, $35 Turkey Trot; www.annewheatly.wixsite.com/mysite-1
Lake Norman Turkey Trot, Cornelius; November 23, 7 a.m.; $35 5K, $40 10K, & $60 15K; www.epicsportsmarketing.com/our-races/lake-norman-turkey-trot
Turkey Trot 5K, Wilkesboro; November 23, 8 a.m.; $30; (336) 838-3991; www.ymcanwnc.org/locations/wilkes-family-ymca
High Country Turkey Trot
High County Turkey Trot, Boone; November 23, 9 a.m.; $30, $10 children under 12; (828) 264-1237, ext. 6; www.hosphouse.org/turkeytrot
Holiday Maker Sales>>Asheville
Each year, artists of the Southern Highland Craft Guild liquidate overstocks and annual inventory at the Holiday Maker Sales. On December 2 and 9, members will be on hand at the Folk Art Center selling select works 10 to 50 percent below retail. Blue Ridge Parkway Milepost 382; December 2 & 9, 10 a.m.-4 p.m.; (828) 298-7928; www.southernhighlandguild.org/holiday-sales
Toe River Holiday Studio Tour » Spruce Pine
Featuring craftspeople and artisans in nearly every medium, this self-guided studio tour takes visitors to creative spaces between Mt. Mitchell and Roan Mountain. It's a chance to meet more than 80 artists and their work up close. December 1-3, 10 a.m.-5 p.m.; free; (828) 682-7215; map available at www.toeriverarts.org
Appalachian Potters Market » Marion
At this Western North Carolina mainstay, 66 potters from across the state will be on hand selling many styles of clay work including raku, sgraffito, decorative stoneware, earthen cookware, and traditional folk pottery. This year's show will include children's activities, demonstrations, and live music. McDowell High School, 600 McDowell High School Rd.; December 2, 10 a.m.-4 p.m.; $4; (828) 652-8610; www.mcdowellarts.org
HOLIDAY PARADES
November 18 » Asheville, Hickory & West Jefferson
November 19 » Marion
November 25 » Sparta
November 26 » Franklin
December 2 » Andrews, Black Mountain,
Brevard, Bryson City, Burnsville, Hendersonville, Highlands, Murphy, North Wilkesboro, Old Fort, Rutherfordton, Sylva & Valdese
December 4 » Waynesville
December 5 » Morganton
December 7 » Canton
December 9 » Boone & Cashiers
Waynesville Chrsitmas Parade
LIVE THEATER
Flat Rock Playhouse Christmas Spectacular » Flat Rock
Flat Rock Playhouse presents an original musical revue performed by Playhouse singers and dancers that promises to be brimming with holiday cheer. Flat Rock Playhouse, 2661 Greenville Hwy.; November 17-December 22; $15-$50; (828) 693-0731; www.flatrockplayhouse.org
One Appalachian Christmas » Spindale
The year is 1936. Christmas is coming, but Addie Parker and her friend Clyde Runion are afraid that "Santy Claus" won't be coming to their poor little town in the Appalachian mountains. But the two are determined to make the holiday the best it can be. In a show geared toward an elementary school-aged audience, they learn that the best Christmases don't come from the pages of a mail-order catalog. Foundation Performing Arts Center, 286 ICC Loop Rd.; December 6, 10 a.m. & noon; $5; (828) 286-9990; www.foundationshows.org
Elf the Musical Jr. » Hickory
In this comedy derived from the movie Elf, a young boy named Buddy crawls into Santa's bag one Christmas and ends up being raised by the elves. When he learns the truth about his real family, he's shocked that his dad is on the naughty list and his brother doesn't even believe in Santa. Now Buddy is determined to win over his relatives and help all of New York to remember the true meaning of Christmas. Hickory Community Theatre, 30 3rd St. NW; December 7-17 (times and prices vary); (828) 328-2283; www.hickorytheater.org
A Dickens Tale » Asheville
Join Old Scrooge, bumbling Bob Cratchit, and all the delightful ghostly visitors in this heartwarming tale of friendship and generosity. An unsuspecting attendee will even have the opportunity to join the actors on stage in the role of Tiny Tim. Asheville Community Theatre, 35 E. Walnut St.; December 9, 10 a.m.; $5; (828) 254-1320; www.ashevilletheatre.org
A Charlie Brown Christmas » Morganton
The classic animated television special comes to life in this faithful stage adaptation featuring all the beloved Peanuts characters and Vince Guaraldi's classic score. Municipal Auditorium, 401 S. College St.; December 14, 7:30 p.m.; $15-$28; (828) 433-7469; www.commaonline.org
CHRISTMAS CLASSICS
25th annual National Gingerbread House Competition » Asheville
One of the nation's most celebrated and competitive holiday events returns. The Omni Grove Park Inn, 290 Macon Ave.; November 26-January 4, 2018; free admission, parking $20; (800) 413-5778; www.omnihotels.com
Santa on the Chimney » Chimney Rock
Santa Claus has to be nimble and quick to make it down everyone's chimney on Christmas Eve. What better place to practice than on one of the world's largest chimneys at Chimney Rock State Park? 431 Main St.; December 2 & 9, 11 a.m.-2 p.m.; $13, $6 ages five-15, free ages four & under; (828) 277-9611; www.chimneyrockpark.com
PHOTO: Chrsitmas at Biltmore.
Christmas at Biltmore » Asheville
With daytime and evening tickets available, Christmas at Biltmore showcases the grand estate with decked garlands, lights, and thousands of ornaments on more than 55 Christmas trees. What's more, Biltmore's restaurants will feature special holiday menus, and the winery will roll out its annual Christmas blend. 1 Lodge St., November 3-January 7, 2018; prices vary; (800) 411-3812; www.biltmore.com
Tweetsie Christmas » Blowing Rock
Tweetsie Christmas is the railroad's brand new holiday tradition. Activities include a train ride with light displays, visits to Santa's Workshop, special photo opportunities, a Christmas show, caroling, a fire pit, live animals, and more. 300 Tweetsie Railroad Ln.; December 1-2, 8-9, & 15-16, 5-10 p.m.; $38, free children two & under; (828) 264-9061; www.tweetsie.com