Historic Remodel
Historic Remodel:
Flat Top Manor gets a makeover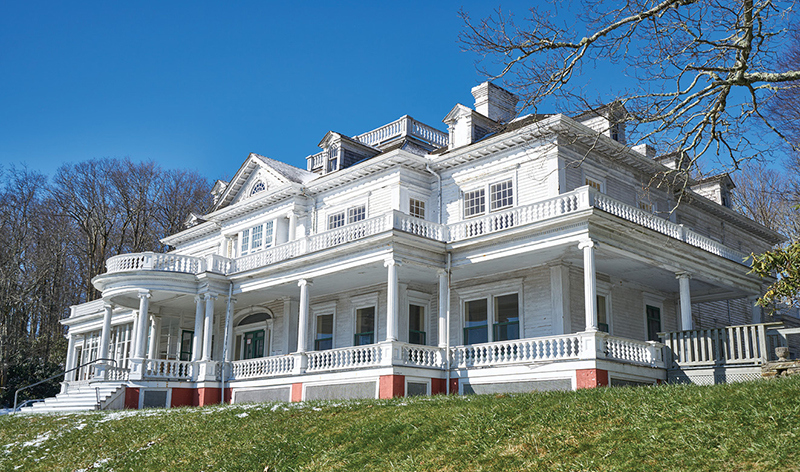 A long-awaited transformation is underway at Flat Top Manor on the Blue Ridge Parkway. In December, crews began repairs to the weathered exterior of the circa-1901 Colonial Revival home, the centerpiece of the 3,500-acre estate that is now Moses H. Cone Memorial Park.
The initial steps included the removal of windows, porch columns, railings, and balusters. These elements have been sent to a preservation workshop in Greensboro, where they will be repaired to their original condition. The extensive renovations will continue during this spring and summer to fix or replace deteriorating wood siding, shingles, doors, the porch ceiling, gutters, and additional features.
The rehabilitation is being made possible through donations to the Blue Ridge Parkway Foundation and funding from the National Park Service. "The Cone Memorial Park, and in particular the manor, have become synonymous with the Parkway experience in the North Carolina High Country," says Neal Labrie, acting superintendent of the Blue Ridge Parkway. "We are pleased to be rehabilitating this well-loved location so that future generations of park visitors can learn about the Cones' story and enjoy all the estate has to offer."
Since the creation of the estate by Moses and Bertha Cone in the late 1800s, it has been a Blowing Rock community landmark. From its early days, the public was allowed to explore and enjoy the grounds.
"Thousands of visitors to the Blowing Rock area make the Blue Ridge Parkway and Cone Estate a must-see destination during their stay," says Tracy Brown, executive director of the Blowing Rock Tourism Development Authority. "To our local economy, it's incredibly important to protect and preserve these public assets."