In Hindsight
In Hindsight:
Recapping the good, the bad, and the ugly of 2009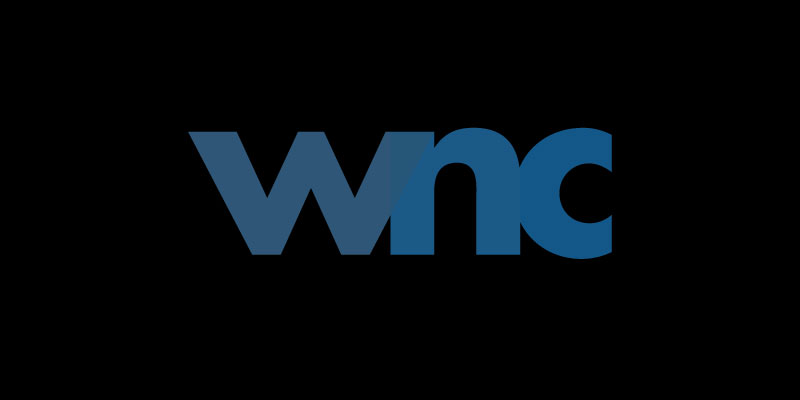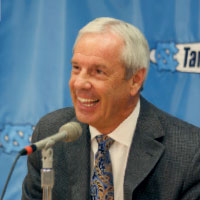 GOOD
List City, USA
Asheville tied with Portland, Oregon, as Beer City USA in an online poll last spring. Other 2009 accolades included a "Top 10 City for Political Junkies," a "Top 10 Trout-fishing Town," and one of the "10 Most Affordable Places to Retire."
Hometown Hero
When US Airways Flight 1549 miraculously landed safely in the Hudson River in January, Weaverville resident Sheila Dail's job as a flight attendant became the work of saving lives. Honored locally and nationally as a Hero of the Hudson, Dail helped get all 150 passengers and five crew members to safety after the plane's crash landing en route to Charlotte.
In Roy We Trust (picture shown)
The most popular man in the state, UNC Men's Basketball Coach Roy Williams, brought us another Tar Heel National Championship in April. Williams, who led the Heels to a national title in 2005 as well, was born in Marion and raised in Asheville, so we claim him as our own.
Rain, Rain, Stay. No, Go away
Five-plus years of region-wide drought were pounded into mud by a surfeit of rain in 2009. Initially proclaimed as manna from heaven, the incessant rain (the most in WNC since the floods of 2004) moved into the "bad" category when it ruined crops and gave some folks a case of seasonal affective disorder.
Parkside Payback
After two years of debate and tree sit-ins organized by a coven of witches (really), developer Stewart Coleman agreed not to chop down a 100-year-old magnolia in Asheville's City-County Plaza. He's now converting the historic Hayes-Hopson building into a tavern, where huge windows will provide views of the tree.
---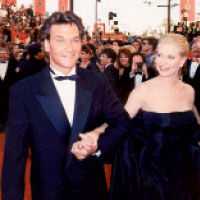 BAD
Man Vs. Bear
2009 may be the year of the Ox in China, but in WNC, it's been the year of the bear. Bears stole hikers' lunches at Craggy Gardens on the Blue Ridge Parkway, culminating in a standoff over a sandwich between a white-haired lady and a hulking brown bear. The bears were so aggressive that park rangers closed the picnic area for several weeks. Even Governor Perdue was spooked by a furry visitor during a sojourn in Asheville.
Goodbye, Patrick (picture shown)
The man, the myth, the muse who put Lake Lure on the map by swiveling his hips in the locally shot film Dirty Dancing, Patrick Swayze, died of pancreatic cancer in September. The town of Lake Lure hosted a memorial service that drew more than 300 of the sexy star's fans.
DownWind
In January, Judge Lacy Thornburg ruled that the Tennessee Valley Authority must install pollution controls at four of its coal-fired power plants closest to WNC, but denied N.C. State Attorney General Roy Cooper's request to add controls at seven other plants. TVA is appealing the ruling, because it says it already has an aggressive clean air program.
Water's Edge
Our famous waterfalls became infamous after three accidents and one death this summer. A Florida man died after becoming stuck while saving his son from drowning under the "Bust your Butt" waterfall near Highlands. Two people tumbled over Glen Falls near Highlands, and one fell over Triple Falls near Brevard. These three survived, but there have been at least 12 waterfall deaths in WNC in the past seven years. Be careful out there.
Curtain Drops
Citing "unprecedented economic difficulty," the Hayes Performing Arts Center in Blowing Rock temporarily suspended operations at the end of its summer season. In other words, the recession took another bite out of the region's arts scene.
---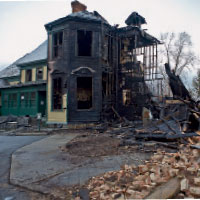 UGLY
Trashy Trend
This year might be remembered as the one when Dumpster diving became hip. There are now online groups to organize diving meet-ups: 27 folks are on the Asheville waiting list and 29 on the one for Morganton. Maybe Eric Rudolph could offer some tips.
Trail of Deception
South Carolina Governor Mark Sanford turned "hiking the Appalachian Trail" into a euphemism for having an extramarital affair, ruining guy camping trips for the foreseeable future. One of the days Sanford was supposedly on the AT was Naked Hiking Day—an irony we hope wasn't lost on Sanford as he cavorted with his mistress in Argentina.
Mourning a Moonshiner
Appalachian moonshiner Marvin "Popcorn" Sutton killed himself in March to avoid reporting to prison for illegal brewing. While Popcorn was buried in Haywood County, where he grew up, his wife had his remains exhumed in September. She says she'll rebury him in Tennessee to deter vandals from disturbing his grave. Even in death, Popcorn attracts controversy.
Landmark Lost (picture shown)
Someone set fire to Asheville's historic Richmond Hill Inn in March—just a few weeks before the property was to be sold due to foreclosure. The inn's owner, William Gray, owed approximately $6.8 million on the property. No one's been charged with the crime, which destroyed the 120-year-old structure.
RESOURCES:
Written by Anne Fitten Glenn Photograph (Richmond Hill Inn) by Peter M. Lorenz; (Roy Williams) by Zeke Smith; (Patrick Swayze) by Alan Light