Higher Ground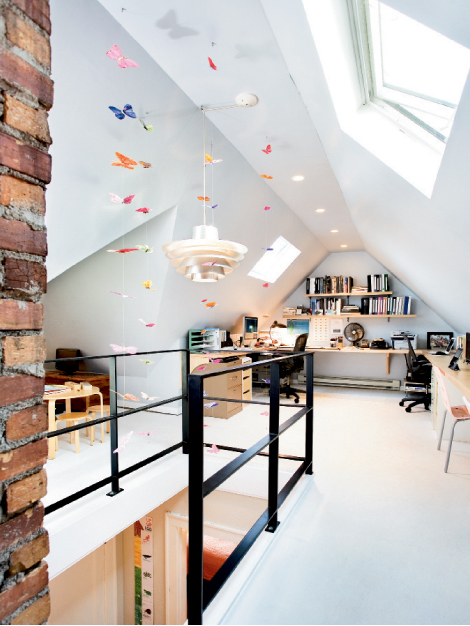 An architect dad takes the family home to the next level with an airy attic revamp.
What's a family to do when their house starts to feel like a sweater that's one size too small? More than a few would launch a house hunt. Scott and Ginger Huebner, however, didn't want to say so long to their 1928 Tudor-style home near Biltmore Village.
Scott, who was looking to carve out a proper office for his company, Brickstack Architecture + Design, began to search for the house's hidden potential.
He found it in the unfinished attic.
Today, the family can climb a ship's ladder to a 400-square-foot room awash in natural light. A wraparound desk traces one end of the room, which also serves as a workspace for Ginger, the founding director of Roots + Wings School of Art. Tucked under anothergable is a play area, complete with kid-size recliners and an art table. The skylights, which allow rays to filter down to the second floor, confirm that moving up was a smart decision. "When they cut holes for the skylights, I saw the space light up," Scott says. "It transformed the whole place."
The entire project was done on a budget, making the most of simple materials. The floors, for instance, are painted plywood. But the couple didn't sacrifice efficiency. Icynene insulation helps keep the temperature regulated.
The splurges in the project were the custom iron railing and ladder. Staying in the house they love has been the big payoff. It's an idea Scott hopes more people will consider, encouraging them to ask, "What can we do with our current house?"
BRICKSTACK Architecture+Design
(828) 545-4233
www.brick-stack.com
Blog: www.architectforthepeople.com
Roots + Wings School of Art
www.rootsandwingsarts.com