Higher Elevations
Higher Elevations:
Boone artist Ryan Kirby talks living in the High Country, his success as a painter, and his love of family and the outdoors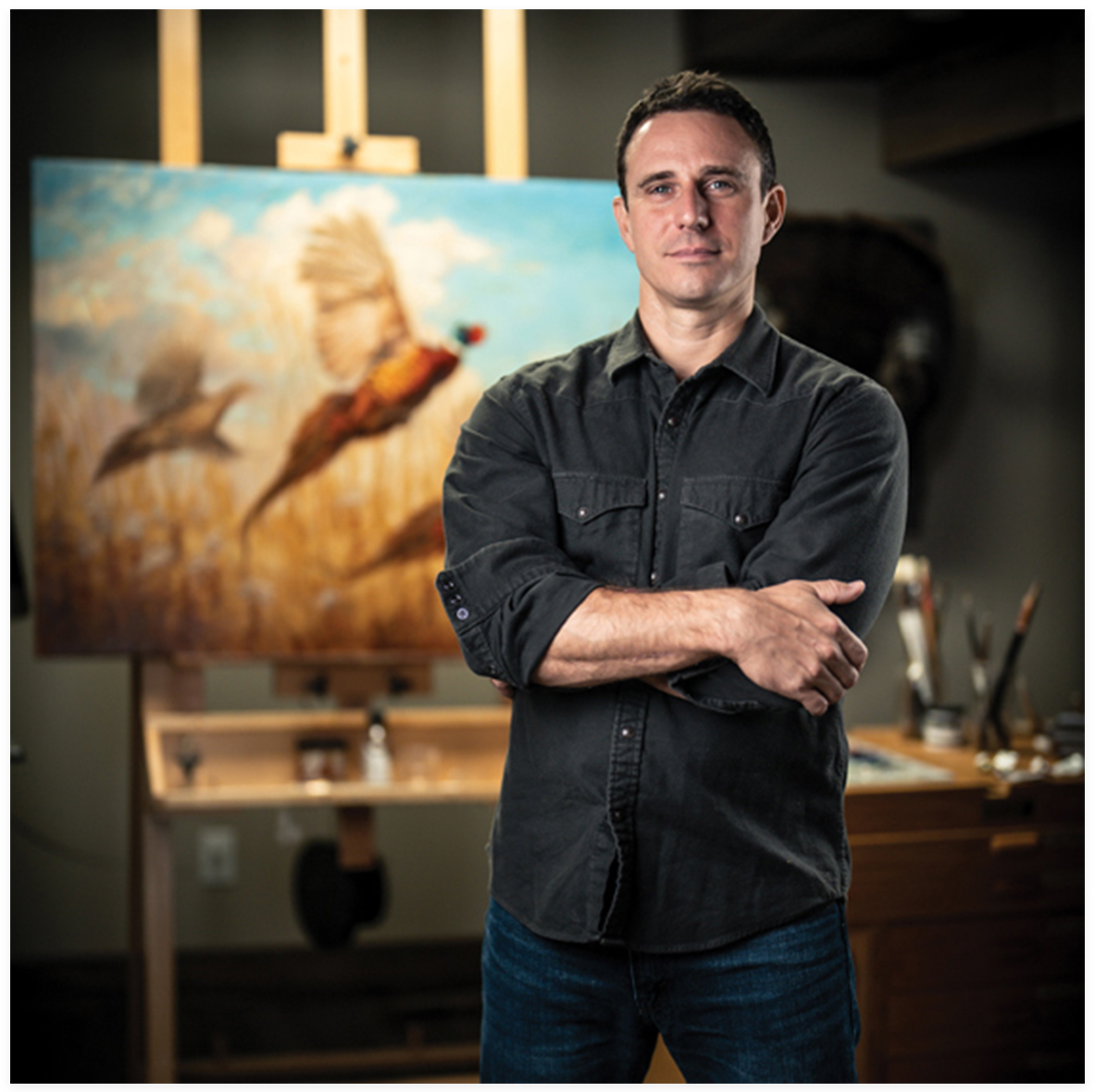 Meet Ryan Kirby: a Boone-based painter, illustrator, husband and father, outdoorsman, and, most recently, the Southeastern Wildlife Exposition's (SEWE) featured artist of the year—an honor bestowed only to highly talented artists. Kirby primarily crafts with oil on canvas and charcoal pencil, and has a degree in graphic design from Bradley University.
Kirby's charisma and passion shines through in conversation. After he and his wife Kim married and decided to raise a family, they were torn between a move to Nashville, TN, and Boone, eventually selecting the High Country town for its stunning landscapes and charming culture. Their home in Watauga County borders a calm river, and Kirby and his family often take inner tubes down the waterway, winding up at their favorite restaurant in the city. "That's what I've always wanted—for our kids to be able to go out the back door and experience the outdoors if they want to," he explains.
An avid outdoorsman, Kirby's experiences in nature transcends onto his canvases. A quick visit to his online portfolio shows that each painting has a story—a personal experience of Kirby's memorialized on canvas. Like most, Kirby is stunned by the scenic beauty of Western North Carolina, but equally as enticing is the lifestyle of small-town living. "I really enjoy the people up here," Kirby says. "Obviously the no-brainer is that it's beautiful and inspiring for painting, but the thing that I love the most is the upbringing our kids will have here."
"As I've grown, the outdoors has become the inspiration for my work. It's a lot of my social time. That's my time to take a deep breath. There's no agenda or schedule. And that's really what's kept me interested in it for so long." —Ryan Kirby
TURKEY TROT
Kirby grew up in the tiny suburb of Hamilton, Illinois (its current population is 2,693). As a child, Kirby spent much of his free time enjoying the Midwestern landscape and its wildlife. "Growing up in the '80s and '90s, we didn't have social media, we didn't have the Internet," Kirby explains. "You really only knew the circle you were a part of. We farmed, we had livestock, we fished in ponds, we deer hunted, and we turkey hunted. And that's really how I got involved—by doing it with my whole family."
After spending so much time outdoors, Kirby began to hold a special appreciation for wild turkeys. "I became fascinated with turkey hunting when I was twelve years old, and, really, that fascination never stopped." In fact, he decided to forego playing high school baseball, a beloved pastime of his, because turkey season overlapped its spring schedule. At the time, the Illinois Department of Natural Resources only allowed one tag per season—meaning that hunters were only able to bag one bird each—but that didn't keep Kirby away. "When I filled my tag, I would spend the rest of the season, and even two or three weeks after the [turkey] season just going to film turkeys."
Years later, they're still one of Kirby's most frequent muses. After college, he began working as an illustrator for the National Wild Turkey Federation in Edgefield, SC, a nonprofit which supports wild turkey conservation efforts and hunting traditions. Many of Kirby's paintings depict these birds, which, in North Carolina, are exclusively Eastern Wild Turkeys.
Kirby observes local wildlife in action. His attention to detail is evident in his work.
THE MAKING OF AN ARTIST
Like most kids, Kirby's grade school schedule included a weekly art class, where he seemed to pick things up quickly. "At that age, you just draw a duck and your duck looks better than other kids' ducks," Kirby jokes. "I just found I had an ability to understand shapes and how things fit together, and I had the hand-eye coordination to put it on paper."
Steve Mullins, Kirby's art teacher throughout middle and high school, encouraged his students to participate in SEWE's Junior Duck Stamp program, an educational initiative that incorporates natural education into art curriculum in schools. Participating students are invited to submit an illustration of native ducks, geese, or swans, which is judged by SEWE. The winning artist earns a place on a federal stamp featuring their work. Kirby won the contest when he was sixteen, a victory he credits to the dedication and support he received from Mullins.
As a high schooler, Kirby worked odd jobs to make money, including commissioning paintings for local hunters. However, it wasn't until he was in college that he really began to consider art as a full-time career. Just one day after graduation, Kirby loaded his car and made the journey to Edgefield to begin his career at the Turkey Federation. As a graphic designer, he worked on multiple publications for the nonprofit. It was the first time Kirby had created art to-order.
After eight years at the nonprofit, he decided it was time to pursue a career as an independent artist. Kirby began exhibiting his work at SEWE in 2014, and now, nearly ten years later, has the honor of featured artist. As a juried exhibitor, Kirby typically brought around ten to fifteen pieces of art to display at the expo. But as the featured artist, he brought forty-three pieces, which he worked on several months in advance of the February festival. His featured work, The Departure depicts three ring-necked pheasants (one female and two males) taking flight in a golden field.
Kirby seems to have found a way to intertwine his passions in life. In Boone, he shares his love of the outdoors with his family, and through his work, he is able to share it with everyone.
ON THE HUNT FOR MORE?
To learn more about Ryan and to purchase his work, visit ryankirby.com.