High-Water Mark
High-Water Mark:
The game-changing Nantahala Outdoor Center turns 50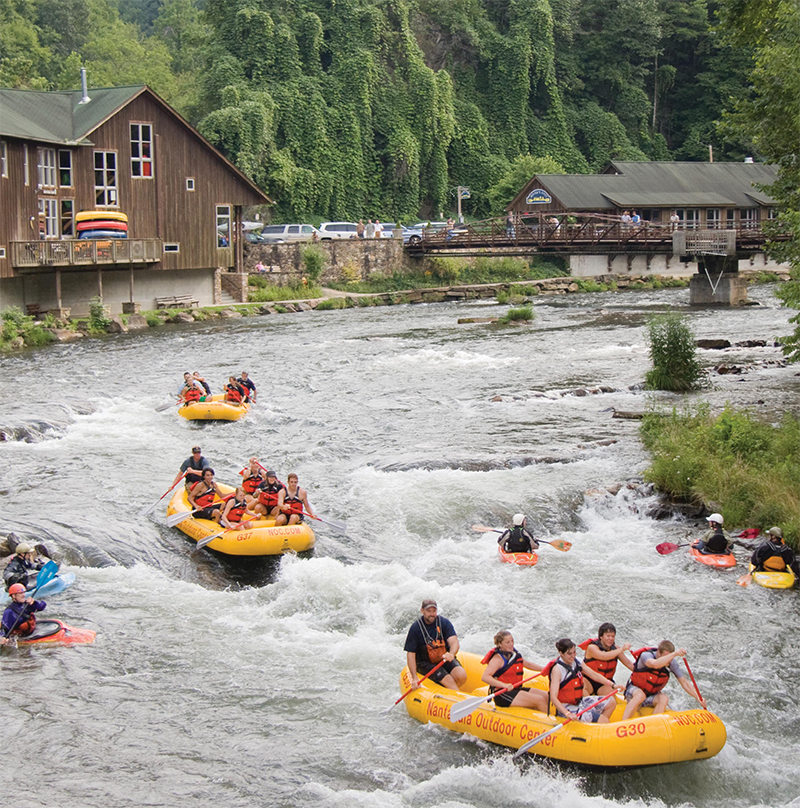 Paddle Up - The Nantahala Outdoor Center is flowing strong after 50 years in operation.
This year, the Nantahala Outdoor Center celebrates its 50th anniversary—marking a major milestone in the creation of the Southern Appalachian outdoor lifestyle.
The business has garnered decades of accolades as a top outdoor destination, and not just for whitewater fun, but also for state-of-the-art training in everything from water safety and rescue to competitive paddling. The NOC's list of Olympic medalists (two with gold medals), world champions, and other world-class competitors is long and growing. And that includes 89-year-old Payson Kennedy, NOC's founder, whose passion for his sport helped draft the entire baby boom generation in his wake, earning him a spot in the International Whitewater Hall of Fame.
The enterprise did get some lucky breaks early on, says Cathy Kennedy, Payson and Aurelia Kennedy's daughter and the present NOC manager. Via a friend of Payson's, the family met James Dickey, author of the book Deliverance, just as the gripping, river-propelled story was being adapted for the big screen. The Kennedys got a movie gig as "technical advisers, teaching the actors to paddle, basically saving the crew's gear from the river," Cathy chuckles. They also did stunt-double duty in paddling scenes in what she calls "a terrible movie that did a great job representing whitewater."
(Above right) Payson and Aurelia Kennedy.
The next year, just as Deliverance the film debuted to instant popularity, the Kennedys moved near the Nantahala River and, with partner Horace Holden Sr., started NOC. It was "a bit of a jump start," Cathy says with massive understatement. Suddenly, every outdoorsy Adonis wanted to be Burt Reynolds (if not Ned Beatty) and, she says, "the outdoors exploded."
Another plus for NOC was being located on a river where "recreational releases" of water from an upstream dam eliminate the fluctuating feast or famine flow of a natural river, a secret weapon akin to a ski resort being able to make snow.
Today, with 10 locations in four states, which is the best place to savor the NOC experience? Cathy says it depends on what you want. "If it's the South's best whitewater, I'd say the Chattooga. But unless you're just plain afraid of whitewater, the Nantahala should be your choice."
Besides a rousing ride, NOC's original location has "the broadest range of facilities we operate," says Cathy, "with food and lodging options, an outfitters store, the most diverse activities, from zip lining to hiking, mountain biking, a ropes course and more. Just about anybody who wants to get into the outdoors or learn about whitewater is going to have a good time on the Nantahala." More than that, the 500-acre campus near Bryson City provides a real feel for the outdoor culture that has come to distinguish NOC.
"The absolute essence of river trips," Cathy says, "is sharing what we love, especially with people experiencing whitewater for the first time, and making it really special." After 50 years, she and more than 800 annual seasonal NOC staff have done that with nearly five million people, a record of sharing worth celebrating indeed.
\
(Above right) NOC in 1980.
NOC Celebrates
April 23-24: This year's annual Spring Fling at NOC packs an entire weekend with activities. The season's first dam-fed release of the river fuels the fun, and tempting deals on paddling gear, boat demos, giveaways, and live entertainment add to the revelry.
June: The specific dates are TBA, but stay tuned to noc.com for details on the 50th Year of Adventure Celebration. A party "for the decades" is planned, with many family-friendly activities, giveaways, and adventure choices.