The High Road
The High Road:
The Blue Ridge Parkway Foundation preserves a legacy while forging the future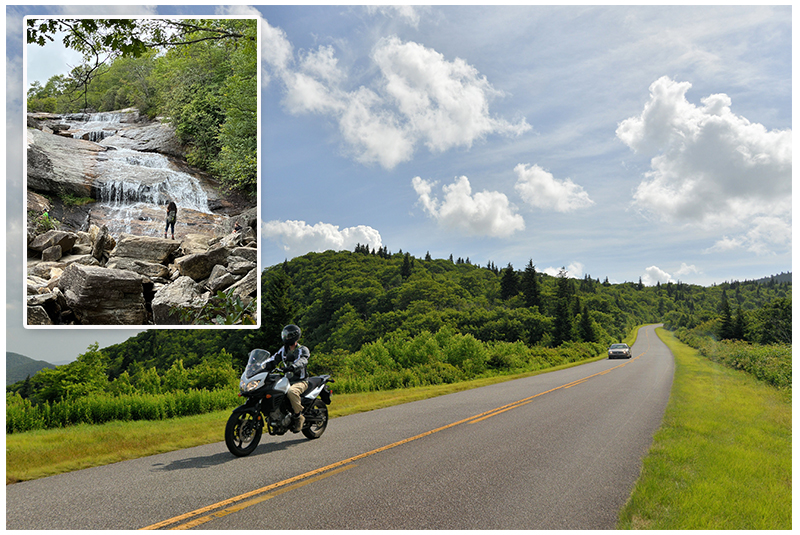 Motorcyclist on the Parkway; (inset) Graveyard Fields' lower falls.
Eager history students explore the early 20th-century grounds of Flat Top Manor at Moses H. Cone Memorial Park, near Blowing Rock. An excited crowd settles into their lawn chairs at the Blue Ridge Music Center in Galax, V.A., pumped to see and hear a legendary bluegrass band work its magic beneath a mountain sunset. A troop of wide-eyed kids, fresh off a brisk hike to a waterfall, take in the sparkling science at the Museum of North Carolina Minerals in Mitchell County. And somewhere along the 469-mile span of the Blue Ridge Parkway, grateful grandparents herd their young'uns into a blessedly clean and secure visitor center for an overdue restroom break.
Flat Top Manor.
Whether they know it or not, all of these people have something in common: they're direct beneficiaries of the Blue Ridge Parkway Foundation, a Winston-Salem-based nonprofit dedicated to historical preservation, natural resource protection, educational outreach, and visitor amenities to, "create a spirit of stewardship to address the challenges faced by this national treasure."
A handful of numbers reflect the growth of this expansive foundation, which celebrated its 25th anniversary last year. In addition to its headquarters, three regional offices (in Asheville, Galax, and Lynchburg) are now staffed by sixteen employees. They partner with dozens of organizations as well as thousands of volunteers and financial supporters to make the foundation's work possible. Among the most grateful collaborators are the civil servants who work hand in hand with the foundation. "It is easy to point to so many examples of foundation support that have both protected park resources and provided for the enjoyment, education, and inspiration of park visitors—hallmarks of the National Park Service mission," notes Blue Ridge Parkway Superintendent Tracy Swartout.
(Left) Craggy Gardens Ribbon Cutting; (Right) UNCA Volunteer Corps Work Day.
Carolyn Ward, CEO of the foundation, says that while her organization will remain dedicated to its historical work, one of its most exciting initiatives is all about the future. The foundation is leveraging sizable federal grants to forge a plan for how the Parkway's tremendous traffic can most benefit the communities that live along and next to the roadway. "The Blue Ridge Parkway, the gateway communities, and 16 million annual visitors all depend on each other," Ward says. "We now have all the pieces in place to move forward together."
Blue Ridge Parkway Foundation
Visit the foundation's website for volunteer and donation options to support this most scenic of local byways. brpfoundation.org