A Heist in Moonshine Country
A Heist in Moonshine Country:
Former FBI agent Jean Gray recalls his roaring start in 1950s Madison County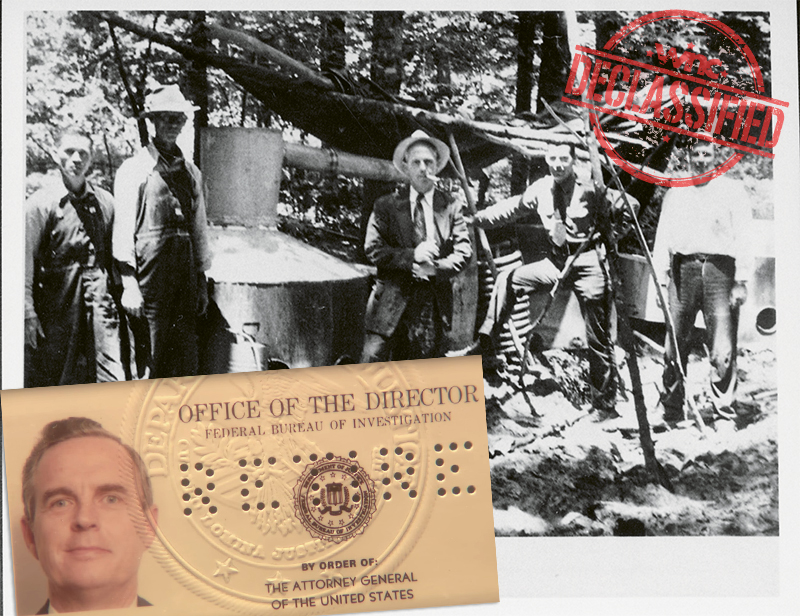 Jean Gray (inset photo) was thrust into action his first day on the job for the FBI, encountering Madison County's legendary sheriff, E.Y. Ponder (shown center in the photo during a moonshine bust).
Today, the Federal Bureau of Investigation fights the usual crimes while becoming increasingly entangled in rancorous political conflicts. In some ways, it's a far cry from the golden age of the G-men circa 1955, when 25-year-old Jean Gray joined the FBI as a rookie agent and was unexpectedly dispatched to Hot Springs in Madison County, where he assisted with a substantial bank robbery case and rubbed shoulders with a legendary local sheriff.
Gray's recollections, recorded first in a 2008 oral history with the Society of Former FBI Agents and supplemented with a recent online post he wrote as well as an interview with WNC magazine—accounts that are blended below—reveal what a wild yet meaningful assignment it was, and that his memories of the formative mission remain vivid.
"It was an adventure," Gray says. "My first day in the field."
Day One
A Minnesota native fresh out of military service, Gray went through the standard training then took his initial FBI post with the field office in Charlotte, the bureau's main base in North Carolina then and now.
Gray arrived in the state at a heady time for the FBI, as an official history would later note. During the 1950s, the bureau was in a rapid growth phase, and its North Carolina presence was no exception. "Charlotte Division personnel worked extortion, [military] deserter, and interstate stolen vehicle matters," the history says. "The office also investigated bank robberies and embezzlement cases. Investigations of civil rights violations and of extremist groups like the Ku Klux Klan—whose membership was growing in both the Carolinas—increased."
Even with all that going on, Gray couldn't have imagined what he was in for—but he reflects on the experience with sharp recollections, a healthy dose of humor, and gratitude for his Western North Carolina trial by fire.
"The first day I got [to Charlotte], all of my personal effects were in my automobile," he remembers. "Good," his new supervisor said, "because you're leaving. Go to Hot Springs. They've got a bank robbery up there, and they can use you.'"
Following the Money
On the morning of May 18, 1955, two armed men robbed Hot Springs' only bank of most of its cash—some $19,500, which would amount to about $200,000 today. For its time, it was a major heist, one of the biggest that would go down in the state during the 1950s.
"We mean business," one of the robbers said, and nobody doubted it. After taking the money, they locked the bank employees in the vault, from which the employees soon escaped after banging on the door. Law officers quickly found the abandoned getaway car, which was ditched for another one that took the suspects back to their home in Ohio.
Upon rolling into Hot Springs, Gray realized he was in a different sort of place. "Half the people in town carried firearms," he says. "It was an armed camp." He reported to Madison County Sheriff E.Y. Ponder, a late and legendary figure in the county's history. Ponder abruptly sent Gray to FBI agent Sam Smith, who was based out of Hickory and evidently had the mountain touch.
Smith was sitting on a sidewalk with a suspect who later proved to be the local accomplice for the robbery team. Smith "was wearing a red and black checkered lumber jack shirt, pistol riding on his belt behind his back," Gray recalls. To Gray's amazement, Smith was "lubricating" the suspect with moonshine while using the same substance to dissolve a slug eking its way up the sidewalk.
The suspect was trying to figure out what law officers had learned about the robbery. "Sam got suspicious of his helpful attitude, and the fact that he knew more than he was saying," Gray remembers. "And that's how they got on the sidewalk with a jar full of moonshine which led to [the suspect] saying that he was part of the deal."
In the meantime, Gray set off with Sheriff Ponder to check the robbers' potential escape routes—"Which way might they have gone?" he remembers thinking—and see if any locals could offer insight on their flight. "I was doing the grunt stuff, trying to run down possible leads, and the old-timers were there doing the real work," Gray says.
Ponder, who wore a suit and didn't carry a gun, almost Andy Griffith-style, was a familiar presence in the county, to say the least. "He knew everyone," Gray recalls. "A honk of the horn brought a wave from farmers plowing tobacco with mule teams. When the day was over, the lead agent asked me what we had found out—nothing."
At the same time, Gray learned that Ponder and some of his cronies were about to be indicted by the feds for their alleged role in Madison County election fraud—charges that were dropped by a judge about a year later.
Long retired and now 88, Gray is sharing details of his time in the trenches with the FBI. Above, a post he wrote earlier this year detailing his time in Madison County.
Looking Back
During the investigation, Gray visited a local diner. "As we ate breakfast, some of the local gentry were remarking loudly [that] the FBI couldn't solve anything," he recalls. "Last laugh on them."
The FBI quickly got the robbers in custody after their escape to Ohio, though none of the money was ever recovered. After a quick trial in Asheville chocked with evidence from Gray and his colleagues, the thieves wound up with substantial time in prison.
Gray would go on to have a long and storied career, even as most of his stories remained secret. After a year and change in North Carolina, he served at the FBI's Washington Field Office, chasing Soviet spies and working on Director J. Edgar Hoover's personal watch squad. From there, he did action-packed stints around the world—in Mexico City, Manila, Chicago, Richmond, and New York City. Since retiring in 1984, he's dedicated himself to volunteer work while remaining active telling his part of FBI history.
Now 88, Gray remembers his time in the Tar Heel state as a surprisingly riveting experience. "Really fun to work in North Carolina in those days," he says. "I had a good career, [and] that was the roaring start."
RESOURCES:
Photographs (moonshine bust) courtesy of UNCA Ramsey Library Special collections; (FBI ID and Gray portrait) courtesy of University of St. Thomas