Health Kick
Health Kick:
Make your own immune-boosting fire cider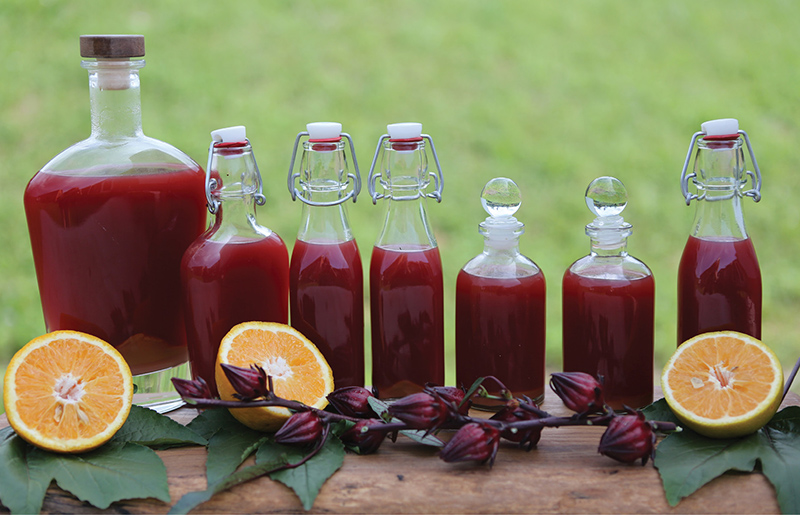 In the 1980s, renowned herbalist Rosemary Gladstar brewed up a novel recipe of vinegar, honey, garlic, onions, horseradish, ginger, hot peppers, turmeric, and echinacea. She called the potent immune-boosting concoction "fire cider." Ever since, the tonic has been an herbalism mainstay, but recently, it's more popular than ever. According to Meghan Gemma, writer and social media pollinator for Chestnut School of Herbal Medicine in Weaverville, that's thanks in part to COVID's arrival and the brew's effectiveness in helping ward off the common cold, flu, and other viral infections.
Fire cider can take up to six weeks to make. However, this "cheater" recipe from the school's founder, Juliet Blankespoor, is a one-day affair. It contains many of Gladstar's original ingredients, though for a flavorful fall twist, it also includes pomegranate and hibiscus. (Find the dried calyces of Hibiscus sabdariffa, which are often sold as flowers, online from herb sellers or in bulk sections of natural food stores.) Both ingredients are highly medicinal and immunity-building powerhouses.
Enjoy this mild, sweet fire cider daily—dosage is a teaspoon as needed. Try it on its own, stirred into salad dressings and marinades (or subbed as the vinegar in any recipe), or even in tea or a hot toddy. 
Hibiscus–Pomegranate "Cheater" Fire Cider
(Yields 70 oz.)
2 large garlic bulbs, coarsely chopped
2 medium onions, coarsely chopped
1 cup fresh ginger root, coarsely chopped 1-inch pieces
1½ cups horseradish root, coarsely chopped 1-inch pieces
1/2 cup fresh turmeric root, coarsely chopped 1-inch pieces (can sub additional ginger or omit)
1/2 oz. dried whole cayenne peppers (about 3/4 cup) or 1 Tbsp. dried cayenne powder
64 oz. apple cider vinegar
2 oranges
2 large pomegranates or 8 oz. pomegranate juice
1.25 oz. dried hibiscus flowers (about 3/4 cup)
10 oz. honey (use less for a more savory vinegar)
Work in two batches. Place the garlic, onions, ginger, horseradish, and turmeric in a food processor or blender, along with the
cayenne peppers. Add enough apple cider vinegar to cover. Blend carefully with the lid on and take care not to let fumes or slurry get in your eyes.
Place the slurry from both batches into a double boiler. Add the rest of the apple cider vinegar to the slurry and heat over low (should not get above 120°F) for three hours, with the lid on. Stir occasionally, but be careful with the fumes.
Meanwhile, peel the oranges and deseed the pomegranates. In a bowl, mash the pomegranates and oranges with a potato masher; strain the pulp from the juice and reserve juice.
After a couple of hours, taste the slurry. If it's too mild, add more spicy herbs and cook another hour. After three hours total cooking time, turn off the heat and add hibiscus and pomegranate–orange juice. Let sit for one hour and check the color—if it's too light, add more hibiscus. When the cider is a red hue, strain the mixture through a cheesecloth, taking care to squeeze out or press the slurry, or you will lose a great deal of the medicine. (Don't use your bare hands to squeeze or you'll burn/irritate your skin.) Add the honey and mix well to dissolve.
Place in sterilized clear glass jars, label, and refrigerate. Will keep for several months. Note: Fire cider can potentially aggravate heartburn, peptic ulcers, and gastrointestinal inflammation.