Heads in Beds
Heads in Beds:
Asheville's hotel boom, by the numbers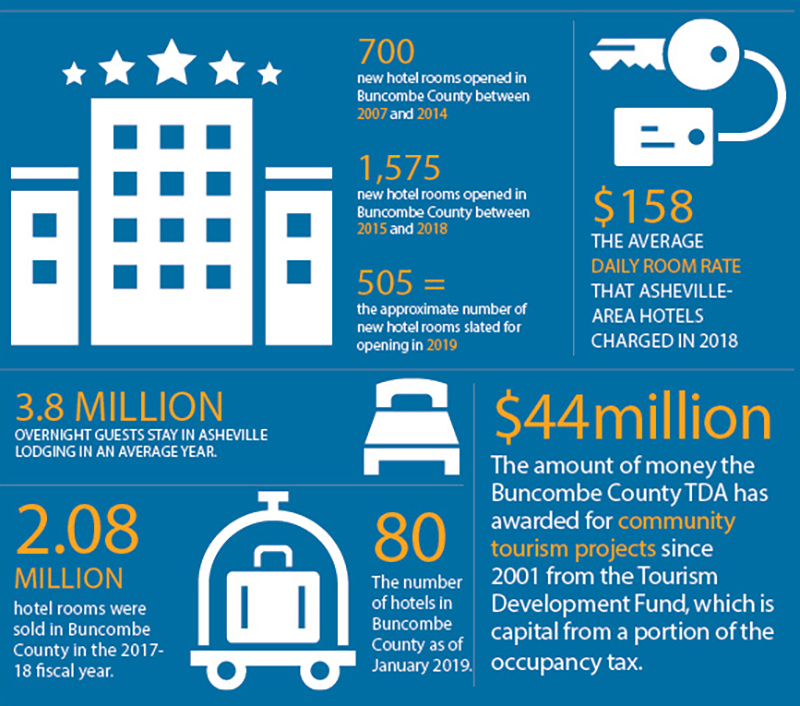 While Asheville's ongoing rise in new hotels is reinforcing the city's long history as a tourist destination, it's also spotlighting concerns about the impacts visitors have on the infrastructure and quality of life of residents. In 2015, when local tourism officials saw the hotel wave beginning, they sought to cash in on the influx of overnight guests, raising the county's hotel occupancy tax from four to six percent. Much of that tax income, which totaled about $17.5 million in 2018, goes toward marketing efforts aimed at drawing ever more tourists to the Asheville area. Here's a look at just how booming the city's hotel rise is.
- 700 new hotel rooms opened in Buncombe County between 2007 and 2014
- 1,575 new hotel rooms opened in Buncombe County between 2015 and 2018
- 505 = the approximate number of new hotel rooms slated for opening in 2019
- $158 The average daily room rate that Asheville-area hotels charged in 2018
- 3.8 million overnight guests stay in Asheville lodging in an average year.
- 2.08 million hotel rooms were sold in Buncombe County in the 2017-18 fiscal year.
- 80 The number of hotels in Buncombe County as of January 2019.
- $44 million The amount of money the Buncombe County TDA has awarded for community tourism projects since 2001 from the Tourism Development Fund, which is capital from a portion of the occupancy tax.