Head in the Clouds
Head in the Clouds:
An aerialist teaches others the ropes of high-flying performance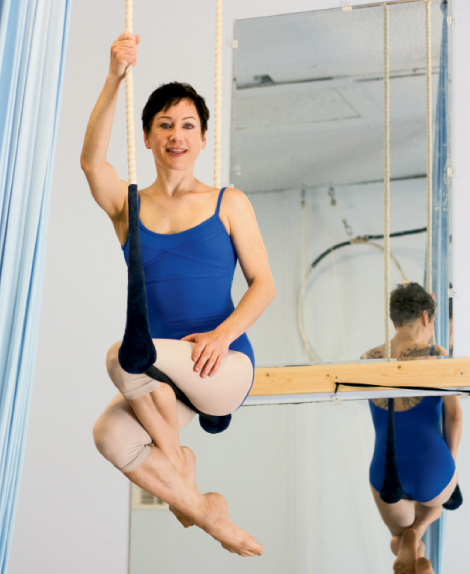 Day job: trapeze artist. Blue de Leeuw counts herself among few people in Western North Carolina who can claim that dream occupation. She's the principal aerialist with the performance group, Asheville Aerial Arts, and owner of Aerial Space, where she teaches trapeze, silks, and lyra, or aerial hoop. With aerial arts, she says, "there's an element of risk and trust involved, combined with so much fun."
De Leeuw (pronounced D'Leeoo) grew up in San Francisco. At age five, she began learning ballet, and stuck with it until 18, when she switched to circus arts while studying computer animation technology. In the bay city's rich performance atmosphere, she often found work as a cabaret performer. "I was hired by nightclubs to be interesting," she says.
Four years ago, de Leeuw moved to Asheville looking for a "kinder, gentler existence." She found it, first working with
other aerial performers and then renting and renovating a practice space in an industrial building off Leicester Highway.
Aerial Space opened January 1, 2010, with a thrilling menu of options: private lessons, aerial intensive workouts, doubles trapeze workshops, and parties. Her students range in age from three to 67, and de Leeuw finds the physical exhilaration that comes with balancing and swinging through the air often brings focus to the younger set. "I've seen kids really open up. Something like this gets their attention and keeps it," she says. "It's super athletic and the best workout ever."
As for performances, a recent gig found de Leeuw dangling 50 feet above a marble floor at Nashville's Parthenon—sans safety mat. She and fellow artists also get air time at local events, indoors (the Haywood Park Hotel atrium, for example) and out (taking to the trees at LEAF).
Her latest feat is evolving on the ground, for the most part. With the help of a student who's a welder, de Leeuw manufactures and sells solid-core steel trapeze equipment, all made here down to the hand-knotting of the ropes. It's just another way she's bringing aerial arts to the forefront.
Aerial Space
46 Moose Heart Dr., Asheville
(828) 333-4664
www.aerialspace.org
Asheville Aerial Arts
31 Elizabeth St., Asheville
(828) 301-5615
www.ashevilleaerialarts.com