Harness the Wind
Harness the Wind:
High Country students learn firsthand the science behind wind energy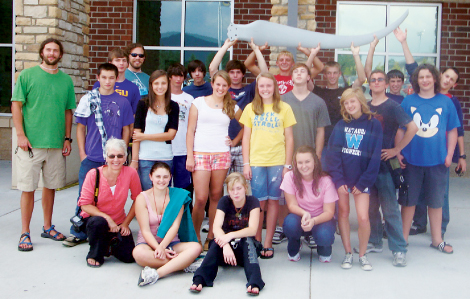 Schools across the country use wireless tablets, interactive white boards, and other innovative learning devices. But students at seven middle and high schools in the High Country have a rather unique educational tools—wind turbines that generate energy and scientific knowledge. The Wind for Schools program fosters the next generation of scientists and environmental stewards by placing wind turbines and complementary programming in schools across the state. Thus far, 11 North Carolina turbines are in place: seven in Western North Carolina (including  schools in Alleghany, Avery, Watauga, and Wilkes counties) and four on the coast. Sponsored by the Department of Energy's National Renewable Energy Laboratory and operating through Appalachian State University's Wind Application Center, the program also works with students and educators to develop curriculum and offers teacher-training workshops.
Thelma Kastl, a teacher at Ashe County Middle School, incorporates wind technology into her curriculum. Her seventh grade science class is studying layers of the atmosphere by building hand-held turbines, while in social studies, Leonardo da Vinci's flying devices and kites are being explored. An eighth grade math class is using wind turbines to measure voltage.
At Avery County High School, students were involved in the installation of the turbine. "We use a whole curriculum that teaches energy converters from wind to electricity," notes instructor Hank Hardin, who adds that the classroom is buzzing with talk of blades, pitches, and mass. These concepts sit at the crossroads of physics and engineering and provide a learning opportunity, one which is vital to the project's aim of developing a workforce for the future.      
Learning Opportunity
Would you like a wind turbine at your school? Appalachian State University Wind Application Center is accepting applications for 2013 turbine installations. Contact WAC at www.wind.appstate@gmail.com or call (828) 262-7333.