Happy Campers
Happy Campers:
Combine ease, adventure, and the great outdoors with these glamping opportunities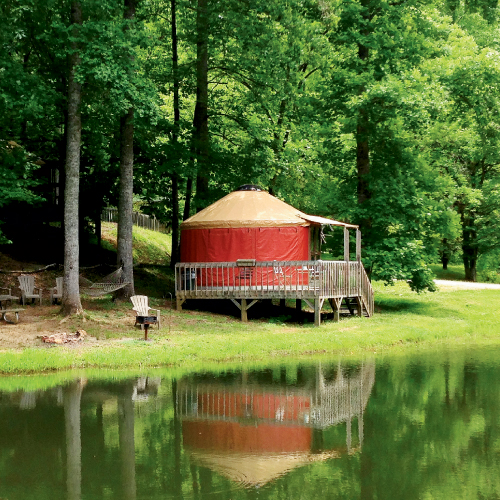 Camping is easy to love when you imagine yourself ambling alongside a mountain stream or waking up at sunrise for a cup of coffee with a view. But in reality, there's lots of gear to lug, food to prepare, and bugs to avoid—unless you go glamping.
A combination of "glamour" and "camping," glamping provides a comfortable way to immerse in the outdoors. Here are several WNC experiences that allow you to enjoy nature's beauty while helping ease its burdens.
Slack Packing
Pura Vida Adventures
Whether you want a backpacking guide or a luggage porter and steak dinner on the trail, Pura Vida Adventures in Brevard offers support. Owner Joe Moerschbaecher and his crew lead group trips that train novices for wilderness independence, and they also design full-scale slack-packing expeditions in which they transport the gear, set up the tent, and bring hot meals to the campsite. "Basically, all people have to do is carry a little backpack with water and a camera," explains Moershbaecher, who has a master's degree in wilderness leadership. Each trip begins with a consultation to determine the hikers' goals. Customized backpacking expeditions start at $1,500 per group. Pura Vida Adventures, 152 Hendersonville Hwy., Pisgah Forest; (772) 579-0005; www.pvadventures.com
Yurt Life
WildWater Rafting
Luxuriate like a Mongolian royal in a private yurt, a massive round tent-like structure with a vaulted ceiling, plush bed, and kitchen conveniences. At Wildwater Rafting's Falling Waters yurt village, rent one of eight yurts, some of which offer views of Fontana Lake. The property includes two ponds, a waterfall, grills, and a bathhouse. "Yurts hold a lot of the benefits and upsides of camping without the setup and takedown—and a few more comforts," says Trey Barnett, a manager at Wildwater. "For those who think outside of the box, they tend to be very happy." Yurts start at $89 per night. Falling Waters Resort, 10345 U.S. 19 S., Bryson City; (800) 451-9972; www.fallingwatersresort.com
Under The Canopy
Sky Ridge Yurts
Sky Ridge Yurts of Bryson City comprises a trio of mountaintop yurts with additional conveniences. An en suite bathroom, kitchen, satellite TV, and central heat and air keep these canopies cozy year-round. Rent a 24-foot yurt for two, or reserve all three to host a gathering of up to 20 people, complete with a fire pit and gas grill. Summer rates start at $119 per night plus a $50 cleaning fee. Sky Ridge Yurts, 200 Skyridge Rd., Bryson City; (704) 701-5696; www.skyridgeyurts.com
Shuttle Hikes
Nantahala Mountain Lodge
Spend all day on the trail but return to civilization every night. Nantahala Mountain Lodge in Topton shuttles hikers along the Appalachian Trail. You can explore Nantahala National Forest by day and return to the lodge at night, where a home-cooked meal and cozy fireplace await. Or rent a private log cabin on the property. Ask for one with a hot tub so you can soak tired muscles. Lodging rates range from $30 for a dorm room to $195 per night for a cabin. Nantahala Mountain Lodge, 63 Britannia Dr., Topton; (828) 321-2340; www.aquonelogcabinrentals.com/AT.html
RESOURCES:
Photograph courtesy of Wildwater Rafting