Happy 60th!
Happy 60th!:
Flat Rock Playhouse celebrates its diamond anniversary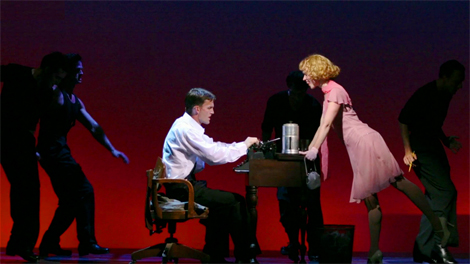 Flat Rock Playhouse has come a long way since its resident performers, The Vagabond Players, began entertaining audiences in the early 1950s under a borrowed circus tent. For this year's 60th anniversary season, there is much to celebrate, including a compelling mix of 17 shows from the past and present, a thriving youth theater program, a new Music on the Rock concert series, as well as the first full season of performances at the Playhouse Downtown venue in Hendersonville. On March 28, the Mainstage series kicks off with the world premiere of My Favorite Things: The Music of Rodgers & Hammerstein, when a chorus will present iconic tunes with fresh arrangements.
Classics, such as the musical Guys and Dolls and Tennessee Williams' Cat On a Hot Tin Roof, are from the vault, while new productions range from a Broadway musical (Zelda: An American Love Story) to local playwright Ken Ludwig's A Fox on the Fairway to a YouTheatre performance of The Rocky Horror Show. Some FRP acting alumni who have gone on to the big screen will return to the stage. Let the show begin.       
Flat Rock Playhouse:
Flat Rock And Hendersonville
(828) 693-0731
www.flatrockplayhouse.org         
                   
RESOURCES:
Written by Linda Kramer, photography by Nick Gillespie of Blue Bend Photography