Gun Club
Gun Club:
If you wanted a rifle in the 1800s, you talked to the Gillespies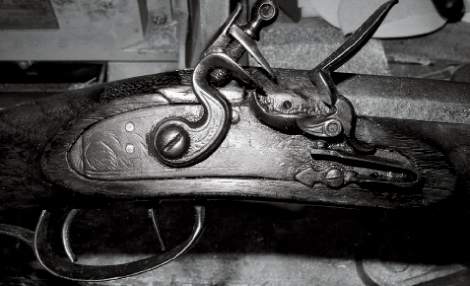 Transylvania county is known for its waterfalls, and Henderson County its apples, but throughout the 1800s, the area was the go-to place for a firearm, thanks to the Gillespies, a family of gunsmiths. Whether they needed it for hunting or protection, the Gillespie rifle was popular with local settlers. And when Henderson County men went off to fight in the Civil War, it's believed that many carried guns made by the family.
John Gillespie, originator of the namesake long rifle, was one of the earliest settlers in East Fork (near present-day Rosman) around the turn of the 19th century. He opened a gun shop and began supplying others with well-made, accurate rifles. It's also where he taught the trade to his sons, William, Mathew, and Robert Harvey.
According to T. Dennis Glazener, a Gillespie descendent and author of The Gillespie Gun Makers of East Fork, NC, Mathew traveled to the Sitton Forge in Mills River to bring back iron for the gun shop. He married the owner's daughter, Elizabeth Sitton, in 1810 and started his own business next door to his father-in-law's forge. In turn, his sons carried on the tradition. Phillip ran the Mills River shop until his death in 1864, and James and John took the celebrated rifles to Union County, Georgia, where they continued in the vein of their grandfather until their deaths in the late 1800s. The trail ends with this third generation. Today, what remains of the Gillespie legacy is a historical marker near the site of the Sitton Forge, the Sitton-Gillespie cemetery also in Mills River, and the rifles that turn up in museums or at antique gun shows.
The muzzle-loading long rifles were handmade, usually of maple or walnut, and no two were alike, which meant that bullets had to be specifically fashioned for each gun. Many of the rifles were signed on the barrel by their maker and sport a distinctive, pointed trigger plate unique to Gillespie guns. Although the family crafted the quicker loading percussion system, which came about in the mid 1800s, many of the Gillespies' old-time customers were wary of the newer invention, preferring their slower loading flintlock rifle.
Today, a Gillespie rifle is worth as much as $4,000, and gun aficionados don't have to travel far to see one. The Henderson County Heritage Museum has one of the nicest examples Glazener has ever seen. And the Transylvania Heritage Museum will also display a Gillespie rifle beginning in the spring of 2011. It's a chance to glimpse the region's storied past. And you can always take in the apples and waterfalls along the way.