A Growing Idea
A Growing Idea:
Two living roof experts offer easy, do-it-yourself plans for garden sheds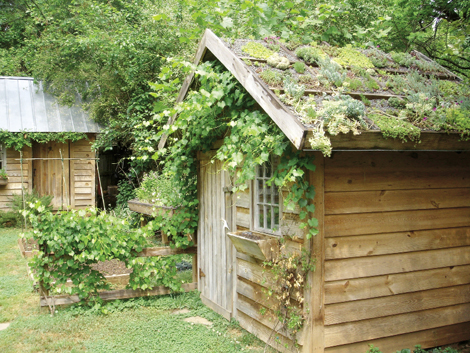 A horticulturist will tell you that plants like neon-green sedums and rosy euphorbia belong in a rock garden. Ask Kate and Emilio Ancaya, and they'll tell you how these and other drought-tolerant perennials can thrive on a roof, helping to minimize storm-water runoff and cool your home.
The Asheville couple specializes in designing and installing green roofs covered with vegetation instead of shingles or other man-made materials. It's an eco-friendly approach the Ancayas use on commercial and residential projects through their business, Living Roofs Inc.
One of the first green roof structures the couple built was their own garden shed in 2004, which Emilio says enriched their backyard habitat by attracting pollinators. After fielding many requests over the years from others who wanted to install their own planted roofs, the couple decided to offer DIY directions for novices, using their shed as the model.
"We found ourselves regularly on the telephone helping people who wanted to try their hand at a green roof," Kate says. "After a while, we realized the best thing we could do would be to put together a set of plans."
Working with W2 Architects, Kate and Emilio developed easy-to-follow construction plans for two 10- by 12-foot models. The more traditional Garden Shed has a gabled roof and lap siding, while the Mono is a contemporary design with a side-sloping roof. Each package contains specifications and a list of materials, all of which are available at building suppliers. Also included are detailed instructions for planting and maintaining the vegetation.
"We want to put the tools in the hands of anyone who wants to undertake a small-scale green roof project," Emilio explains. The plans are $39 each, and the green shed can be built for as little as $1,800.
The result is an affordable, environmentally sound garden shed, playhouse, or man-cave where, according to Kate, you can "garden, think, relax, laugh, create, work, play, or just hide out."
For more, visit www.livingroofsinc.com.