Green Revival
Green Revival:
Three eco-focused interior designers appoint a 1920s rehab with sustainable styles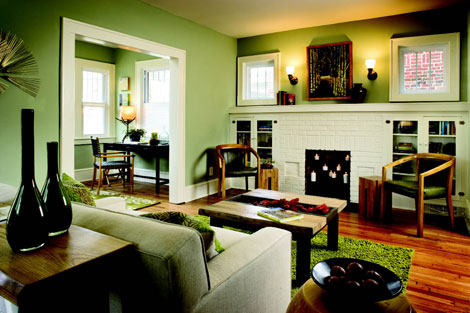 Anyone who's been in the market for a house in the last few years has seen the spectrum of renovation possibilities, from new paint jobs to sleek kitchen remodels. Fortunately, a growing number of homes are undergoing updates with sustainability in mind. So all of us at WNC felt a bit like giddy buyers who'd found "the one" when Erik Ostergaard showed us his property on Brevard Road in West Asheville. Through Urban Home Revival, the company Erik owns with his wife, Karen, the couple bought a run-down, 1929 American foursquare that had been chopped up into apartments, and restored its dignity with some distinctly eco-conscious amenities. Among the efficient updates are a solar hot-water system, Energy Star windows and appliances, and zero-VOC paint. Their work earned the 2008 Griffin Award for residential rehabilitation. In keeping with the eco-remodel, we asked three interior designers to furnish the rooms with décor worthy of the dwelling's rebirth.
Living Room & Home Office
Styling: Talli Allen-Roberts, Four Corners Home
Interior designer Talli Allen-Roberts shares a piece of advice for shoppers who might experience sticker shock when considering sustainable furnishings: You're making an investment. "I believe in buying quality pieces, even if you have to save up. I'd much rather have clients buy one piece and come back later for another, than see them fill a room with plywood."
For the living room and home office, she pulled from the collection of eco-responsible pieces sold at Four Corners Home, where she is a staff designer. Each item in the showroom is chosen for its sustainable status, be it a modern Maria Yee-designed desk crafted with Forest Stewardship Council-certified wood or a Mitchell Gold + Bob Williams sofa made with soy-based cushions. And even during, or perhaps because of, these economically trying times, she's witnessing a refreshing and sincere interest in pieces that will last. "I like seeing people invest in things they feel good about."
Kitchen
Styling: Daya Apunte, Inviro Design & Consulting
Daya Apunte came to Asheville from California—a virtual think tank for eco-innovations—with big plans: "My mission is to greenovate as many buildings as possible." In other words, she has set out to make existing and new structures function at their highest levels of efficiency and, when possible, equip each to send energy back to the grid.
Since kitchens are the appliance hubs of any home, it was a prime room for her to incorporate energy-saving principles, like the toaster oven that uses less energy than a conventional one—"You can cook anything in there, short of a turkey." Apunte also custom-designed blinds backed with metal panels that act like a light shelf, reflecting more natural rays into the room, cutting back on the need to flip a switch. But she also stayed true to her aesthetic principle, which is "to use methods, technologies, and eco-materials to make the space energy-efficient and nontoxic without compromising style."
Bedroom
Styling: Rita Lentz Moda Interior Designs
In the master bedroom, designer Rita Lentz emphasized nature's colors and forms with the organic cotton duvet printed with an earth-toned grass pattern and framed twig wall art she made from branches found in the yard. "I used items that bring about an organic atmosphere and created a calmness with muted colors," she explains.
She points out that using renewable and sustainable materials isn't the only way to make a positive impact on the world. "Buying fair trade items is important, too, because you are ensuring artists and craftspeople are getting paid what they deserve for their work."