Greek Revival
Greek Revival:
Asheville's historic S&W building serves up a tasteful new venture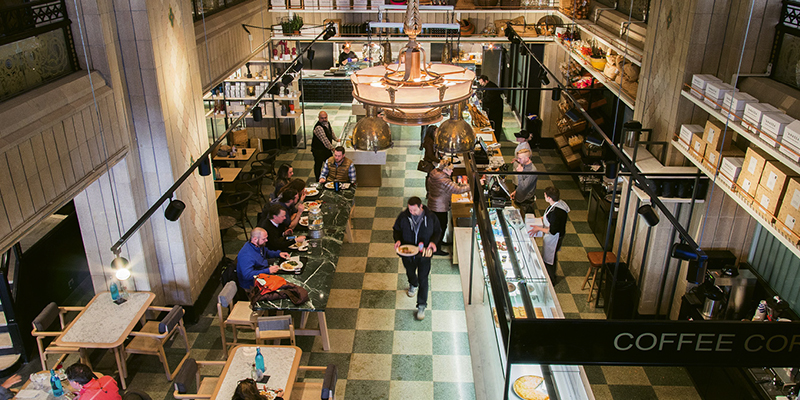 Browsing the gleaming display cases filled with flaky filo pastries, rustic loaves, and honey-drizzled treats at Asheville's new S&W Artisanal Eatery transports you to another time and place. The locale is Greece; the time, the opulent era of the Roaring Twenties.
In January, one of Asheville's most iconic art deco masterpieces, the S&W Cafeteria building by Douglas Ellington, reopened its doors. Save for a couple of short-lived business ventures, the place has been closed to the public for the better part of four decades, until now. For its latest incarnation, the revered architect's descendants, Douglas and Kenneth Ellington, teamed up with architect Theodore Kondylis and Greek restaurateur Sakis Elefantis (formerly with Golden Fleece in Asheville) to create a food experience not otherwise found in these mountains, taking extra care to preserve the integrity of the space (which is on the National Register). "The challenge for us was not to harm anything in this building," says Elefantis.
The main floor is an ode to the building's original function as a cafeteria, serving up an à la carte array of authentic Greek bites, from grab-and-go pastries and espresso to savory pies, sandwiches, salads, hearty Grecian lasagnas, and other hot-bar items. "It's the traditional food that my mother and grandmother were cooking," Elefantis explains. The space also doubles as a specialty Greek market, selling olive oils, wines, and teas.
The Greek influence continues upstairs on the mezzanine, where a fine-dining restaurant and bar (open only for dinner) serves elevated Grecian dishes such as Loukoumadakia Garides (savory shrimp doughnut appetizers), grilled octopus, and Arni Fricassee (lamb shank with an egg-lemon sauce). Drinks include craft cocktails, local and imported beers, and a nice selection of Greek and other European wines.
As if all that weren't enough to encourage repeat visits, the owners went a step farther and opened The Times cocktail bar in an adjoining space. It's stylish, with lavish chandeliers, a seductively lit bar, and swanky-looking bartenders serving original libations and small Greek plates perfect for sharing. No doubt both Dionysus and Douglas Ellington would approve.
S&W ARTISANAL EATERY
56 Patton Ave., Asheville
(828) 575-9551
www.swartisanal.com