Great Reads
Great Reads:
For all of its storm and stress, 2020 proved to be a watershed for WNC authors, with a wave of them publishing particularly notable titles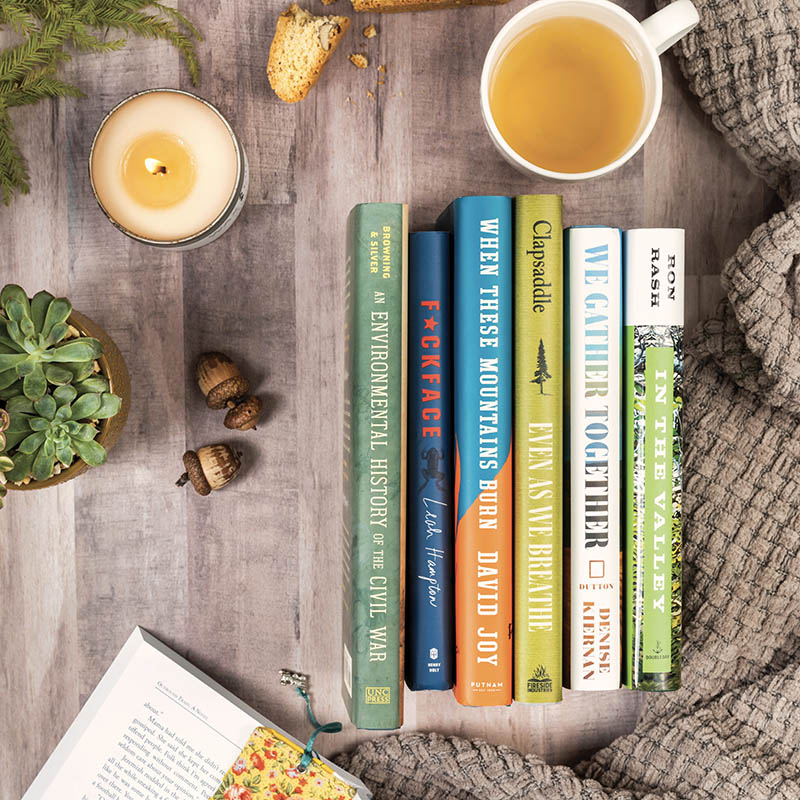 The books display a wide range of styles and talents—and cancelled author tours be damned, they're still drawing hearty readerships. Some of the writers are new to the game, some tried-and-true veterans. From gritty and beguiling novels to groundbreaking histories to vibrant kids lit, here are 12 new books by mountain writers who are rocking the literary world.
In the Valley by Ron Rash
Publisher: Doubleday
Genre: Short fiction and a novella
Pages: 218
Ron Rash has built a considerable back catalog of award-winning bestsellers, from poetry to short stories to novels, and it would take more than a long winter indoors for a reader to take them all in. His latest book, In the Valley, arrives as a gift for his legion of fans who'll savor the nine unconnected stories and his first novella, which revisits the murderous timber baroness of his 2008 novel Serena.
The book could also usher in a new crop of Rash readers and serve as a fitting intro to his work. In the Valley's stories carry all the attributes that prompted The New York Times to recently dub him "one of the best living American writers." They're mostly brief but bracing interludes in the lives of people caught up in vexing dilemmas, set from Civil War-torn Appalachia to the precarious present day. Rash's prose, economical and by turns tense, tender, and unsentimentally searing, offers engaging points of entry and quick immersion in the disparate scenes and characters, all rendered with the writer's trademark sense of place, the mountains in particular.
While hardly an opus, In the Valley advances Rash's literary trajectory and renown, recently winning Mercer University's 2020 Thomas Robinson Prize for Southern Literature. One of the story's here, "The Baptism," appeared previously in The Southern Review and was selected for the 2018 edition of Best American Short Stories.
The recipient of a 2017 Guggenheim Fellowship (among numerous other weighty awards), Rash is also the Parris Distinguished Professor of Appalachian Cultural Studies at Western Carolina University, where he continues to teach writing. And he remains, as always, dogged in output; Rash's readers, new and old, will be heartened to hear that this winter finds him working on his 23rd book.
Footnote: Two of Rash's novels have been adapted for major motion pictures: 2014's Serena and 2015's The World Made Straight.
Even As We Breathe by Annette Saunooke Clapsaddle
Publisher: University Press of Kentucky
Genre: Fiction
Pages: 240
This is not only Annette Saunooke Clapsaddle's debut book—it's the first novel ever published by an enrolled member of the Eastern Band of Cherokee Indians. And while her work has been noted for much more than her personal origins, her roots drive much of her mission as a writer. "Because the Cherokee narrative, especially the Eastern Band narrative, has been largely shaped by nonCherokee voices and consumerism," she says, "I often feel particularly responsible for ensuring that my stories are representative of the complexity that is the Eastern Band and our history."
Even As We Breathe sets a World War II-era intrigue at both the Qualla Boundary and Asheville's Grove Park Inn, weaving together issues of history, culture, and identity with a plot circling around a young Cherokee man who grapples with new roles in his workplace, social circles, and family. Author Charles Frazier calls it "a fresh, welcome, and much needed addition to the fiction of the Appalachian South and its neglected people and places."
Clapsaddle is an experienced short story writer, former executive director of the Cherokee Preservation Foundation, and currently teaches English at Swain County High School. Born and raised here, she returned to the region after obtaining degrees from the College of William & Mary and Yale University. "It was not a difficult decision for me," she says. "Lots of people work their whole lives to be able to retire in a place like Western North Carolina. I saw no reason why I should put off that luxury."
In a coveted starred review, Publishers Weekly heaped praise on Even As We Breathe: "Both an astonishing addition to World War II and Native American literature, this novel sings on every level."
Footnote: Clapsaddle signed her publishing contract for the book at a favorite personal respite—a waterfall on Fire Mountain in Cherokee.
F*ckface and Other Stories by Leah Hampton
Publisher: Henry Holt and Co.
Genre: Short fiction
Pages: 208
For a hot minute, 2020 seemed like a terrible time to roll out a debut book, even with a major publisher. Long-scheduled author events, often a crucial generator of book sales, were shut down by COVID-19. And virtual takes on them could prove spotty, a clunky maze of Zoom misfires.
But for storytellers like Leah Hampton, the Waynesville writer of F*ckface and Other Stories, the pandemic has come with a surprising upside. "Obviously it's been a challenge, and I really feel for writers right now," she says. "But ultimately, the thing I know is that when life is difficult, we need story. As a species, story and folklore are part of how we comfort ourselves in times of difficulty; we've done that since the cave man times. So in many ways, I've had the privilege of telling people stories during a dark time, and of keeping them company at home."
Hampton's 12 stories in this collection are indeed good ones for dark times, as they share intimate, empathetic details of their characters' challenges, quirks, and quandaries. "Primarily, my interest in this book was to do an eco-feminist take on Appalachia … but I tried to write it without being too preachy," Hampton says. There are doses of sly wit, comedic touches that leaven various little tragedies. And don't let the book's title fool you: this is no ribald read. Instead, there's plenty of aching and despair, and above all Hampton's artful but unassuming voice, which she honed during years as a short story writer and English instructor at Western Carolina University and Asheville-Buncombe Technical Community College.
"It's a scary time," Hampton acknowledges—both to be alive and to release a book. "But let's binge stories."
Footnote: Hampton's literary awards include the University of Texas at Austin's Keene Prize for Literature and North Carolina's James Hurst and Doris Betts prizes for fiction.
When These Mountains Burn By David Joy
Publisher: G.P. Putnam's Sons
Genre: Fiction
Pages: 272
A lead character in David Joy's new work of fiction emerged from ash-filled air that was all too real. In late 2016, as wildfires tore through broad swaths of Western North Carolina, "there were days when you would go outside and the sky would be yellow with smoke," remembers the Jackson County resident and author, now, of four novels. "Couple that with everything else that was already going on in the region, add on top the 2016 presidential election, and I can just remember standing out in the yard feeling like it was the end of the world."
Individual worlds end quickly in the novel, at least sometimes. More often, When These Mountains Burn's characters careen toward an uncertain fate, but one that seems destined by destabilization of old ways and a sense that the world can't make sense at all when it's racked by environmental trauma, poverty, and addiction.
As with his prior works, Joy finds scattered moments of light and hope amidst churning spirals of extremes. Love. Vengeance. An ailing land and culture. Drugs, lots of drugs. Weapons. Good cops and bad ones. Cycles of life surrounded by preying death. Through it all, Joy portrays the reality of lives in WNC that's a far cry from the version seen in postcards and brochures (and in regional lifestyle magazines, to boot). "It's easy to turn a blind eye to the ugly, especially in a place this beautiful," Joy observes.
It's true that When These Mountains Burn offers a bit tamer ride than the writer's usual fare, backing off from the crescendos of violence that erupted in some of his prior novels. But the tensions remain as gripping as ever and thoroughly animate Joy's latest stab at his eminently authentic style of Appalachian noir.
Footnote: Joy has an avid fan base in France, where three of his novels have been republished by Sonatine.
An Environmental History of the Civil War By Judkin Browning and Timothy Silver
Publisher: The University of North Carolina Press
Genre: History
Pages: 272
Just when you think the history of the Civil War has been done to death, some enterprising writer turns over a new line of inquiry into this singular American tragedy. In this case, it was Judkin Browning and Timothy Silver, Appalachian State University professors of military and environmental history, respectively, who joined forces to break new ground.
The war "was not just a military conflict but also a moment of profound transformation of Americans' relationship to the natural world," the authors assert in An Environmental History of the Civil War. For the then-relatively young US, it brought unprecedented levels of contagion, vast changes to landscapes, and a new acknowledgement of how climate, land, and biology could alter the fate of a nation.
"Adopting an ecological approach offers a holistic view of the Civil War," Browning and Silver note in a joint interview released by their publisher. "Military strategy and battles were important, but so were a host of other factors, including disease, weather, the need for sustenance, animals, the biological reality of death, and the vagaries of terrain and vegetation."
Despite their keen eye on the science, the authors don't skimp on narrative, telling insightful, intriguing stories about how the environment's most basic elements could prove vexing for war planners. For example, historians of Western North Carolina will find that the discussion of something as seemingly simple as salt—a crucial commodity in preserving food over hardscrabble winters that prompted a massacre in "bloody" Madison County's Shelton Laurel Valley—rings especially true.
For all its turmoil-laden legacy, the Civil War did leave some positive environmental aftereffects, Browning and Silver note. "Like other historians, we believe that the creation of America's first national parks owed much to the war," they say, as leaders sought to preserve public lands after so much devastation. That's one of many sometimes-surprising revelations in this unconventional but astute history.
Footnote: Civil War history is among the most crowded of nonfiction categories, with an estimated 60,000 titles about the war in print.
We Gather Together: A Nation Divided, a President in Turmoil, and a Historic Campaign to Embrace Gratitude and Grace by Denise Kiernan
Publisher: Dutton
Genre: History
Pages: 294
Asheville author Denise Kiernan once cowrote a book called Stuff Every American Should Know, and she's proved especially adept at sharing such essentials,.
We Gather Together continues Kiernan's hot streak of keen-eyed, deeply researched, and engagingly written books that crack open little-known but intriguing chapters of history. Her last two achieved particular acclaim: 2013's The Girls of Atomic City excavated the untold stories of women who worked at the atomic materials plant in Oak Ridge, Tennessee, while 2017's The Last Castle unveiled the life of George Vanderbilt's family as he poured his wealth into Biltmore.
In her latest book, Kiernan has fashioned a grand reintroduction to Sarah Josepha Hale, a figure little-known today but prominent in her time. Born in New Hampshire in 1788, during the mid 1800s she emerged as a pioneering writer, editor, tastemaker, and activist. Chief among her causes was the need for a national Thanksgiving day—and at the height of the Civil War and after decades of effort, she convinced President Lincoln to back legislation instituting the holiday.
Kiernan uses this extraordinary woman's life and legacy to explore and celebrate concepts of gratitude as they evolved in both US and world history. "Hale's intention—to create unity through a shared experience of thankfulness—required lifelong dedication and her ability to remain resolute despite constant disappointment," Kiernan writes. "What has become such an integral part of American culture should continue to grow to reflect that culture and the best parts of itself."
Footnote: Kiernan's groundbreaking The Girls of Atomic City has been published in seven languages.
Paperback Row
And the Crows Took Their Eyes by Vicki Lane
Publisher: Regal House
Genre: Fiction
From Madison County, Vicki Lane has made a name for her Appalachian mysteries. In her latest novel, she proves her talent for penning historical fiction that matches the real-life drama of its central event. And the Crows Took Their Eyes revisits the Shelton Laurel Massacre, the Confederate slaughter of 13 Madison County men and boys, an episode that came to epitomize the depths of divided loyalties in Civil War WNC.
The story unfolds from the perspective of five witnesses—four of which Lane based on actual historical protagonists. "Lane, through the alchemy of her formidable imagination, has breathed life into unforgettable characters living through a time of upheaval and untold tragedy," testifies fellow local author Tommy Hays. "And the Crows Took Their Eyes accomplishes what only the very best historical fiction can ever hope to accomplish, connecting us, not only to our history, but to our humanity as well."
Historic Tales of Sylva and Jackson County by Jim Buchanan
Publisher: The History Press
Genre: History
Local history is in particularly good hands with Jim Buchanan, a WNC native and award-winning, veteran newspaperman. His Historic Tales of Sylva and Jackson County is part memoir, part community record, with an emphasis on family and mostly bygone ways of mountain life.
The quick, column-length stories and ruminations cover a gamut from bear hunts to trout farming, beloved Plott hounds to detested snakes, worthwhile work, and chores that seemed anything but. In several humorous asides, Buchanan also takes readers inside the newsroom at the Asheville Citizen-Times, where his decades as an ink-stained wretch generated a whole other kind of mountain stories.
Self-deprecating and humorous with his autobiographical vignettes, Buchanan shows deep and detailed affection for a wide cast of other local characters.
Outbound Train by Renea Winchester
Publisher: Firefly Southern Fiction
Genre: Fiction
After a decade of nonfiction writing, Renea Winchester has published her first novel, Outbound Train. Set in her hometown of Bryson City, the story takes place in 1976 and is driven by the trials of one Barbara Parker, a textile worker haunted by past trauma and dealing with new ones as she loses her job, her 16-year-old daughter goes missing, and she must depend on the last man she wants to.
Through it all, a 5:30 a.m. train whistle wakes Parker to another day of feeding the machines and scraping by until the next "polyester payday," in a book that the Charlotte Observer lauds for "pitch perfect dialogue and enough courage to keep you turning the pages."
Younger Readers
Singing Creek by Morgan Simmons
Illustrations by Don Wood
Publisher: Great Smoky Mountains Association
Published by and for the benefit of the Great Smoky Mountains Association, this romp of a splendidly illustrated chapter book, targeted at readers eight to 13, stars critters native to one particularly great national park. There's Molly, a crayfish driven by her dream to make it big as a singer, no matter what it takes, and her assorted bandmates, from a banjo-plucking bullfrog to madtoms on the drums to unexpected guest artists like Huckleberry the Hellbender (who sings a mean bass).
It's not all smooth sailing, but this motley crew wends its way to musical success by overcoming numerous obstacles and teaching readers about the Great Smoky Mountains' treasured creatures along the way.
The Great and the Terrible: The World's Most Glorious and Notorious Rulers and How They Got Their Names by Joanne O'Sullivan
Illustrations by Udayana Lugo
Publisher: Running Press Kids
What's in a name? When it comes to some of the most famous and infamous world leaders throughout history, quite a bit. Vlad the Impaler and Ivan the Terrible were a couple of the baddies, and Good King Wenceslas and Good Queen Bess were two of the goodies, according to Asheville author Joanne O'Sullivan's delightful new book.
The Great and the Terrible is nothing short of great. While it's recommended for kids eight to 12, it will be a lucky adult who gets to share this book. O'Sullivan shows a real knack for distilling centuries of complicated history and dozens of complicated real-life characters, sharing loads of fun details and asides.
All Together Now written and illustrated by Hope Larson
Publisher: Farrar Straus Giroux
In All Together Now, Asheville graphic novelist Hope Larson provides a welcome sequel to her 2018 hit, All Summer Long. Pegged for 10- to 14-year-old readers, it picks up the story of two middle school friends, Bina and Darcy, in the throes of growing up. They're struggling to get a rock band together and navigate increasingly confusing tugs of friendship and matters of the heart.
Larson's comic artwork, stark and lovely here, sets the scenes for awkward life transitions and triumphs over teenage adversity, in a book that keeps an artful beat going throughout. And it closes with a nice coda: several extra pages at the end of the story where Larson reveals her methods for making comics.