The Grand Dame
The Grand Dame:
Refreshed and restored, the Nu Wray Inn still holds on to its storied past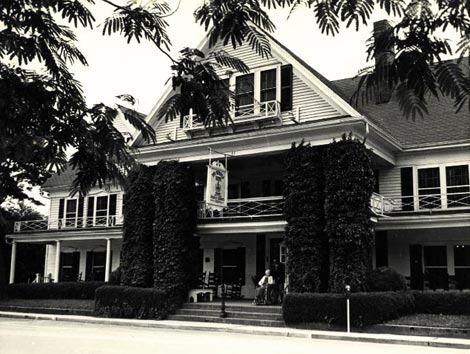 Anyone visiting Burnsville's town square in the past 20 or so years could see the lovely Nu Wray Inn had gone to seed. Paint peeled from her planks, the floors creaked after more than a century of use, and this once-elegant Victorian farmhouse had fallen into disrepair. Now, new owners Lisa England and Bob Cohen have repainted, repaired, and restored the Nu Wray, which opened in August.
Built in 1833, and sharing a birth year with Yancey County, the inn and county have grown up together. Bacchus Smith constructed the building as a trading post, offering eight rooms where travelers could get a good night's rest. It was eventually purchased by Milton Penland, a noteworthy secessionist, before Garrett D. Ray took charge in 1870. Then called the Ray Hotel, the inn belonged to the Ray family for four generations, and received the Nu Wray name when Julia Ray married William Wray in 1912. It wasn't until the mid '80s that it left the family, with the death of scion Rush Wray. From its modest start, the inn had stretched to 16,500 square feet and 26 guest rooms.
The guest list has been long, and even included a few famous names. Author Thomas Wolfe took refuge there after his book, Look Homeward, Angel, had made a big stir among society in Asheville. Local lore tells of him at the public phone booth, pleading with his mother. She told him he most definitely could not come home again—not yet. Actor Christopher Reeve stayed there, as did President Jimmy Carter. And The King himself, Elvis Presley, is said to have snuck down to the kitchen in the night to get a peanut butter and banana sandwich during his stay. One of the rooms has an Elvis theme to commemorate that visit.
Despite its wide, welcoming porch, this languid Southern belle has been as demanding as any dignified diva. One owner went into foreclosure trying to restore it to standards befitting of a building in the National Register of Historic Places. That's when England, a Western North Carolina native, and Cohen made the move from California to Burnsville to restore the inn. In reality, though, they didn't just buy a piece of real estate; it's more like they've become the guardians of this grand lady.

Nu Wray Inn
102 Town Sq., Burnsville
(828) 682-2329
www.TheNuWrayInn.com