Google's Gravity Games Zoom Back to Lenoir
Google's Gravity Games Zoom Back to Lenoir:
Serious scientific fun for young students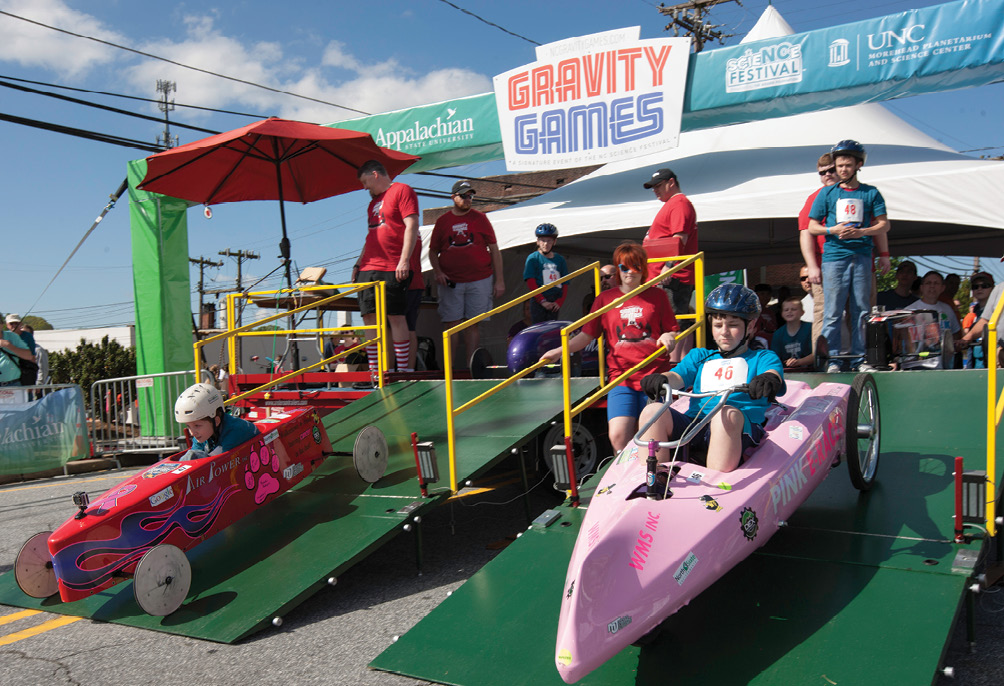 For the seventh consecutive year, Google is hosting the North Carolina Gravity Games in Lenoir. Founded by Enoch Moeller, operations manager for Google's Data Center there, the event takes place April 29 and features races between homemade gravity-powered vehicles. "The level of excitement—you can almost cut it with a knife," Moeller says. "We didn't anticipate that it would be such an exciting event."
At last year's games, more than 70 student teams faced off in events like trial races between high-speed kit cars and build-from-scratch engineering competitions. Carla Ramsdell, a faculty member with Appalachian State University's Department of Physics and Astronomy and a Gravity Games volunteer, says she's seen everything from Mario Bros.-inspired cars to recycled bicycle frames compete in the races. But while the designs can be zany, earnest scientific research is at the core of the event.
"It's experiential learning," Ramsdell says. "You put them in a car and they just get jazzed. They start to understand the scientific process."
Aside from racing, students and their families can munch on street food and peruse Science Street, which is something of a portable hands-on museum plopped in downtown Lenoir.
ASU, a major sponsor, assists the program in a variety of ways including helping with safety and judging. "I'm impressed with Google's dedication to this event and their community," Ramsdell says. "If more companies had this passion for STEM and the community, I think science literacy would be so much better than it is now."
---
North Carolina Gravity Games - Downtown Lenoir
April 29, 8 a.m.-4 p.m., free
(828) 726-0616
www.ncgravitygames.com
RESOURCES:
photographs (3, Gravity Games) by Will & Deni McIntyre