Gone With the Wind
Gone With the Wind:
One of the country's early attempts at harvesting renewable energy began in Boone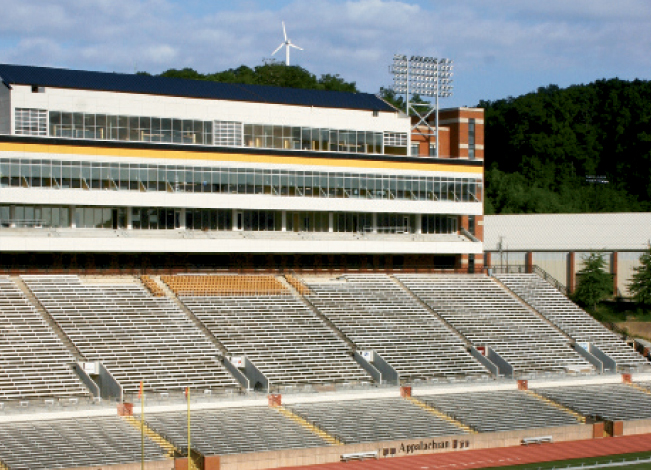 "To heck with OPEC!" "We must end our reliance on foreign oil."
Those slogans date back to the oil crisis of the 1970s, when President Jimmy Carter attempted to wean the United States from its dependence on Middle Eastern oil. Among the efforts made was a $35 million renewable energy project carried out by the Department of Energy and NASA, a windmill that would be the largest in the world and was expected to generate as much as 15 percent of the nation's electricity by the year 2000. Windswept Boone was chosen as the location for this ambitious, yet short-lived, project.
Anchored atop 4,400-foot Howard's Knob, two, 100-foot blades with a wingspan of 200 feet topped a 10-story steel tower. The 160-ton wind turbine, which was visible from seven miles away, was dedicated in July 1979, and began feeding electricity to the Blue Ridge Electric grid on October 1. Unfortunately, the windmill proved problematic from the start. Local newspapers reported sonic effects ranging from a gentle whistling to a screeching roar.
By November, the machine sat idle. In low winds, it didn't generate power, and in high winds, the turbine was locked down for safety. The blades needed new ice detectors and a back-up lock system. And when residents complained of flickering television reception, the windmill was blamed and set to run only during the day.
In 1980, faulty computers along with poorly soldered joints, bad cables, and other flaws, took the windmill off-line until fall of the following year. The major problem was a pair of sheared bolts that had a replacement cost of a half-million dollars.
But already, political winds had shifted and funding was cut when the Reagan Administration took office in 1981.
Though some of the research and development objectives had been met, by 1983, the Boone windmill project was dead, having run for just 330 hours and seldom generating more power than its support systems required. "The battle has been lost. The war is still worth fighting for," read an editorial about the project in the Salisbury Evening Post. The windmill sold at auction for $51,600 to a yarn company near Gastonia, which took the turbine and gave the tower structure to Georgia Institute of Technology, with the blades reportedly cut into pieces.
But Boone's role in renewable energy didn't end there. In November 2009, the student-led Renewable Energy Initiative at Appalachian State University dedicated a graceful new windmill, the Broyhill Wind Turbine. Three slender, 34-foot blades rotate silently on a campus hilltop, generating power for the public utility grid. Despite opposition from preservationists who want to maintain an uninterrupted ridgeline, ASU is still working to develop wind-power initiatives.