Going Upstate
Going Upstate:
With a vibrant downtown and ever-increasing attractions and amenities, Greenville, South Carolina, beckons visitors from near and far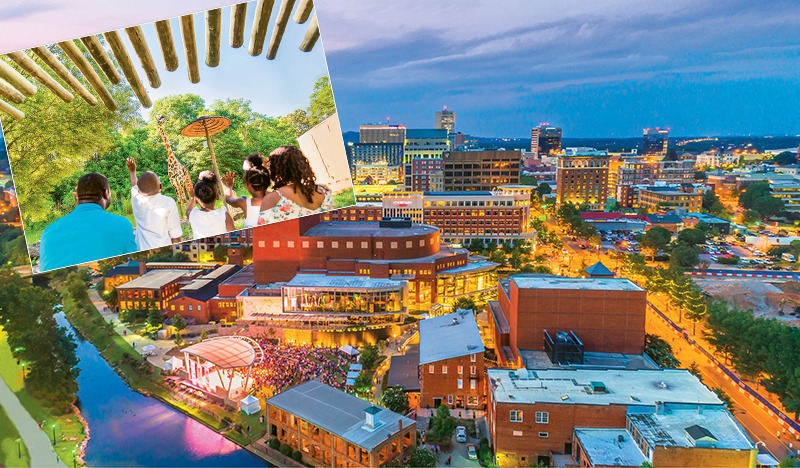 Get Downtown - Decades of revitalization have made Greenville's center district a hub for conveniently experiencing art, history, music, food, and fun.  (inset) Big Time - At the Greenville Zoo, which celebrates its 60th birthday next year, the giraffes are a main (but far from only) attraction. Photographs (skyline) courtesy of VisitGreenvilleSC/Chris Leyland Photography; (zoo) courtesy of VisitGreenvilleSC/Chelsey Ashford Photography
On a recent sunny afternoon, three towering giraffes ambled around their preserve at the Greenville Zoo, nibbling on leaves while awestruck kids, parents, and animal lovers of all stripes gazed up intently. From there, the visitors moved along to see African lions, primates from Southeast Asia, flamingos from Latin America, and farm critters from closer to home—just some of the more than 80 species of animals at the zoo. One of Greenville's year-round attractions, the zoo is an apt metaphor for a city that offers a cornucopia of choices as it grows, diversifies, and builds its cachet.
Just one hour's drive from Asheville and with a population of about 70,000, Greenville, South Carolina, has a mix of historic charms and modern offerings that's sparking national attention. After losing its crucial textile industry, the city has launched downtown revitalizations that have catapulted Greenville's reputation as a place to live and visit. Its roster of recent accolades includes making the short lists for the "South's best cities" (Southern Living), "cheap summer travel" (Forbes), "top new foodie cities" (People), "America's greenest cities" (Hertz.com), and "must-see destinations" (Expedia.com). Also pouring in is praise for Greenville's arts and museums, outdoor activities, music and sports venues, and culture of thriving independent businesses.
Greenville's greenways and network of trails—including Liberty Bridge at Falls Park on the Reedy (pictured)—make the city a great place to walk. Photograph courtesy of VisitGreenvilleSC/Bendingwood Studio Arts/Jeff Gandy 
For a getaway just down the mountains from Western North Carolina, this jewel of the Upstate is a powerful draw—but it can help to plan ahead to make the most of a visit, be it for a day trip, weekend, or longer. Here are some of Greenville's standout offerings.
Arts & Entertainment
Greenville's cultural scene is increasingly something to crow about. The Greenville County Museum of Art, regarded as one of the finest in the South, houses the world's largest public collection of watercolors by Andrew Wyeth, a sizable selection of works by Jasper Johns, and pieces by other noted artists. New and upcoming exhibitions include "Persons of Interest"—a compelling selection of portraits of and by famed southerners, drawn from new acquisitions, and a career retrospective on the late painter Arnold Mesches. Remarkably, the admission at GCMA is free.
You could fill a weekend (and more) with visits to Greenville's arts and cultural offerings, which include performance venues like the Peace Center (top) and the Greenville County Museum of Art (bottom left). Photographs (clockwise from top) courtesy of VisitGreenvilleSC/Kris Decker; VisitGreenvilleSC/Gabrielle Grace; VisitGreenvilleSC/Mira Photographs/Michelle Mogavero 
A couple of blocks away and also situated on downtown's lovely Heritage Green is the Carolina Music Museum. Though it was established just last year, the museum is already garnering acclaim for its collections of historic instruments, including more than 40 vintage pianos and harpsichords. Sandwiched between these two museums is the Greenville Little Theatre, which hosts popular musicals, plays, and more. Other venues—for professional and youth theater, ballet, and the Greenville Symphony Orchestra—abound, as do galleries and studios downtown and in the growing arts hub dubbed Village of West Greenville.
When it comes to staging the big shows, Greenville also delivers. The multivenued Peace Center hosts some 300 events a year, from a range of the performing arts. Upcoming concerts include Gladys Knight (August 20), Jason Isbell and the 400 Unit (August 21), and Keb' Mo' Solo (September 17), alongside multinight stage shows including The Band's Visit, Ella Enchanted, and Charlie and the Chocolate Factory. Larger still are the entertainments at the newly renovated Bon Secours Wellness Arena, which seats up to 15,000 for music, sports, and family performances. It's preparing to showcase the likes of New Kids on the Block, with Salt-N-Pepa and Naughty by Nature (July 10), Willie Nelson and Alison Krauss (August 16), and Judah & the Lion (September 8).
Not to be missed is Greenville's annual Artisphere, a three-day celebration that marked its 15th anniversary in May 2019. Drawing more than 80,000 revelers in all things artistic, the festival hits the streets with live music, street food galore, and the chance to see (and pick up) works by hundreds of the Upstate's top artists.
Ways to Play
Sports and wellness make a healthy pairing in Greenville—along with outright playfulness. For the spectator, first of all, there's the city's Minor League Baseball team, the Greenville Drive, a Class A affiliate of the Boston Red Sox. With a regular season that lasts until early September, the Drive plays its home games at Flour Field at the West End, which was built in 2006 with an eye toward classic baseball stadium design, making for an authentic night at the ball field.
Another local favorite of sports fans is the Swamp Rabbits, Greenville's professional hockey team, which plays its home games at Bon Secours Wellness Arena from October to February. Brand new to the scene is the Greenville Triumph, the city's first professional soccer team, which launched in March 2019 and concludes its season in October, with local games at Legacy Early College. For the golfing set, Greenville's recently opened Topgolf takes the game to a whole new level, offering the national franchise's signature brand of climate-controlled hitting bays, group games, and food and drink.
 In Greenville, athletic adventures abound, from kayaking on the Reedy River (top left) to professional sports including soccer (top right), hockey (middle right), and baseball (bottom). Photographs (clockwise from top) courtesy of VisitGreenvilleSC/Green River Adventures; The Greenville Triumph; The Greenville Swamp Rabbits; Greenville Drive 
Greenville's revitalization hasn't just been profitable and scenic—it's also packed with (mostly free) options for locals and visitors to get out and get moving. The city maintains several networks of greenways and trails in and around downtown, many of them adjoining the tranquil Reedy River. For the hardy hiker or biker, the 22-mile Swamp Rabbit Trail is a well-maintained route that follows an old railroad corridor connecting Greenville with the town of Travelers Rest. (Take note: the trail has much shorter sections for those who don't want to traverse the whole thing.)
Greenville is a gold mine for active kids. Much of the greenway system is eminently family-friendly, notably Linky Stone Park, a free children's garden and play place by the river. And while it's true that the city can get a little steamy on summer afternoons, Greenville County provides three splash-filled water parks—Discovery Island, Otter Creek, and 7th Inning Splash—each geared to a different age and style of fun in the water.
Greenville's food and drink scenes are booming, with offerings from the likes of Bacon Bros. Public House (top left), Yee-Haw Brewing Co. (top right), and Soby's (bottom left); (Bottom right) The Swamp Rabbit Trail, great for walking, running, and biking, spans 22 miles, including key stretches in downtown Greenville. Photographs (clockwise from top) courtesy of Bacon Brothers Food Group; Yee-Haw Brewing; courtesy of VisitGreenvilleSC/Firewater Photography/Kris Decker; VisitGreenvilleSC/Table 301
Dine & Drink
All that moving around is going to make you hungry—and thirsty. Here, Greenville can satisfy varying tastes as well. Just last year, Travelzoo named Greenville one of its six favorite food cities in the US, praising the explosion of new independent restaurants and breweries and its food-truck boom.
To get the picture, visitors might want to start at UP on the ROOF, a restaurant and bar on the rooftop of the Embassy Suites at Riverplace. In addition to its varied menu and award-winning wine list, it offers sweeping views of downtown and is a stunner at sunset.
Back on the ground, there are too many stellar eateries to mention them all here, but delectable choices include: Bacon Bros. Public House in East Greenville, lauded for its farm-fresh food and house-cured meats, which you can view at the on-site curing room; Soby's, downtown on Main Street, which lives up to its promise of locally grown, seasonal cuisine; fellow Main Street mainstay Foxcroft Wine Co., which blends upscale pub fare with a bountiful vino list; and just-off-the-beaten-path Sidewall Pizza, which elevates pies with great service and ingredients in a tastefully minimalist setting. Anyone looking for lighter, on-the-go meals will be well served at Swamp Rabbit Café and Grocery, which also houses a whole-animal butchery, pizza place, and bakery. And while you never know where you might bump into one of Greenville's more than 30 food trucks, which dot the city, check out the comprehensive listing at visitgreenvillesc.com.
This summer and fall present a menu of events highlighting the food scene, including Greenville Restaurant Week (August 8-18), offering deals all over the city; euphoria (September 19-22), a multifaceted bash of foodie events, concerts, and parties; and Fall for Greenville (October 11-13), the Upstate's biggest food and beverage festival.
For beer lovers, Greenville and neighboring Spartanburg have risen their total to more than a dozen breweries, with more opening each year. One of the newcomers is Yee-Haw Brewing Co., which forged success with prior locations in Tennessee before reclaiming an abandoned building in downtown Greenville. The city "is a model for a what a successful revitalization can bring to a community, and we wanted to be a part of that," says Yee-Haw brand manager Andrew Felty. Part taproom, part restaurant, part celebration of all things microbrew, Yee-Haw will also be launching tours soon—and it participates in the Greenville Brews Cruise, an experience that allows you to select which parts of the city's craft-brew scene to check out during a guided excursion.
(Left) Greenville's biggest annual festival, Artisphere, takes place in May and draws more than 80,000 people; (Right) The Westin Poinsett 
Photographs (left) courtesy of VisitGreenvilleSC/Gabrielle Grace; (right) courtesy of VisitGreenvilleSC/The Westin Poinsett 
Stay a While
To best experience Greenville in overnight comfort, consider these lodging options a safe bet: The highly rated Westin Poinsett, a Marriott hotel on Main Street, couldn't be more centrally located; downtown's newest hotel, a suites-only Residence Inn, boasts all the comforts of home; and the Hotel Domestique in nearby Traveler's Rest serves as a luxurious launching point for taking in all Greenville has to offer.
Ready to Go? 
Check out visitgreenvillesc.com for insightful and up-to-date tips on what's happening in Greenville.
RESOURCES:
Photographs Courtesy of (skyline) visitGreenvillesc/Chris Leyland Photography; (zoo) visitgreenvillesc/Chelsey Ashford Photography; (opposite) visitgreenvillesc/bendingwood studio arts/jeff gandy; (visitgreenvillesc/firewater photography/kris decker; visitgreenvillesc/gabrielle grace; visitgreenvillesc/mira photographs/michelle mogavero; visitgreenvillesc/gabrielle grace; visitgreenvillesc/green river adventures; the Greenville Triumph; The Greenville Swamp Rabbits; Greenville Drive; visitgreenvillesc/firewater photography/kris decker; Bacon Brothers Food Group; Yee-Haw Brewing Greenville; visitgreenvillesc/the westin poinsett greenville; visitgreenvillesc/table 301