Go West
Go West:
Explore Bryson City's fun mix of old and new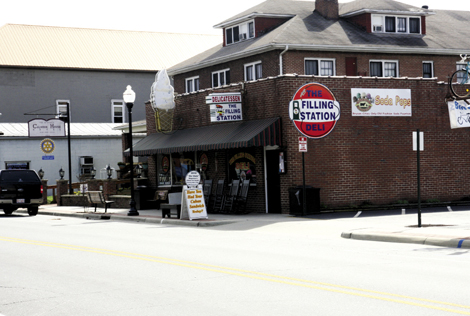 Without question, the natural playground of forests, rivers, and trails surrounding Bryson City, and even the Tuckasegee River that cuts through the center of town, maintain a strong pull, but the town holds its own charm—all two square miles of it. Businesses old and new line Everett Street and the few adjoining roads, offering a glimpse of decades past juxtaposed against a medley of fledgling establishments. And all is relaxed in this town of some 1,300 year-round residents: The dress code is outdoor appropriate.
Among the old-timers is Smith's Dry Goods, open since 1910. It served as the town's general store in the early days, and now sells plenty of rugged wear. Carhartts, Georgia work boots, John Deere caps, and authentic Western shirts with pearl snaps are displayed against a rustic backdrop of original, worn-wooden floors and shelving.
Another nostalgic spot is The Filling Station Deli and Sub Shop, decorated with vintage gas station paraphernalia and old license plates. The eatery serves generous sandwiches with names like The Filler-up (Virginia baked ham and turkey with Swiss) and The High Octane (a hot-pressed Reuben). Owner Barry Tetrault makes a mean Cuban with a secret twist. Place your order at the counter and take a seat in a rocking chair out front and he'll tell you all about it.
Among the newer establishments is Erin Walker-Smith's charitable clothing boutique, Humanité. Colorful Tulle dresses, tops by Ark & Co., and hip accessories fill this bright shop. The store also sells fair-trade, local, organic, and reclaimed goods, such as FashionABLE scarves woven by women in Ethiopia, that adhere to Smith's mission to give back—10 percent of sales go to humanitarian organizations.
Two-year-old Cork & Bean, housed in the original 1905 Bryson City Bank building, pours fair-trade coffees and wines. The menu features baked goods and an assortment of 26 specialty crêpes, among other light bites. Owners Ron LaRocque and Scott Mastej's motto is on point: It's an ideal spot to "Wake up" or "Wine down."
Bryson City is home to its share of crafters as well, many whose artworks you'll find at The Cottage Craftsman. Handmade platters and mugs, wood-turned bowls, and kudzu baskets are the handiwork of regional artisans. You can also take home locally made jams and bottles of wine.
Two musts remain: a ride on Great Smoky Mountains Railroad and a visit to Nantahala Brewing Company. Trains depart daily at 10:30 a.m. from the depot for four-hour excursions into the Nantahala Gorge. When you return, peek inside the Scenic Model Railroad Museum, which houses 7,000 classic Lionel engines and cars and a 24- x 45-foot model railroad display.
Make the brewery your last stop, because after a few well-crafted, high-gravity pints, you'll want to stick around and fraternize over a game of corn hole or darts. Housed inside a Quonset hut where army surplus goods were once sold, the young brewery has become a popular destination. Try a pint of owner Joe Rowland's favorite, the Noon Day IPA, and call it a day.         
EAT
Cork & Bean
16 Everett St.
(828) 488-1934
The Filling Station
145 Everett St.
(828) 488-1919
SHOP
The Cottage Craftsman
44 Fry St.
(828) 488-6207
Humanité
130 Everett St.
(828) 538-4180
Smith's Dry Goods
85 Everett St.
(828) 488-1933
PLAY
Great Smoky Mountains Railroad
226 Everett St.
Nantahala Brewing Company
61 Depot St.