Go, Speed Racers, Go!
Go, Speed Racers, Go!:
Beech Mountain hosts an epic fat-tire competition and gets a professionally designed downhill course to boot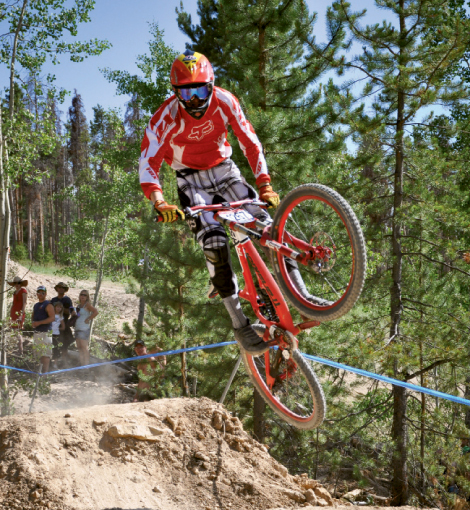 When designing a national championship downhill mountain bike course, there is one key principle: The starting line must be higher—a lot higher—than the finish.
That's precisely why snowless ski slopes, like the ones at Beech Mountain Resort in the off-season, are ideal venues for gravity-assisted cycling events. The High Country ski area will host more than 800 professional and top amateur cyclists for the 2011 Mountain Bike Gravity National Championships September 22-25, and again in 2012.
"The best comparison is downhill ski racing," says Brevard native and 2007 dual slalom national champion Christopher Herndon. "Gravity racing is the same idea on mountain bikes." Herndon is also the premier builder of downhill courses in the Southeast and engineered the Beech trails. The event is the capstone for one of three pro mountain biking tours sanctioned by USA Cycling, and as Herndon points out, the most extreme. It will take pro riders just two and a half minutes to plunge 850 feet of elevation over rough terrain and obstacles, making airy leaps.
"It's a shorter mountain than we usually race, but here you're always doing something. You never get a break," Herndon says. And though riders will be whizzing past at break-neck speeds, spectators can catch plenty of the action along the course. A highlight of the weekend will be the dual
slalom races on Saturday.
Herndon believes this event, the first of its kind to be hosted in the South, will have a legacy. A mountain bike park and trail system with state-of-the-art lifts will open in 2013. In the meantime, the championship course may boost the sport in the region. "We have some of the best talent in the nation," says Herndon. "It's been cool to see everyone get together to build something special and unique."         
---
2011 USA Cycling Mountain Bike Gravity National Championships
Beach Mountain
September 22-25
www.beachmtn.com
RESOURCES:
Photographs (2) by Tim Gillies/USA Cycling