Giving Rise
Giving Rise:
Meet the McKibbons, the energetic Asheville hoteliers with an even bigger love for philanthropy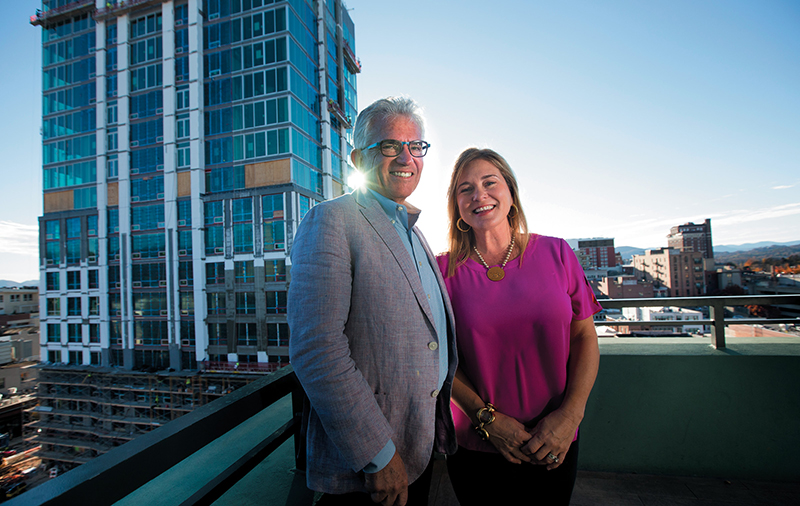 In downtown Asheville, the western panorama of the Blue Ridge Mountains from the AC Hotel's ninth floor is stunning. Today, however, the lofty vista is not nearly as charming as the two shamelessly friendly dogs, Daisy and Charlie, who are wagging their tails and lounging comfortably at the pet-friendly hotel.
At the other end of their leashes are Letitia McKibbon and her husband John, the chairman of McKibbon Hospitality and the developer of several downtown Asheville hotels, including the AC, which opened in 2017. An animal lover, Letitia has spearheaded the Asheville Humane Society's annual Taste of Compassion and championed the organization's mission to protect animals throughout the region. And without fanfare, the couple has also targeted their philanthropy at addressing the city's chronic homelessness. But more on that later.
These days, their investment in Asheville is more evident than ever. Catty-corner to the AC is Hotel Arras, an elegant skyscraper being refashioned from the city's highest and perhaps most uninspiring structure—the former BB&T building. The aging edifice was gutted to its steel framework in 2017 and has been transformed inside and out into a 128-room boutique hotel with 54 condominiums, restaurants, and retail space on the ground floor. The building's metamorphosis, expected for completion this spring, will cap the McKibbons' 25-year venture that's helped elevate the once-troubled city center to soaring new heights.
Yet, the couple wants people to know the imprint Asheville has had on them too, and their desire to leave the city a better place for all, canines and humans alike.
In 2007, the couple visited Asheville to scout a location to build the Aloft Asheville Downtown, which opened in 2012. The trip turned out to be much more enthralling than they expected.
"We only planned to stay a month, but we fell in love with the mountains and the people," says Letitia. "Asheville is a very special place." Soon, they bought a home where they currently spend half the year, alternating between here and Tampa, where McKibbon Hospitality is headquartered.
For his part, John is no stranger to the mountain city. A third generation entrepreneur from Gainesville, Georgia, he recalls accompanying his father on business trips to Asheville as a boy. Back then, Asheville's commercial hub was plunging toward becoming an urban wasteland. Like many cities in the '60s and '70s, Asheville's downtown was drained by an expansion of malls on the city's fringes. Left behind were boarded and decaying structures—a shell of a city.
While downtown flailed, John enlisted in the family business that began with his grandfather's Piggly Wiggly grocery in Gainesville. As his father branched out into restaurants and motels, John followed suit and eventually earned the top spot in the company. In 1996, he pounced at an opportunity to open a Marriott Courtyard franchise in Asheville's Biltmore Village.
"It was the greatest day of my career when I got the go-ahead to build in Asheville," says John. In all, McKibbon Hospitality now has five properties in Asheville and 85 hotels across 31 cities throughout the Southeast. Letitia attributes the success of their Marriott franchise to the paucity of hotel rooms in Asheville at the time. Though the city had been flush with hotels in its heyday (in 1890, there were 47), many had been razed or converted for other uses after the Great Depression. In fact, the site of the AC Hotel was once occupied by the flashy 210-room Langren Hotel, which was built in 1912 and erased in 1964 to make room for a parking garage.
Nevertheless, the Marriott's season was short, wrapping up in October once autumn colors faded. A turning point, says John, was the Biltmore Estate's steady growth and expansion, especially during the holidays, which helped fill the hotel to year end. In the meantime, downtown Asheville's slow and steady rebirth that began in the 1990s, when a handful of restaurateurs and shopkeepers bravely opened businesses in the city center, had snowballed. So, by the mid-2000s the McKibbon company's leadership realized that downtown was ripe for prosperity. There were still vacant dwellings and empty lots, but the city seemed primed for an economic boom.
"The demand was here, there were just limited places to stay," says John. After a lengthy search, they eventually purchased a parking lot and the site of the former Hot Dog King and built the Aloft Asheville. They also proposed a seven-story development on downtown's northern boundary, across from the city's arena and historic Basilica of Saint Lawrence. However, their vision stoked controversy and was fiercely opposed by some members of Asheville's city council and community activists. To this day, the cheerless site known as the "pit of despair" is a parking lot.
To be sure, Asheville's hotel and real estate boom is still a delicate matter.
"For a lot of people, the growth of the hotel industry and the development of downtown is a big change. Too much, too fast is really what concerns a lot of people," John acknowledges. "But if you look back 20 years and see what downtown was like—I don't think anyone wants that."
Undeniably, the reconstruction of the dreary BB&T building into a glamorous high-rise is a vast improvement—a beacon to mark the transformation of Asheville's downtown from a grimy ghost town to a vibrant metropolis. The art deco-inspired design aligns with Asheville's other architectural gems of that era, and, as with McKibbon's other properties, full-time employees are guaranteed a living wage. The Arras also marks McKibbon Hospitality's final development with John at the helm. He and Letitia are eager to focus on other endeavors that will make Asheville a better place to live—and not just for visitors. The Arras project, which is contributing a sizeable sum toward affordable housing in the city, is a jumping off point for more philanthropic endeavors.
In 2012, the McKibbons approached the nonprofit Homeward Bound WNC to continue their work addressing chronic homelessness, a cause John took up in Tampa nearly two decades ago. According to Jim Lowder, Homeward Bound's strategic and major gifts officer, Asheville has among the highest per capita rates of homelessness in North Carolina. While critics point to Asheville's soaring growth as a source of the problem, Lowder offers that "affordability and homeless have been a critical issue before hotels started popping up." On top of being a leading financial contributor to Homeward Bound, the McKibbons are lending crucial expertise and leadership to design and build a housing unit for individuals with the highest risk of long-term homelessness.
Indeed, whether it's a luxury suite or simply a safe, warm place to live, the McKibbons just want everyone to have a decent place to rest. "Economic development and affordable housing are not incompatible. Some developers come and build and have nothing to do with our community, but the McKibbons aren't one of them," says Lowder. "They have big hearts and an investment in the community."
RESOURCES:
Photographs (portrait) by Matt Rose; (Charlie's Angels Rescue check) courtesy of McKibbon Hospitality; (awards event) by Kristi Hedberg photography