A Gin for Grandma
A Gin for Grandma:
Eda Rhyne's new take on a traditional spirit graces fall cocktails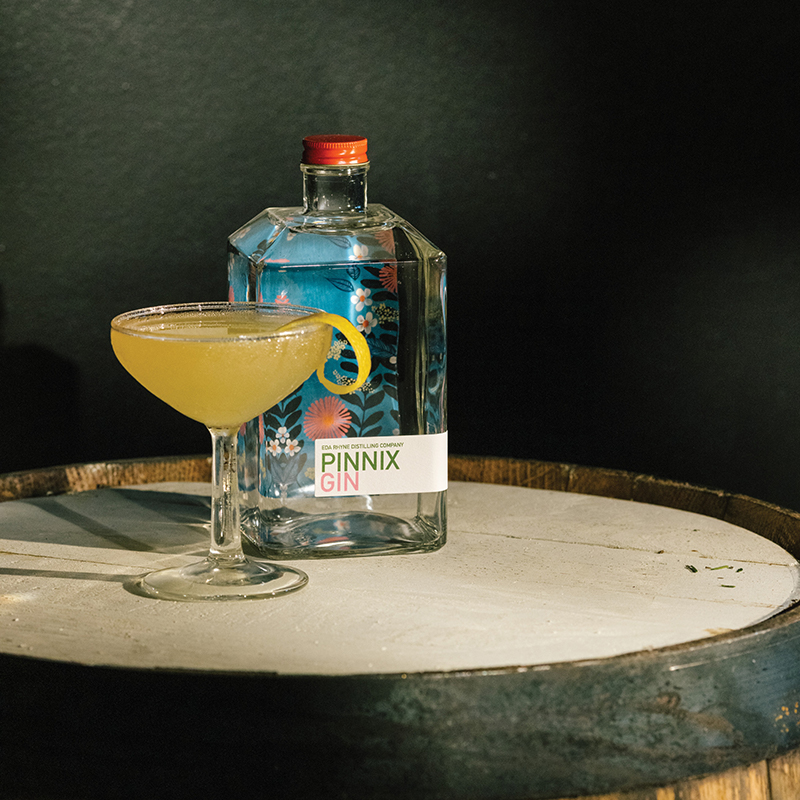 As autumnal charm sweeps through the mountains, local distillers find peak inspiration in the botanicals of Western North Carolina. Asheville's Eda Rhyne Distillery specializes in crafting unique blends of native medicinal plants into spirits and liquors. This fall, the distillery debuts its latest concoction, one capturing both a bit of history and a decidedly down-to-earth ambiance.
The gin is inspired by, and named for, co-owner Rett Murphy's great grandmother Alma Pinnix, a landscaping and gardening powerhouse who's remembered for beautifying large swaths of Greensboro. One can imagine that she would have delighted in this Pinnix Gin, which is infused with Carolina hemlock and other earthy notes that evoke the mountains' terroir. "It was something we really took our time with," says Murphy. "We wanted something to taste classic—to work with any gin cocktail, but something that really balances and adds to the mystique of Southern Appalachian flavor."
Local Bees Knees 
Courtesy of Eda Rhyne Distillery
(serves 1)
2 oz. Eda Rhyne gin, 
¾ oz. lemon juice, and 
½ oz. local honey syrup (honey plus water) 
Combine into a cocktail glass with ice and stir until it's nice and cold. Strain into a chilled cocktail glass and add a lemon twist. 
Eda Rhyne Rickey
Courtesy of Eda Rhyne Distillery
(serves 1)
Muddle mint leaves in glass, then add ice. 
2 oz. Eda Rhyne gin, 
3/4 oz. fresh lime juice, and 
4 oz. club soda. 
Garnish with mint leaf or lime wheel.
EDA RHYNE DISTILLERY
101 Fairview Road, Asheville
(828) 412-5441
edarhyne.com