Gift of a Lifetime
Gift of a Lifetime:
A woman's decision to give her kidney to a stranger changed the course of organ donations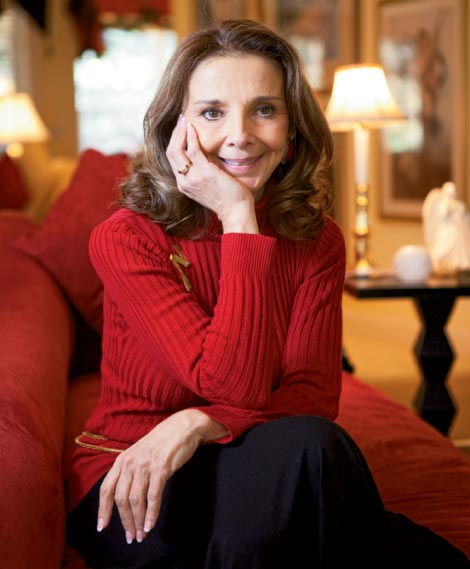 Joyce Roush Mason has won so many awards she has trouble recalling them all by name. Among them are a Purple Heart, the Indiana Governor's Award for Heroism, joint Senatorial and House of Representative proclamations, and most recently, the 2011 ATHENA leadership award, which honors women who have achieved professional excellence while contributing to the welfare of others. But for Mason, the most emblematic piece among the medals and plaques is the Olympic torch that she carried for the 2002 Winter Games and is now displayed in her Flat Rock home.
That's because in 1999, Mason became the first person in the United States—and possibly the world—to donate a kidney to a stranger. "Bearing the torch for the Olympics was very symbolic for me," she says. "I was the torch bearer for a time and then I passed it on. It represented what I believe my journey in the medical profession has been about, and what giving my kidney represented to me."
Despite the accolades and attention, Mason downplays her role in the medical milestone. She believes she was simply in the right place at the right time and equipped with a unique set of life skills and experiences. "I think God just tapped me on the shoulder and said, 'Joyce, you can do this,' " she explains.
Mason was 45 and living in Fort Wayne, Indiana, when she chose to become a donor. She was the mother of two, stepmother of three, and married to an optometrist. Her 35 years of experience as a nurse included working in trauma and hospice. At the time, she was the coordinator for the Indiana Organ Procurement Organization, a group that discusses organ donation with families of the recently deceased. Mason calculates that she had been present for more than a thousand deaths. Over and over, she asked the bereaved families to give strangers a  second chance at life with a donation.
In March 1998, Mason attended a conference in Indianapolis where Dr. Lloyd Ratner, a transplant surgeon at Baltimore's Johns Hopkins Hospital gave a presentation about a new laparoscopic surgery he and Dr. Louis Kavoussi developed to remove kidneys in a less invasive manner. Until this point, Mason explains, kidney removal required a lengthy surgery and could involve the removal of a rib. The recovery time was extensive. For these reasons, most people wouldn't consider becoming donors unless a friend or family member was in need. The laparoscopic technique required only four small incisions, and the recovery time was much shorter. In Mason's mind, this medical advance meant the opportunity to save more lives. She wasn't just thinking of the people making a sacrifice for loved ones, but the altruistic gift she could give to anyone in need.
After the presentation, she approached Ratner about the possibility of donating her kidney. He asked if she knew someone who  needed a transplant. "No," she said, "but I know there are 40,000 people who do, and one of them has got to match my kidney."
Because a blind donation had never been done, Johns Hopkins examined the ethical ramifications, weighing every doctor's oath to do no harm against the potential to save lives. Mason underwent numerous physical and psychological tests to alleviate concerns that she might be acting impulsively, or as she puts it, "to make sure I wasn't crazy." But 18 months later, Mason was just as dedicated to the idea as she was the first time she spoke with Ratner.
In June 1999, Mason was matched with 13-year-old Christopher Bieniek of Aberdeen, Maryland, and three months later  he received her kidney. "I was thrilled,"  Mason says.
Although she stresses that it was never her plan to meet the recipient, the medical first became a news story across the world and drew her into the spotlight and Bieniek's life. Interviews with Dan Rather, The Today Show, headlines in The New York Times and People magazine made her a spokesperson for organ donations.  Though the impact on Bieniek's life was her true goal, she shared her story in hopes that it would move others to consider what are now called nondirected living or Good Samaritan donations.
"I never intended celebrity status. That was a by-product, and only for a time. And it was something I chose to participate in so that others would know that giving a kidney to anyone is possible," she says. "I traveled for about 18 months for Johns Hopkins telling my story. Some people did think I was crazy, but it obviously motivated others. Now, you can go online and register to give your kidney. That's exciting to me."
More than a decade with just one kidney hasn't affected Mason's health or her commitment to helping others. Now the director of clinical services for Elizabeth House, an in-patient facility at Four Seasons of Hendersonville that provides end-of-life care, she helps her patients leave life with dignity, and is perfectly content to take on the more quiet acts of heroism. 
Donation opportunities
To learn more about the donation procedure and register to become a donor, visit www.matchingdonors.com, www.kidney
registry.org, and www.kidney.org.
In her own words
To see Mason speak about her donation experience at TedX in Asheville, visit www.tedxasheville.com and click on the  2011 Presenters tab.