Ghosts of Gardeners Past
Ghosts of Gardeners Past:
From an abandoned nursery, an elegy for plants and people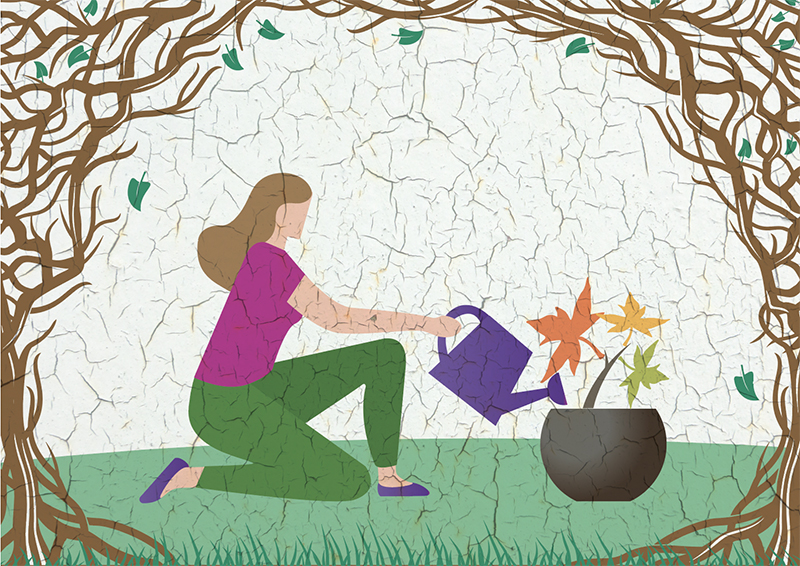 Can a garden really die, or do benevolent ghosts watch over it until it lives again?
I asked myself this question recently while wandering all alone in an abandoned garden. I knew the place well—not just the greenhouses and the plants, but the late owners and their life story—and as I suspected, it was deserted. I happened to be passing by on a drive from Asheville to Boone and decided to turn up the driveway. The old man had died in the past year, I had only just learned, and his wife two years before that.
Bob and Virgie's commercial nursery near Marion, in the years they were in their prime and before big box garden centers cored out their business, touched a lot of people, including me. Bob was a plant propagator extraordinaire, growing from seeds or cuttings such wonders as dawn redwoods, native persimmons, paw paws, Japanese maples, and hydrangeas. His small pick-your-own muscadine vineyard was amazing, and a high point of my year was always a visit in early fall. I would usually pick six gallons—mixing the iridescent bronze and the deep purple varieties while dodging bees—and the ripe grapes hung so thick that it never took much more than half an hour. Those muscadines yielded a sweet, complex juice that I would can or ferment to enjoy in the coming year.
Virgie ruled the greenhouses, raising row after row of poinsettias, pansies, Easter lilies, ferns, and summer bedding plants, depending on the season. They brought color and texture into my own garden and my home, keeping memories of the couple fresh and close by.
But even while Bob and Virgie were still living, the place had begun to show a lot of wear and the decay that creeps in as maintenance slackens. Both of them had been in frail health the last few years they were alive, then barely mobile, but they were rooted to the place and clung fiercely to their choice to stay by themselves in the yellow farmhouse under the huge oak tree. The tendrils of habit and love they wove around the nursery were like the wisteria vines that were now strangling the last of the potted plants lying around and poking through the greenhouses' broken panes.
On that last visit to the place, I parked in my usual spot by their kitchen door, half expecting Virgie to come out and say in her matter-of-fact voice, "Well, look who's here." And Bob would wander in from chores out in the yard.
No one was there, of course, but I felt drawn to my accustomed pattern: up a walkway to look in the greenhouses, then between an open shed and a work building to the long rows where shrubs and trees were raised, then back through the greenhouses to make a selection.
Now the greenhouses had begun to break apart, and the lack of heating, cooling, and water had left hundreds of plants dead in their pots, scattered willy-nilly on the growing benches or hanging from baskets overhead. All were brown and brittle. Seeds were scattered around, along with hand tools, sieves, catalogues, and thousands of leftover black plastic pots.
Outside, countless young potted plants stood where they were last tended, now fastened to the earth by roots that had burst their bounds. Plants that were alive but would never be moved, never be planted to bring shade to new generations.
It was the silence and utter stillness that baffled me as I gingerly stepped through the weeds: the total lack of movement or sound in the overgrown beds, where I had expected animals—birds, snakes, insects, anything—to skitter from the tangle of vegetation. How did they know that the garden was dying, the gardeners gone?
For an hour, I was all alone there, but not truly alone. From time to time, I raised my eyes up to the clear autumn sky, trying to catch a glimpse of Virgie and Bob. They were up there—I knew it—keeping an eye on me in their garden.
Getting ready to leave, I caught sight of a small Japanese maple in a pot that wasn't lashed to the ground by weeds and vines, just sitting there atop the mess. I took it home as a living memory. Bob and Virgie told me it was all right. 
Nan K. Chase is the author of Lost Restaurants of Asheville and Asheville: A History, among other books.