Gearing Up
Gearing Up:
An alliance of outdoor product manufacturers takes root in WNC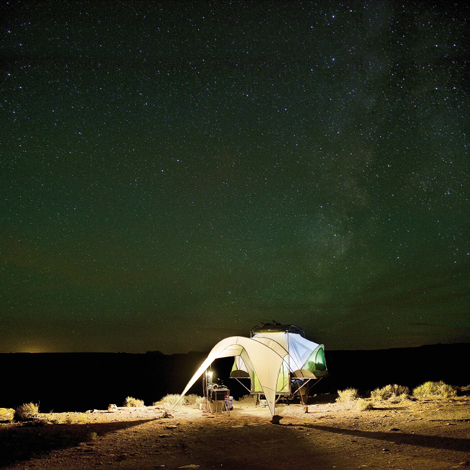 Our mountains harbor a hotbed of outdoor industry innovation, where a growing number of the toys we take outside are manufactured. They include everything from electric recumbent bikes and lay-on-top kayaks called Bellyaks, to high-tech camping trailers, and world-class climbing gear, cycling socks, hammocks, and tents. The array of cool gear caught the attention of AdvantageWest, a state agency that shapes regional economic development strategies. Matt Raker, vice president of entrepreneurship, covers the 23 counties "in the best, I mean west, part of the state," he says.
Last spring, he convened an outdoor industry executives' forum and formed the Outdoor Gear Builders of WNC, a regional alliance of manufacturers called an "industry cluster association" in the jargon of economic development. "There's an amazing diversity of these companies in the area," says Raker. He thought it was time "to pull together and unlock more opportunities for those and other businesses. If they can work together, there are economies of scale and collaborative, innovative opportunities that only an industry network can create."
Besides "leveraging brand identity" for Western North Carolina and its gear at trade shows around the nation, a half-dozen sourcing relationships have sprung up between the companies. One example: SylvanSport, a Brevard builder of compact camping trailers that pop open into a spacious sleeper, "had a supply chain challenge around a tent component," Raker says. Through the new network, SylvanSport found LightHeart Gear, an Asheville-based ultralight tent company that could benefit from assisting with sewing.
The group staged its launch last year with a "demo village" at Asheville's Mountain Sports Festival. Something similar happens this year at Prestige Subaru's Outdoor Gear Fest in Asheville on May 3. If you miss that event, stop by the dealership another time to visit; they've converted an unused building on their campus into the Prestige Adventure Center, which showcases an impressive gallery of outdoor gear made by the organization's members.
Need more evidence that our mountains and manufacturers are carving a new niche in the market? This year, the Outdoor Industry Executive Rendezvous returns to Asheville, October 7-9, at The Omni Grove Park Inn. The national event will bring 300 executives from companies including The North Face, Patagonia, Columbia, and REI—all of them likely to leave impressed with the manufactured outdoor goods that are increasingly identified with the lifestyle of Western North Carolina.                   
Buy Local
Outdoor Gear Fest
May 3, 11 a.m.-1 p.m.
Prestige Adventure Center
585 Tunnel Rd., Asheville
(888) 721-7058
outdoorgearbuilders.com