Gabriel Shaffer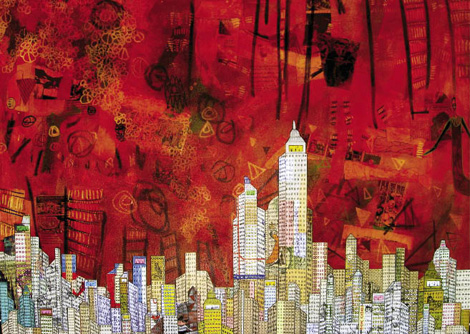 For some artists, subject matter is culled from the world around them. But for Asheville-based, artist Gabriel Shaffer, the nonsensical and sometimes disturbing realm of the psyche is where he finds happiness and an endless flow of creative inspiration.
The subjects of Gabriel's heavily textured, mixed-media collages arise from vivid dreams, like transmissions from his subconscious. Though his cityscapes and portraits are easier to grasp, his paintings of alien animals and strange characters create a narrative that keep the viewer searching for meaning. And the manifold layers of materials and messages in each piece do little to give viewers an easy answer. Gabriel builds up his surfaces using various media and salvaged papers—from journal pages collected at flea markets to ledgers recovered from dilapidated factories. "My paintings are like Willie Wonka's everlasting gobstopper," he says with a wry smile, "you're always finding new associations."
Ironically, freedom from association, at least with the art world, is the foundation of Gabriel's background. "While growing up in West Virginia, I began making art alongside my mom," he says, referring to renowned folk artist, Cher Shaffer. Following in her footsteps as a self-taught artist was never something he intended. Nonetheless, drifting without purpose and emotionally distressed at age 27, he turned to what had always come naturally to him. "This epiphany that art is what I'm supposed to do gave me a purpose," he says. "Art and moving to Asheville saved my life."
With no formal training, and after two years of prolific production, Gabriel got his first break during the Outsider Art Fair in 2004, which opened the door for a showing at the historic Cedar Tavern in New York City, a bohemian enclave once frequented by prominent abstract expressionists and beat writers. "It certainly helped that my mom was a recognized artist," he admits. Gabriel has since exhibited his work in a staggering 75 shows across the country and abroad, and even has a few devoted collectors. Though he was quickly dubbed an outsider artist, a term often used interchangeably with folk art that signifies someone who is self-taught, Gabriel strives to free himself of labels and associations. "I want to get to a place where no one will ever be able to classify my work," he says; a goal he just might attain if he continues to reach outside the line.