Furry Forecasters
Furry Forecasters:
Meet three celebrity rodents during Groundhog Day celebrations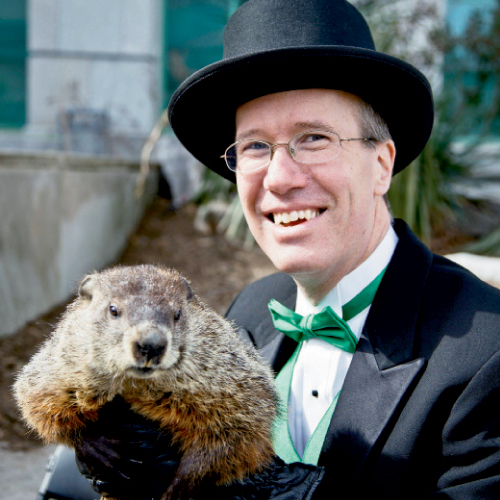 Punxsutawney Phil may be the darling of groundhogs, but he's got nothing on North Carolina's sweetheart of rodents, Gunther, aka Sir Walter Wally, who hails from the Genesis Wildlife Sanctuary in Beech Mountain. Our local ambassador holds a prognostication track record of 53 percent, compared with Phil's 39 percent.
 
On February 2, Gunther will head to the state capital to make his fourth annual appearance. "It's an exhausting day," says his handler, Denise Shadduck, a longtime volunteer with Genesis. "He's on the news. They do a little interview with him." Gunther will make his weather forecast in front of thousands, which is quite a feat, considering he's afraid of people. Shadduck prepares him for his big day by bringing him to her house a month in advance to get him used to being handled. The ceremony in Raleigh also includes informative tidbits on these furry forecasters—including the incredible fact that during hibernation, a groundhog's body temperature drops to 36°F, and they take a breath only every four minutes. After the convivial hoopla, the official state groundhog will return home to his mountain sanctuary to rest. 
 
You can meet Gunther, as well as other injured or orphaned critters, including owls and several birds of prey, year-round at Genesis. And if you can't make it to Raleigh for this meteorological tradition, Nibbles from the WNC Nature Center in Asheville and Grady at Chimney Rock State Park will both offer predictions during Groundhog Day festivities. 
Meet WNC's Notable Groundhogs
Gunther (aka Sir Walter Wally)
Genesis Wildlife Sanctuary
Closed for winter; call for appt.
210 Grassy Gap Creek Rd., Beech Mountain
(828) 387-2979
Grady 
10th Annual Groundhog Day
February 2, 10:30 a.m.-noon
$15, $7 children, free ages four & younger
Chimney Rock State Park
431 Main St., Chimney Rock
(828) 625-9611
Nibbles
Groundhog Day Celebration
February 2, 2 p.m.; $8, $4 children, free ages two & younger
WNC Nature Center
75 Gashes Creek Rd., Asheville
(828) 259-8080