Full STEAM Ahead
Full STEAM Ahead:
UNC Asheville opens the first of two major makerspaces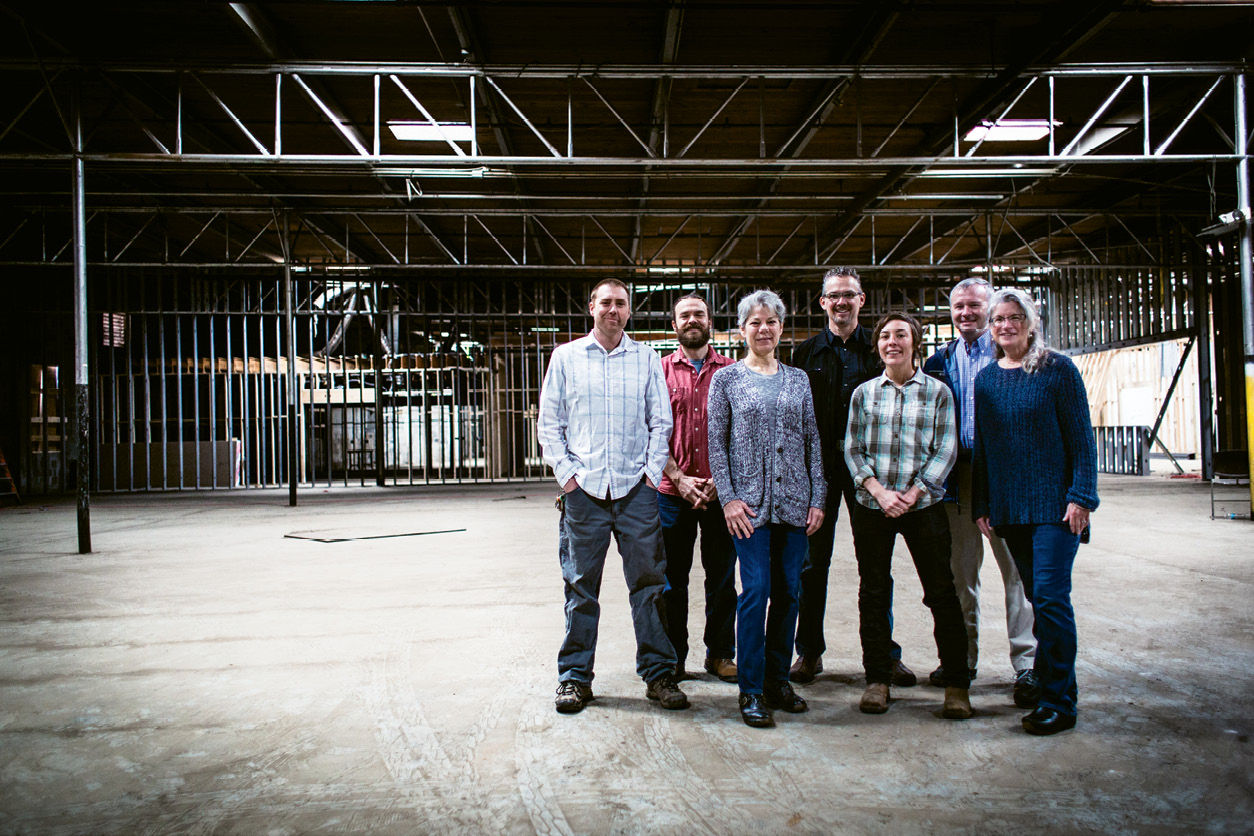 STEAM TEAM: UNCA faculty and staff at STEAM @ RAMP. From left: Matt West, Jackson Martin, Rebecca Bruce, Brent Skidmore, Sara Sanders, Scott Walker, and Susan Reiser
"I still don't even believe it," says UNC Asheville assistant professor Brent Skidmore, even as he moves into the first of two new off-campus makerspaces. Believe it, though: These invention and fabrication labs will serve as ground zero for interdisciplinary projects as well as a product incubator for both the university and local industry partners.
UNCA's first makerspace, located inside the multi-tenant River Arts Makers Place on property adjoining campus, will open this fall. With nearly 12,000 square feet, STEAM @ RAMP (named for the melding of science, technology, engineering, art, and math) will share the building with other creators and the North Carolina Glass School.
"Many times the marriage of function and form are not supported," Skidmore says, "but at STEAM we have the ability to nurture such collaboration that will manifest new solutions." The myriad potential projects can involve sculpting, 3D printing, and laser cutting, and UNCA's mechatronics program has assembled an electric-car team that will use the space as well.
The university has partnered with the nonprofit Center for Craft, Creativity & Design to create a second makerspace called The Center for Creative Entrepreneurship. It will be housed at the Hive AVL (formerly the Lark Books building) at 67 Broadway, and is slated to open in 2018. CCCD Director Stephanie Moore says the new center will serve as the area's "hub for product incubation, design thinking, and creative sector entrepreneurship." The public will also be welcome at both makerspaces, for lectures, demonstrations, and exhibits.
Though the first space has just opened, already the possibilities for putting UNCA makers on the map seem endless, Skidmore says. "We expect a multitude of impacts with countless products ... that would benefit our community and other communities."
RESOURCES:
Written by Lindsey Grossman