Fresh & Spicy
Fresh & Spicy:
Green River Picklers kicks it up a notch this summer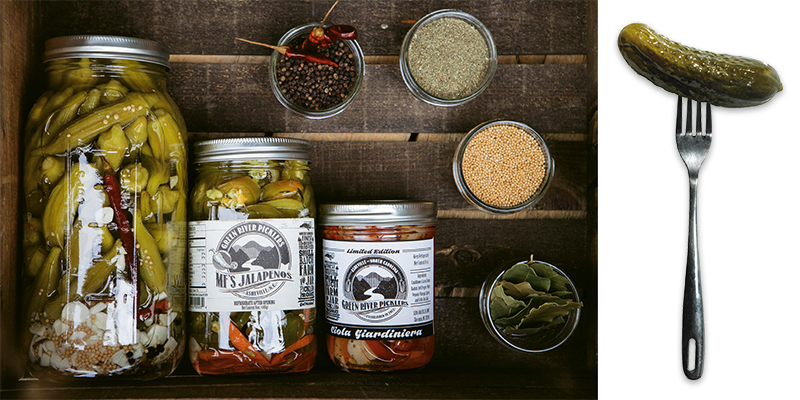 When it comes to producing a proper pickle, tenacity is key. It must be crisp and strong under pressure—just like the picklers who make it. Beau Martin and Brandi Morrow, cofounders of Green River Picklers in Tuxedo, are as relentless with their pickles as they are with their business, which is poised for a big expansion this summer.
Green River Picklers offers a slew of seasonal pickles that highlight the bounty of Western North Carolina. Spicy Appalachian Okra pickles combine a kick of fresh cayenne with garlic; Tuxedo Beans are a spin on classic dilly beans crafted with organic vinegar and named for the Henderson County town where the company has found its new home.
After a circuitous route through kitchens in Black Mountain and Weaverville, the picklers have come back to their roots along the Green River. Martin and Morrow are opening the Picklers' P.O. Bar and Pantry, where visitors can come for a pickle platter and cold beer in what was once the Tuxedo post office. Fried pickles and hamburgers will sizzle in a food trailer out front.
Martin is the company's Chief Executive Pickler, a lofty title that belies his casual demeanor. He may try to play down his pickle-centric heritage, but if you ask him what first drew him to this crunchy snack, he'll tell you about his grandparents' kitchen. "I remember snapping beans, the smell of the vinegar, and just watching the vinegar vapors rise," Martin says. He grew up in Tuxedo, about two miles from their new kitchen. When he was 15, he asked his grandfather to share the family recipe for spicy green tomato pickles, which Martin carried with him through several restaurant jobs before starting Green River Picklers with Morrow in 2011.
Morrow playfully calls herself the Chief Financial Pickler. She grew up in Candler and keeps the business fresh through her myriad duties: selling at farmers markets, coordinating online sales, and handling staffing conundrums. Her pickle memories run deep, too. "I've always been in the mountains," she says with pride.
Green River Picklers offers seven pickles year-round, but summer is when its headquarters is most vibrant. Towers of cucumbers and okra overflow onto gleaming countertops, and the scent of vinegar hangs heavy in the air. Together, Martin and Morrow are infusing old traditions with the zest of new beginnings. Their persistence will spice up snack plates for years to come.
Pickle Pairings
Though tasty straight from the jar, pickles benefit from thoughtful food and drink pairings. Pickled okra is a Bloody Mary's best friend, and pickled jalapeños add bite to creamy grits. Martin and Morrow suggest trying pickled beets with a pint of stout for an unbeatable happy hour.
Find a Jar
Online ordering information and a list of shops and farmers markets that carry Green River Picklers' products can be found at www.grpicklers.com. The Pickler's P.O. Bar and Pantry, located at 1286 Old US 25 in Zirconia, will open in late July.